Metropolitan Cathedral Precinct, 1952 by Allan P. Tankard (1897 – 1964)
Posted on: 15 May 2020 by Amanda Draper, Curator of Art & Exhibitions in 2020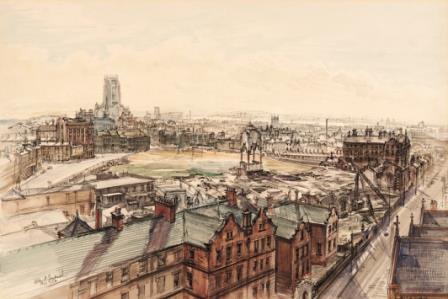 Amanda Draper, Curator of Art & Exhibitions writes...
We've been surprised by the popularity of a small display of local watercolours in our tiny Gallery 4. All the paintings are by Allan P. Tankard and show the University of Liverpool campus in the post-war years. This evocative glimpse into the relatively recent past of our neighbourhood has really resonated with visitors. From the exhibition I've chosen to show you this vista of a big empty space where the Metropolitan Cathedral now stands.
The painting is a view looking west from the roof of our Victoria Building, capturing early stages of the Metropolitan Cathedral development. Previously, the land had been the nine-acre site of the West Derby Union Workhouse which dated from 1770. It continually expanded until, by the late 1800s, it housed 5,000 of Liverpool's neediest residents. The vast complex had numerous workshops, a hospital, a chapel and an ominous-sounding 'House of Correction'.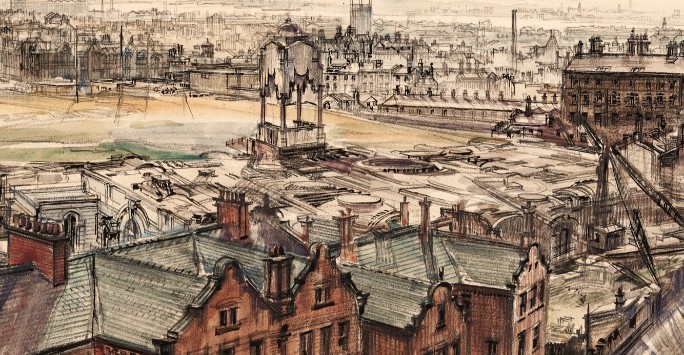 Lutyen's Crypt (detail)
Most of the workhouse site was demolished in 1928. The Catholic Diocese then bought the plot for £100,000 and engaged architect Sir Edward Lutyens to design a new Cathedral. Lutyens managed to complete the Crypt in 1937, which Tankard shows, before the war caused plans to change several times. Lutyens' plans were abandoned and the site remained empty until 1962. Today's striking Modernist building by Sir Frederick Gibberd was finally completed in 1967. In the foreground are some remaining workhouse buildings which the University of Liverpool occupied in 1946. The University's Foundation Building, which opened in 2005, now stands on the site along with some busy food and retail outlets. On the horizon stands the Anglican Cathedral, still under construction, and beyond that the silver gleam of the Mersey.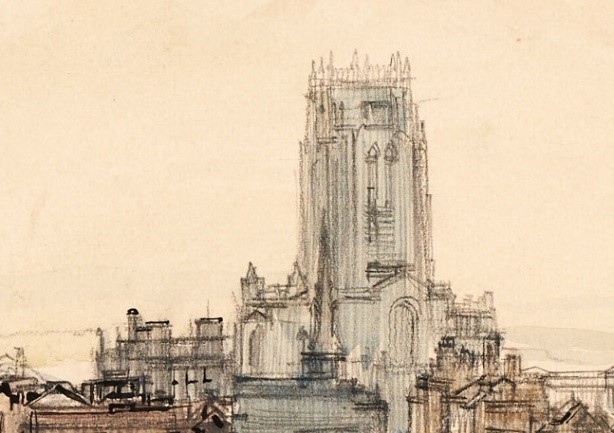 Anglican Cathedral (detail)
This watercolour was one of a series commissioned from Tankard by the University to illustrate a book celebrating the its Golden Jubilee in 1953. Tankard, who moved to Liverpool from Manchester in 1916, was a teacher at Liverpool College of Art with a specialism in architectural drawing. Although it must have been a grey day when he was painting this scene, he usually tried to work on sunny days so the buildings were more defined in the sharper light. Tankard cut a distinctive figure being 6 feet 4" tall, sporting round glasses and a neat moustache and possessing an extremely deep voice. And he was the 'go-to' guy for this kind of architectural illustration. Tankard's ability to depict local buildings in sharp detail became known through an earlier project called Recording Merseyside, organised by Liverpool Corporation in 1945. It culminated in a series of exhibitions at Bluecoat Chambers alongside other artists. But it was Tankard's paintings that stood out.
Years later, in his obituary of 1964, the Liverpool Daily Post said of Tankard that "in the last twenty-five years he has immortalised the changing face of Liverpool".
Here or Roundabout: Local Scenes by Allan P. Tankard is currently closed due to COVID-19.You can enjoy a virtual visit to the exhibition here.

With thanks to Martin Strauss for his historical research for this exhibition.
---