The Lady with the 5 o'clock shadow
Posted on: 3 September 2020 by Amanda Draper Curator of Art and Exhibitions in 2020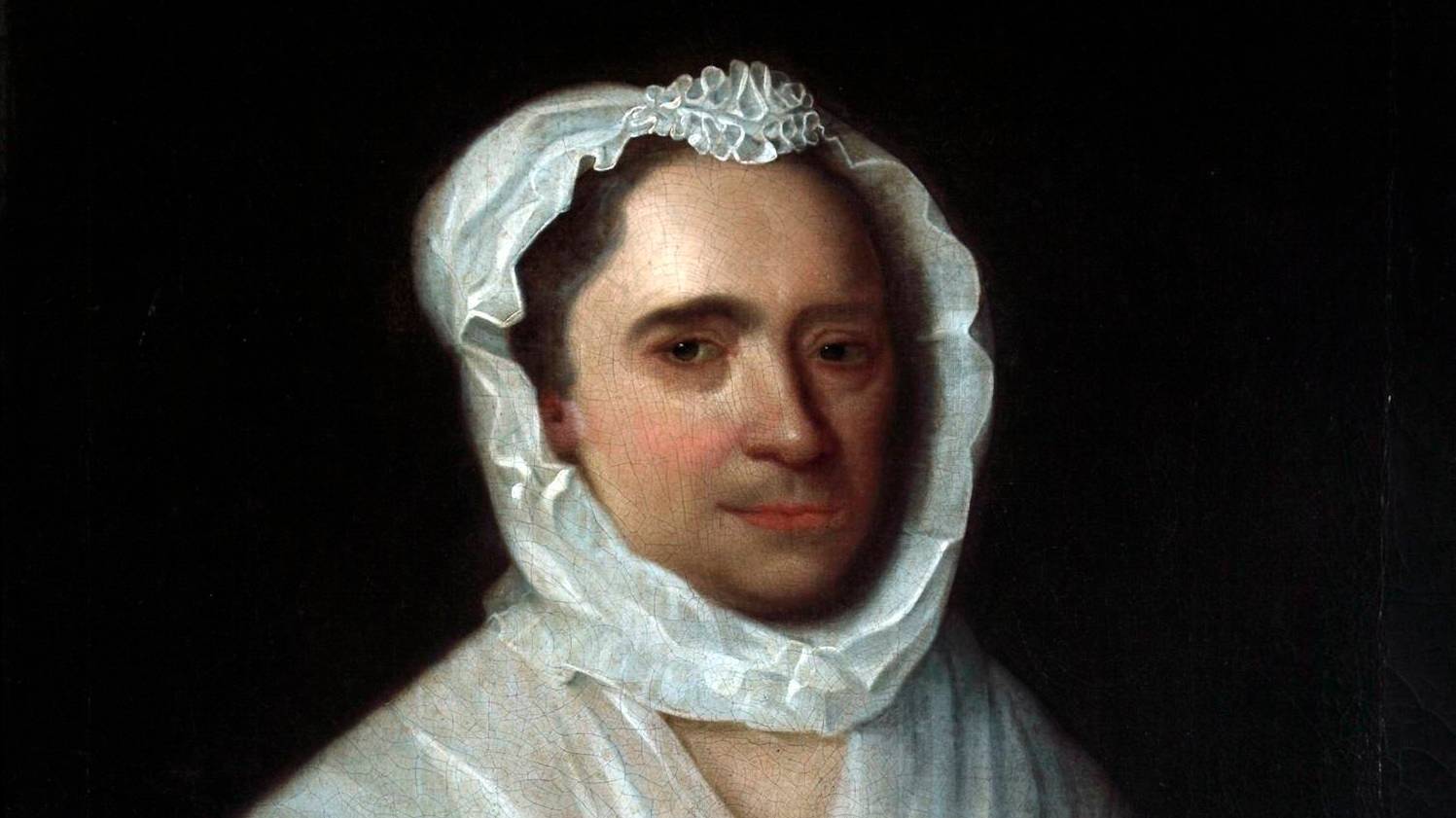 Dr Amanda Draper, Curator of Art & Exhibitions writes …
When I first arrived at the VG&M in January 2018 there was one painting in the building that hypnotised me. It had come into the collection in 2000 with no known title and had been descriptively labelled as 'Portrait of a woman wearing a blue silk dress holding a jasmine flower' by unknown artist. But there was an elephant in the room. The lower half of the sitter's face, with its amiable if slightly pensive expression, appeared to be covered by a 5 o'clock shadow. They looked in distinct need of a close shave. What was the story here?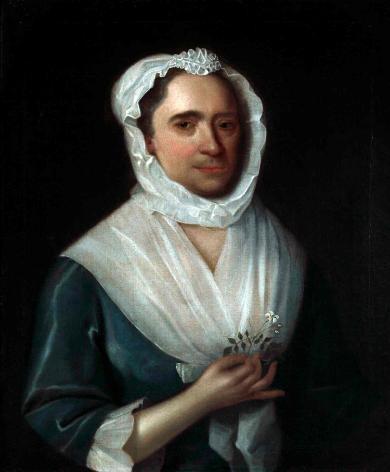 Lady Holding a Jasmine Flower, c.1740
Artist: Attributed to John Theodore Heins (1697 – 1756)
Oil on canvas, canvas height 71.4cm x width 61.7cm.
Mysterious identity
At the outset, the identity of the sitter or the artist wasn't known. Even the gender wasn't clear. What could be said is that the sitter is past first youth and may be in their thirties or forties. They are wearing the outfit of a middle-ranking lady of some affluence, and can be dated to around 1730 – 40. The blue silk dress would be expensive and kept for best. A white muslin wrap, known as a fischu, covers the chest and keeps the neckline modest. A white mob cap is worn with two sets of frills over the forehead which then frames the entire face. In the sitter's right hand is a sprig of jasmine (jasminium officinale). The flower can be found all over the world and has many different cultural meanings, but in Britain it tends to symbolise purity and modesty. The sitter wears no visible jewellery and, interestingly, their left hand is not shown. Indeed, the sleeve on the left arm seems longer than on the right as though to purposely obscure the hand. Perhaps it is disfigured in some way.
At this point I was fairly convinced that the sitter was a cross-dressing man. Apart from the apparent beard growth, they had a strong nose and chin giving their face a masculine appearance. The way their cap went under the chin seemed to be a way of hiding their adam's apple.
A Possible Precedent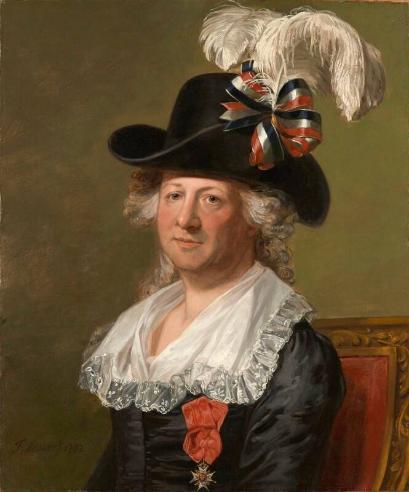 Chevalier d'Eon by Thomas Stewart, after Jean Laurent Mosnier, 1792 (NPG 6937)
Courtesy of National Portrait Gallery, London
There had been a recent precedent for a historic portrait coming to light of a man wearing women's clothes. In 2012, the National Portrait Gallery in London acquired a painting of Chevalier d'Eon (1728 – 1810), a French-born solder, diplomat, fencing expert and famous transvestite who had settled in London in 1785. It was discovered by art dealer and TV personality, Philip Mould, in a New York sale where it was very dirty and just labelled as 'Portrait of an Unknown Woman'. After the painting was cleaned, Mould and his team uncovered the real identity of the sitter and their truly remarkable life (links to more information about Chevalier d'Eon are at the bottom of this blog).
Chevalier d'Eon's portrait dates from 1792 and is the earliest known painted portrait of a transvestite. It caused a media sensation when it was made public. Our portrait dates to about 1740 so, if it could be proved to show a man in woman's clothing, it would become the earliest representation and be really important to the history of the Trans community. I was very excited about this prospect, doing bits of research when I could, and the painting was never far from my mind.
John Theodore Heins enters the picture
Last summer (2019) I went off to visit Haddon Hall in Derbyshire, a glorious country house with 900 years of history. It was just a nice day out, not work-related. I'd just stepped into the Hall when I saw two family portraits from the early 1700s of a young brother and a sister, not even into adolescence. Both sported 5 o'clock shadows. The painting style was also very similar to our own portrait and the artist was given as John Theodore Heins. It looked like I was closer to solving some of our portrait's mysteries but not in the way I'd hoped.
John Theodore Heins (1697 – 1756) was a German-born artist who moved to Norwich and worked mainly in that region from the 1720s, specialising in portraiture. He was extremely prolific and his work varies in quality, indicating that he may have used assistants to finish some of his paintings. There is a distinct 5 o'clock shadow on the face of several of his female and child sitters, not to mention the men, and this was his way of giving shape to the face through shadows. He just sometimes seems to have overdone it. Our portrait bears no signature, so there is some question if it is by him or somebody copying his style. Shortly after the Heins revelation I had the opportunity to show 'Lady holding a Jasmine Flower' to an Old Masters expert from Sotheby's. He agreed that the painting was likely to be by Heins and so we use the term "attributed to" Heins until definitive proof emerges.
Lack of copyright permissions prevents us from illustrating some of Heins' best 5 o' clock shadow portraits but here are links to a couple:
John Theodore Heins Senior (1697-1756 Norwich) Portrait of a Boy with Doves
Portrait of an Unknown Lady John Theodore Heins Senior 1697-1756 National Trust, Oxbrugh hall
The Lady comes clean
We have just had 'Lady Holding a Jasmine Flower' professionally cleaned and conserved. I was wondering if any of her stubble would lift off in the process. But no, not really.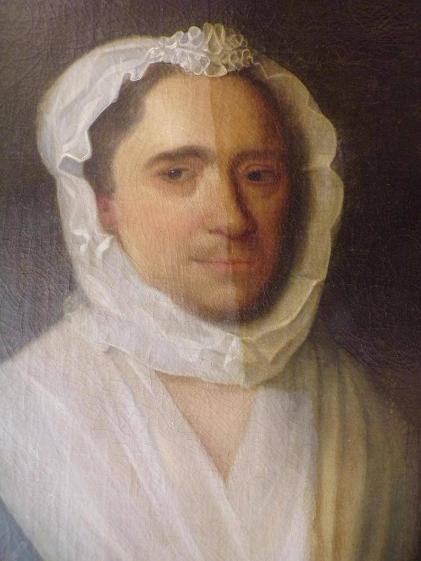 Detail showing face half cleaned
The sitter may have had the condition hirsutism, a hormonal imbalance causing excessive hair growth. But it is usual for a portrait painter to flatter his sitter and omit or soften flaws. So we are back thinking our sitter was just rather unlucky and caught the artist on a bad day.
At the moment, I'm not really anywhere nearer finding the sitter's identity. If the painting is by Heins, she is likely to come from the Norwich area. She bears some resemblance to the 'Unknown Lady' by Heins displayed at Oxburgh Hall in Norfolk (see link above), thought to be a member of the Bedingfeld family. Our painting was from a bequest made by Mrs Betty Horsfall, and it is understood her father, Captain Frank Rushby, purchased it in London, so its provenance doesn't go further back at the moment.
So, my journey of discovery didn't end as sensationally as I'd hoped, but 'Lady Holding a Jasmine Flower' has many more secrets to reveal yet.
Information on Chevalier d'Eon and his portrait.
National Portrait Gallery Chevalier d'Eon
National Portrait Gallery Search the Collection
Information on John Theodore Heins
John Theodore Heins (Dirck Heine) 1697-1756 the Portrait Painter Artist Norwich Norfolk
---