A Ladles Tale
Posted on: 1 May 2020 by Amanda Draper, Curator of Art & Exhibitions in 2020
Amanda Draper, Curator of Art & Exhibitions writes …
As a piece of kitchen equipment ladles are usually pretty dull, but for the Georgians they could be thing of beauty and fascination. Rather like my old soup ladle at home, this delicate silver utensil was lying near the back of a store cupboard and I came across it while I was looking for something else, as you do. It is one of the joys of museum life that we are able to take sometimes overlooked items and make them shine again.
This ladle was specifically designed to transfer hot punch into drinking glasses. The beverage was popular in the 1700s and the recipe had been brought over from India by employees of the East India Company. Indeed, the word 'punch' is derived from the Hindi word 'panch' meaning five, because there were usually five ingredients in the drink: water or tea, sugar, lemon, spices and, of course, spirit.
The ladle has a makers' mark, so we know it was made by silversmiths John Langlands and John Robinson of Newcastle sometime between 1778 – 93, which was the duration of their partnership. It features a gold coin embedded in its bowl which is not uncommon in punch ladles of the era. Nobody seems to know why coins were used in this way but there are a few theories. Some say that there was a silver shortage and the metal worked so thin that the bowl needed reinforcing. Or it could just to have been a fashion of the time that was particular to punch ladles for some reason, perhaps to personalise a gift.
And what about the coin itself?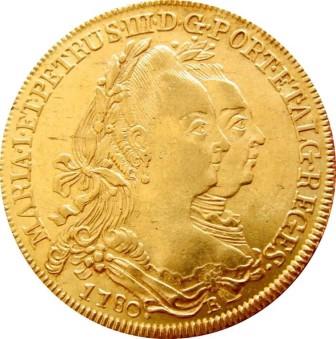 It is a gold Peca minted in Portugal in 1780. One side features the twin profiles of Dona Maria I, the first Queen of Portugal, and her husband Pedro III, who was also her uncle. At this point Maria had been on the throne for just three years and all was going well in her reign and her marriage. Then, in 1786, Pedro died and around the same time Maria showed signs of mental illness. By 1792 she was completely incapacitated and her son took over as Regent. Maria died in a Brazilian convent in 1816.
So how did a Portuguese coin with a tragic tale end up in a Geordie ladle? We don't know. Please tell us if you do! You can see the ladle soon as part of the new decorative art display in Gallery 1.
---