Bookplate for Christabel A. Frampton
Posted on: 3 July 2020 by Dr Amanda Draper Curator of Art and Exhibitions in 2020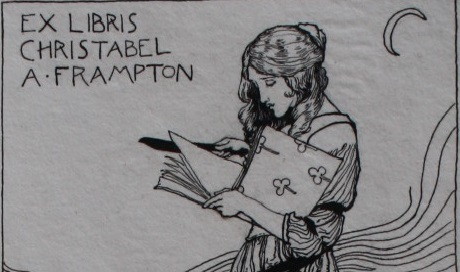 Amanda Draper, Curator of Art & Exhibition writes …

Robert Anning Bell RA (1863-1993) was an influential artist of the Arts and Crafts Movement with links to the University of Liverpool. His artistic range was wide but somehow he has become best known for small, very personal artworks which are almost always hidden from view: the bookplate.
Bookplates are printed labels which are pasted into the front of books to denote ownership and are also known as Ex Libris, Latin for 'from the library of'. They have been used since the 1400s but a real fashion for them blossomed in the late 1800s when personal designs would often be commissioned from artists.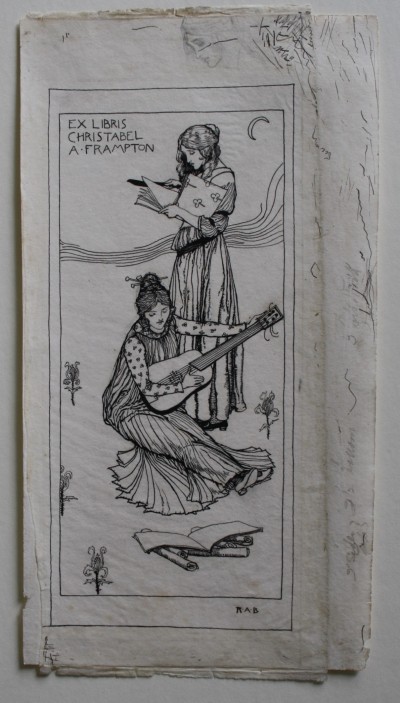 Robert Anning Bell: Bookplate for Christabel A. Frampton, c.1895
We are fortunate to have in our collection this original pen and ink design for a bookplate by Anning Bell. As well as being an enchanting example of arts and crafts illustration, it is fascinating to see the artist's workings. He has attached his drawing to a fine backing paper which he has used to work through an idea for drawing a girl's face. The many black marks surrounding the drawing are where he has quickly wiped the nib of his pen between strokes.

Artist's workings (detail)
The bookplate was designed for Lady Christabel Frampton, also known as artist Christabel Annie Cockerell (1864 – 1951), a respected painter of landscapes and portraits. She was a personal friend of Anning Bell who shared a studio with her husband, sculptor Sir George Frampton, for a time.
And what of the artist himself? Anning Bell was born in London and had been apprenticed to his uncle, an architect, for two years before going to art school in London and later studying in Paris and Italy. Between 1894 – 1899 Bell was a Lecturer, then Professor, at the School of Architecture and Applied Arts at University College, Liverpool (now University of Liverpool) and was later to be Professor of Decorative Arts at Glasgow School of Art and Professor of Design at the Royal College of Art. He was a versatile, multi-faceted artist who painted in oils, tempera and watercolour, designed stain glass windows and illustrated books.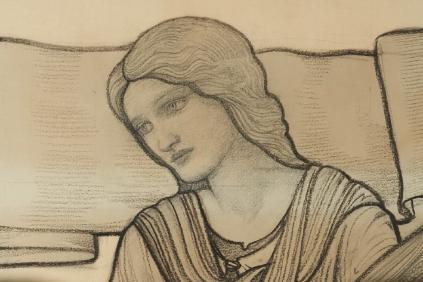 Burne-Jones: Design for a Stained Glass Window (detail), c.1886
As we can see in this bookplate design, Bell's style followed the Arts and Craft and Aesthetic movements. His female figures have the delicacy seen in the late Pre-Raphaelite artist, Edward Coley Burne-Jones, but there are also hints of influential illustrator Aubrey Beardsley. Indeed it is recorded that Beardsley, that bad boy of 1890s pen and ink drawing, was a great admirer of Anning Bell's work and visa versa.
You will be able to see this bookplate illustration in the forthcoming display 'A New Beauty: Romanticism in Art 1880 – 1920' in Gallery 2.
---