Welcome to Objects in Focus at the VG&M
This Blog will focus on individual objects from our extensive fine and decorative art collections and the museum heritage collections. You will be regulary treated to an in-depth look into both familiar and unfamiliar artworks and objects, discovering some of the secrets and stories behind them.
You might recognise some objects from display, but others from departmental teaching collections will be seen publicly for the first time.
---
Posted on: 18 September 2020 | Category: 2020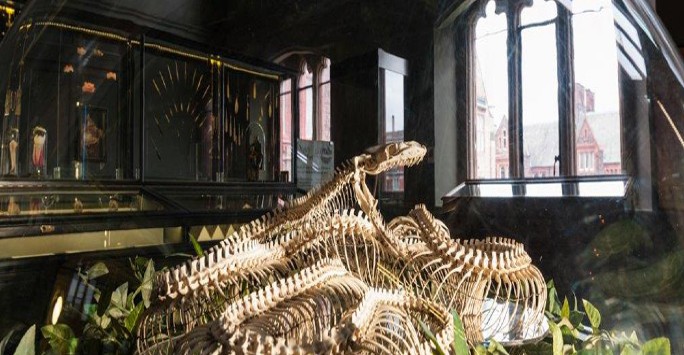 As you enter the Tate museum one of the first parts of the natural history collections that greets you is this incredible skeleton of a python. The museum has a large collection of natural history including full skeletons of mammals from gorillas to tiny mammal skulls, taxidermy teaching models and osteology teaching models (real skeletons prepared and articulated and mounted on wood). The python being the most intricate and impressive in my opinion of the teaching models deserves this week's blog spotlight. You can look at it for a long time and marvel at the amount of bones a python skeleton has, work out how they function and move but what is incredibly striking is the workmanship in creating such a fascinating model, who made it and why?
---
Blog

Posted on: 15 January 2021 | Category: 2021

Blue and white 'Willow Pattern' tableware is considered traditionally British, seen on plates, dishes and tea services on dressers and sideboards across the land. The pattern is clearly inspired by China, and its story certainly starts there, but we need to go back a long, long way to find out why.

---
Disclaimer
We try to ensure that the information provided on our blog is accurate and that appropriate permissions to use images have been sought.
The opinions in each blog are very much those of the individuals writing.