Welcome to Objects in Focus at the VG&M
This Blog will focus on individual objects from our extensive fine and decorative art collections and the museum heritage collections. You will be regulary treated to an in-depth look into both familiar and unfamiliar artworks and objects, discovering some of the secrets and stories behind them.
You might recognise some objects from display, but others from departmental teaching collections will be seen publicly for the first time.
---
Posted on: 26 June 2020 | Category: 2020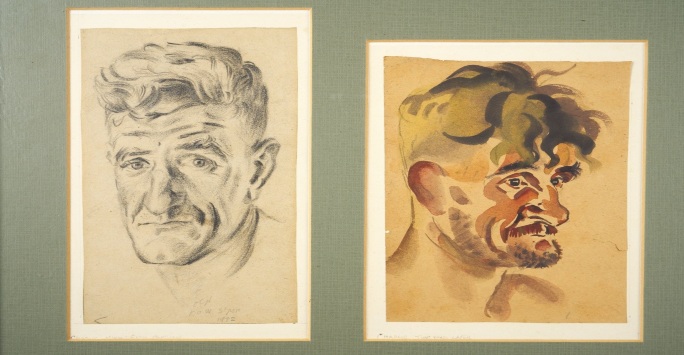 Two Portraits of Charlie Proctor, Changi 1942 & Thailand late 1943 \nBy Gunner Ashley George Old, 1/5 Sherwood Foresters Regt.\nPencil on paper\nWatercolour on paper\n© the Bartholomew Family\n\nI think this is one of the most arresting portraits in the exhibition, Secret Art of Survival - Creativity and ingenuity of British Far East prisoners of war, 1942 – 1945. It is a double portrait of the same man done by the same artist. It is a before and after portrait, something we are more familiar with today in a world of social media and photography. The portrait is of Private Ernest Charles Proctor, 1/5 Sherwood Foresters Regt, born in 1904 the oldest man in Old's regiment at the time. It was drawn and painted by the artist, Gunner Ashley George Old. The pencil drawing on the left was done in 1942 during the first weeks of captivity in Changi POW camp in Singapore. The watercolour on the right was painted a year later in 1943 when both men were in the Chungkai Hospital camp in Thailand.
---
Blog

Posted on: 24 July 2020 | Category: 2020

It's the start of National Marine week tomorrow. In celebration, we share the coastal landscapes of Dr Margery Knight (1889 - 1973). Five of Knight's paintings are in the VG&M collection, bequeathed in 2003 by her companion, Miss Rose McKenna. Last month, Knight's paintings inspired the VG&M relaxed concert, 'Time was away and somewhere else'. We reached out to Louise Ashcroft, who wrote and performed the concert, to share insights. Over to you, Louise…

---
Disclaimer
We try to ensure that the information provided on our blog is accurate and that appropriate permissions to use images have been sought.
The opinions in each blog are very much those of the individuals writing.