Freud and his friend - The Harry Diamond portraits
Posted on: 8 December 2022 by Amanda Draper, Curator of Art and Exhibitions in 2022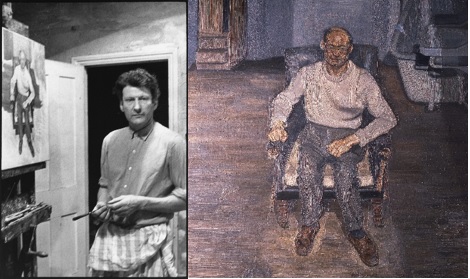 Lucian Freud was one of the most famous British artists of recent times. To celebrate the centenary of his birth on 8 December 1922 we are taking a close look at his painting Paddington Interior, Harry Diamond in the VG&M collection and the three other portraits of this particular friend.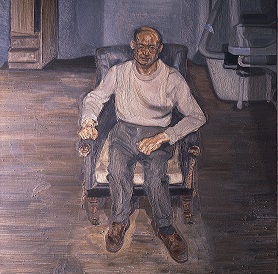 Lucian Freud: Paddington Interior, Harry Diamond (1970). 71cm x 71cm, oil on canvas. ©The Lucian Freud Archive. All Rights Reserved 2022. Bridgeman Images. VG&M Collection.
One of the world's greatest artists
Even before his death in 2011, Lucian Freud's paintings were setting world records at auctions. His reputation centred around his nude studies, using thickly applied paint to create an impasto surface and revelling in fleshy tones. But he also painted portraits, more often of friends, family or favoured sitters than to commission. Sometimes sitters were clothed, often not. He painted his friend, photographer Harry Diamond, four times (always clothed) and one of these is in the VG&M collection and is considered one of our stellar artworks.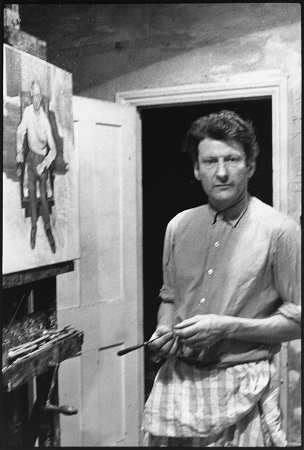 Harry Diamond: Lucian Freud, 12 February 1970 (gelatin silver print) NPGx210134 © National Portrait Gallery, London. VG&M portrait of Harry Diamond on the easel.
Born in Berlin in 1922, Freud was the grandson of Sigmund Freud, the founder of psychoanalysis. His family were Jewish and came to Britain in 1933 fleeing Nazi persecution, with Lucian Freud becoming a British citizen in 1939. He served in the British Merchant Navy for a year during the war before being invalided out, but otherwise spend the war years studying art at the respected East Anglian School of Painting and Drawing and Goldsmith's College, London.
Of his art, Freud commented: "My work is purely autobiographical. It is about myself and my surroundings. It is an attempt at a record. I work from people that interest me and that I care about, in rooms that I live in and know". (Howgate, p14)
The first Harry Diamond portrait

Lucian Freud: Interior at Paddington (1951). 152.4cm x 114.3cm, oil on canvas. © The Lucian Freud Archive. All Rights Reserved 2022. Bridgeman Images. Collection of National Museums Liverpool, Walker Art Gallery
One reason the University of Liverpool purchased their Freud portrait of Harry Diamond in 1970 was because there was an earlier full-length portrait down the road in the Walker Art Gallery. The contrast between the two is interesting and instructive. Dating from 1951, this first portrait shows a marked difference in artistic technique from Freud's mature style. Here, the paint is thinly applied with a fine brush, giving a sharp level of detail and a smooth surface to the canvas. The setting is Freud's house in the Paddington area of London which is seen through the window. The bespectacled Diamond holds a cigarette in his left hand, yet it is his right hand which seems very nicotine-stained. It is furled into a fist. He glares at the spikey house-plant, a form of yucca, and gives the impression he is going to punch it. This scenario may be a humorous nod to Diamond's own reputed spikey nature. He wears a rumpled, unbuttoned Gannex mac which was apparently a staple of his wardrobe; it features again in a subsequent portrait from the late 1950s. This painting was Freud's first major commission, made by the Arts Council for an exhibition, 'Sixty Paintings for 51' as part of the Festival of Britain. It won a prize and is an important milestone in his career. However, Diamond disliked it because he felt Freud made his legs look too short.
Who was Harry Diamond?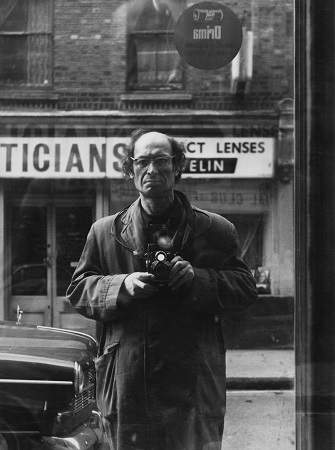 Harry Diamond: Harry Diamond, Brick Lane, 1973 (gelatin silver print). NPGx199373. © National Portrait Gallery, London
Harry Diamond (1924 – 2009) was a London-based photographer and a regular face on the bohemian Soho art and theatre scene, hanging out with Freud, Francis Bacon and Frank Auerbach at the Colony Club and the French House. Like Freud, Diamond came from a Jewish family and the two first met in 1944 when Diamond was working as a stage-hand amongst other things. He was described as a 'complex and sensitive man' with an abrupt and often angry disposition, although this was balanced by a dry sense of humour. (The Times obit. 2010). As well as the Soho party crowd, he was known for his portraits of jazz musicians of the day and capturing the changing cityscape of South and East London. A non-driver, he had an encyclopaedic knowledge of London's bus routes. He remained single all his life but did not underestimate his attractiveness, once saying "I was born good-looking". (The Times obit., 2010)
The Second Harry Diamond Portrait


Lucian Freud: Man in a Mackintosh (c.1957). 61cm x 61cm, oil on canvas. © The Lucian Freud Archive. All Rights Reserved 2022. Bridgeman Images. Private Collection.

In this second portrait of Harry Diamond from the late 1950s, we see that Freud's artistic technique has begun to change into a looser style. Around this time he stopped using a fine brush, and turned to stubby hog's hair brushes that could be loaded with more paint giving a broader, more textured effect. It is speculated that his change in technique was inspired by his close friend of this period, Francis Bacon. Freud admired Bacon's handling of paint, saying " … he talked about packing a lot of things into a single brushstroke, which amused and excited me, and I realised it was a million miles away from anything I could ever do". (Howgate, p.230). For his part, Diamond models his infamous Gannex raincoat.
The Third Harry Diamond Portrait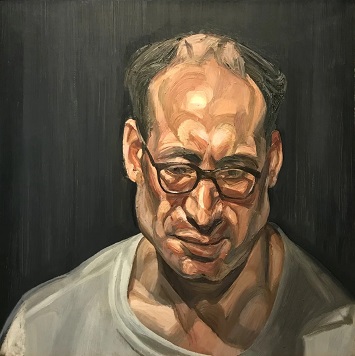 Lucian Freud: Man with Glasses (c.1963 – 64). 61cm x 61cm, oil on canvas. © The Lucian Freud Archive. All Rights Reserved 2022. Bridgeman Images. Private Collection.
Despite only being painted around five years later, this head portrait of Diamond from the early 1960s now reveals Freud's mature technique. The representation is made up of distinct stripes of pigment with visible brushstrokes. Apparently, Diamond preferred the two head portraits to either of the full-length compositions, feeling that they best represented his character. Diamond claimed that he sat for the portrait on the day that President John F. Kennedy was assassinated in Dallas, which was 22 November 1963. While he may have been with Freud that day, the artist's way of working would have been a much longer process than a single day. Freud always painted from a live model, never a photo, with each sitting involving several hours of intense scrutiny, and multiple sittings which took months or even years. Diamond explained: "It was quite an ordeal. If someone is interested in getting your essence down on canvas, they are also drawing your essence out of you. Afterwards one felt depleted but also invigorated". (The Independent 24 Feb 1999 – Arts: I was framed). Certainly, this portrait of Diamond has an unflinching focus on the sitter; with its black background, yet strongly lit, there is a sense of interrogation about it.

The Fourth Harry Diamond Portrait.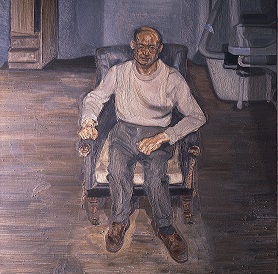 Lucian Freud: Paddington Interior, Harry Diamond (1970). 71cm x 71cm, oil on canvas. ©The Lucian Freud Archive. All Rights Reserved 2022. Bridgeman Images. VG&M Collection.

For many years it was assumed that this painting's setting was Harry Diamond's home, with the big question being: 'why the bathroom?'. But, given that Freud hated to paint anywhere other than his own home, it is now known that it is Freud's bathroom in his house at 227 Gloucester Terrace in Paddington. The location is likely to be a joke between friends, and Diamond photographed Freud in his bath around the time of the painting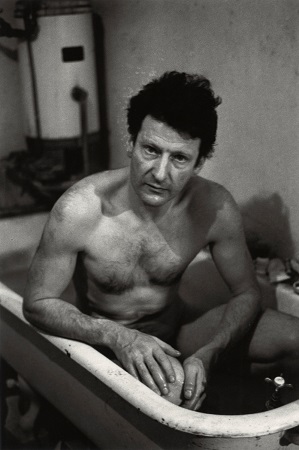 Harry Diamond: Lucian Freud, 16 February 1970 (Silver gelatin print) NPGx210023 © National Portrait Gallery, London

In the painting, Diamond is shown seated in an armchair, not standing as he was first depicted in 1951. It may be a response to Diamond's belief that Freud painted him with short legs in that work, but also in respect of the length of time Freud took over his sittings. There is no yucca plant to antagonise Diamond this time, although his right hand is still furled into a fist.
See Harry Diamond
Visitors to the VG&M can see Paddington Interior, Harry Diamond in our Quiet Observation – Artists & their Abodes 1950s - 1990s exhibition until April 2023. The Walker Art Gallery's Interior at Paddington is also currently on display there.
Further information:
On Lucian Freud –
https://artuk.org/discover/artists/freud-lucian-19222011
https://www.tate.org.uk/whats-on/tate-liverpool/lucian-freud-real-lives
https://www.theguardian.com/artanddesign/2011/jul/21/lucien-lucian-freud-obituary
https://www.bbc.co.uk/news/entertainment-arts-13546134
Howgate, Sarah with Auping, Michael and Richardson, John: Lucian Freud Portraits (National Gallery exhibition catalogue), London, 2012
Feaver, William: Lucian Freud (Tate exhibition catalogue), London, 2002
On Freud's portraits of Harry Diamond:
https://www.liverpoolmuseums.org.uk/artifact/interior-paddington
https://www.waterman.co.uk/artists/160-lucian-freud/works/4165-lucian-freud-man-with-glasses-c.1963-64/
On Harry Diamond:
https://www.npg.org.uk/collections/search/person/mp19713/harry-diamond
https://www.thetimes.co.uk/article/harry-diamond-photographer-kcshg5w3g3h
https://www.theguardian.com/artanddesign/2010/jan/27/harry-diamond-obituary
http://www.sohomemories.org.uk/page/harry_diamond?path=0p3p
---