Richard Ansdell: Painter of Fur, Feathers and Woolliness
Posted on: 15 April 2022 by Amanda Draper, Curator of Art and Exhibitions in 2022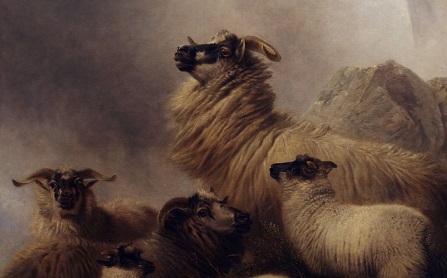 Liverpool-born artist Richard Ansdell rose to the top of his profession on the strength of his ability to paint animals, but one creature was his absolute favourite: sheep.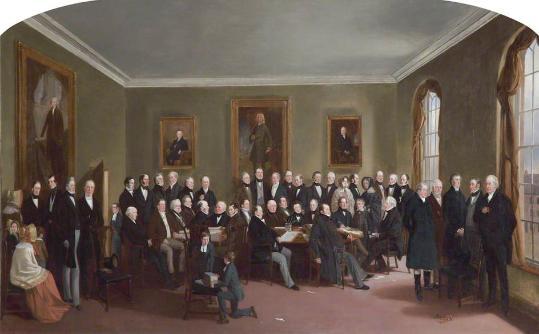 Richard Ansdell: The Boardroom of The Liverpool Blue Coat Hospital, 1840 (oil on canvas). Collection of The Liverpool Blue Coat School

Professional success came quickly for Ansdell. Above is an early work commissioned by his old school, The Blue Coat, featuring around fifty identifiable individuals who acted as supporters of the charity. The skill to accurately depict facial features and characterful postures, which drew on his training as a portrait painter, was to be utilised in several of his early commissions. At this early stage in his career Ansdell was living at 48 Seel Street in Liverpool and married to Maria Romer, daughter of a Liverpool jeweller; the couple would have ten surviving children.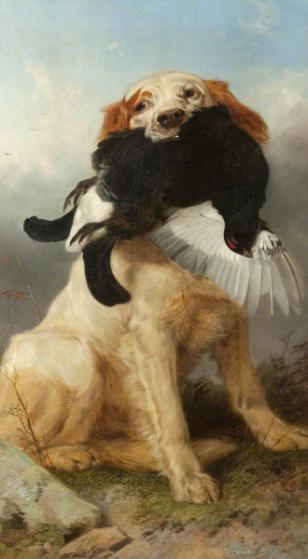 Richard Ansdell: Retriever with Black Capercaillie, 1868 (oil on canvas). Collection of Lytham St Annes Art Collection, Fylde Council
Sporting Art
A staple of Ansdell's output was what is known as 'sporting' paintings depicting scenes of hunting, especially with dogs, including deer-stalking and shooting game-birds. This would appear to be a commercial decision he took, appealing to the tastes of the landed gentry and wealthy industrialist clientele. They were likely to partake in these kinds of hunting pastimes and look for reminders of it to hang in both their town and country homes. Ansdell's sporting art gave him the opportunity to hone his skills in the portrayal of animals, something at which he excelled. His depiction of a trained gun-dog above, probably a Clumber spaniel, with a bird in its mouth, vividly captures the alert posture of the dog and its patient expression as it gently holds the bird waiting for its master's command to drop it. The animal's silky fur, as well as the inky feathers of the bird, are accurately rendered. Ansdell was enormously fond of dogs, which comes through in his paintings of them, and several of his family pets including a collie and two deerhounds feature in his art.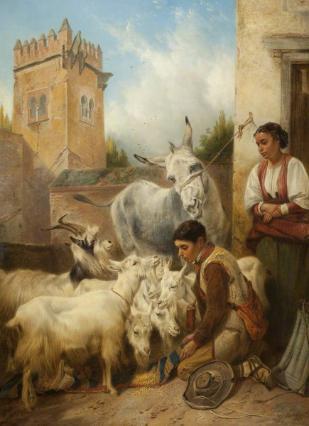 Richard Ansdell: Feeding Goats in the Alhambra, 1871 (oil on canvas). Collection of Harris Museum & Art Gallery, Preston
Spanish Sojourn
In 1857 Ansdell decided to visit Southern Spain in the company of another artist, John Phillip (1817 – 1867), whose art was so focussed on the country he was nick-named 'Spanish' Phillip. The allure for both men was the dazzling light, local costumes and a lifestyle so different from Britain it was perceived as exotic. Ansdell returned to Spain on a second journey without Phillip and retained a lifelong love of the country, painting idealised Spanish scenes for the rest of his life. Above is one such image from 1871, which shows a composition set on the Alhambra Palace near Granada. It enables Ansdell to incorporate colourful local costumes as well as capturing the personality of the lively goats and donkey.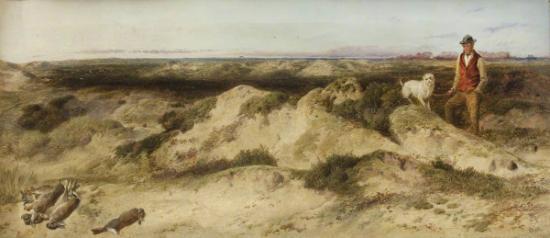 Richard Ansdell: Lytham Sandhills, 1866 (oil on canvas). Collection of the Lytham St Annes Art Collection, Fylde Council
Lytham St Annes
By 1847, Ansdell was so successful as an artist that he was able to move from Liverpool to Kensington in London but the north kept a rein on his heart and he began to take holidays on the Lancashire coast. More specifically, he was drawn to the sand dunes, or sandhills, that stretch between the picturesque town of Lytham and the sea and which he painted repeatedly during the 1850s and '60s. There was something about the undulating sand topped with rough, spikey vegetation, known as Starr grass, that appealed to Ansdell. Indeed, he built a holiday home in the area which he called Starr Hills, whereas a new Kensington home was called Lytham House. The landscape above is typical of his paintings of the area and the red waist-coated figure with his white terrier features in at least three known works of this period. There has even been speculation that the figure, seen here surveying his catch of rabbits, is a self-portrait of the artist.
Ansdell's holiday home was at a secluded mid-point between Lytham and St Annes, but the demand for increased transport links in the area due to the rise in holiday-making led, firstly, to a road past his house, and then a nearby railway halt. Ansdell had been exhibiting his paintings at the Royal Academy every year since 1840 to public acclaim and was certainly the most famous person in that part of the coast, so the railway halt and surrounding area became known as Ansdell. It is still the only place in Britain named after an artist. Unfortunately, it destroyed the seclusion that Ansdell was looking for and he sold his house, Starr Hills, around 1866.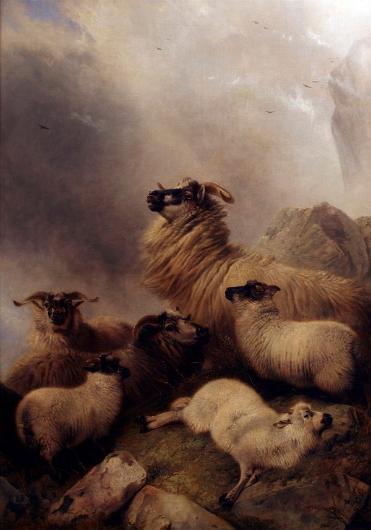 Richard Ansdell: The Anxious Mother, 1875 (oil on canvas). Collection of the VG&M
Scotland and its sheep
Since the earliest days of his career, Ansdell had been painting Scottish animal subjects. Sometimes these were 'sporting' pictures of grouse shoots and stag hunts reflecting the taste of his buyers, but there were also an awful lot of sheep. There were sheep being fed, sheep being herded, sheep being washed and a particular favourite theme: the lamb in peril on a mountainside. Searching for the solitude he'd lost on the Lancashire coast, Ansdell increasingly visited the highlands of Scotland on his holidays, eventually building Moy Lodge on the banks of Loch Laggan in 1868. This gave him the opportunity to observe the routines of local shepherds and their flocks, as well as experiencing the spectacular scenery of the region. The VG&M's Ansdell painting, The Anxious Mother (seen above), is a very good example of the genre. A sick or injured lamb lies helplessly on a dizzyingly high stone outcrop while other members of the flock gather round protectively, and its mother gazes anxiously upwards as birds of prey circle above. Those familiar with Ansdell's sheep paintings will be confident of a happy resolution to the story because other paintings such as 'The Sick Lamb', 'The Lost Sheep' and 'The Rescue' shows a human saving the woolly invalid.
What must be acknowledged is Ansdell's remarkable observational skill at capturing the life-like posture and expressions of the sheep, and especially the texture of their fleeces. He did not have to rely on sitting on a mountainside to sketch them, but kept a small flock of these Scottish black-faced sheep in the garden of his London home.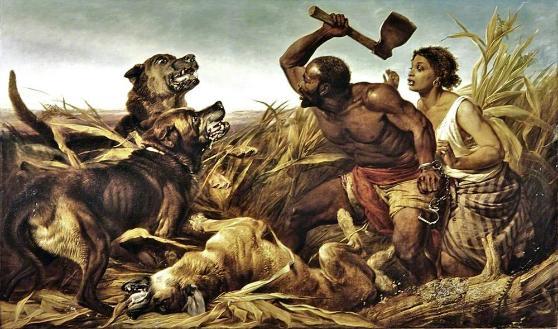 Richard Ansdell: The Hunted Slaves, 1861 (oil on canvas). Collection of the Walker Art Gallery, National Museums Liverpool
The Hunted Slaves
As we have seen, above everything Richard Ansdell was a specialist animal painter, but sometimes he would create a major painting on a theme of human endeavour or historical incident. Arguably his most famous is The Hunted Slaves (shown above) which is on display in Liverpool's International Slavery Museum. Set in the American South, it features an enslaved couple who have escaped from captivity, but have had huge hunting dogs set upon them. The man wields an axe in defence and has managed to kill one of his pursuers but how will he cope with the remaining two drooling beasts? The use of enslaved labour was prevalent in the cotton plantations of the Southern States. Ansdell painted this clear anti-slavery statement at the outbreak of the American Civil War in 1861 when Federal forces blockaded Southern ports stopping the export of cotton to Britain. The shortages caused hardships in the Lancashire cotton mills which were dependent on the trade, and for their workers. Ansdell gave the painting to the Cotton Relief Committee to auction as a way of raising money; it sold for £700 (over £40,000 today) to the successful bidder, Gilbert Moss of Liverpool, who presented it to Liverpool Corporation.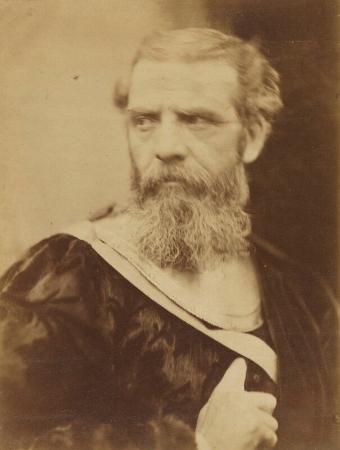 David Wilke Winfield: Photo of Richard Ansdell, 1860s (Albumen print). Courtesy of the National Portrait Gallery, London
Ansdell's artistic legacy
Richard Ansdell was a hugely important artist in his day, winning awards, exhibiting annually at the Royal Academy, then becoming elected as a Royal Academician in 1870. Yet his art did not retain the popular appeal of his near contemporary Edwin Landseer (1802 – 1873). Some of this can be attributed to Landseer's more anthropomorphic depictions of animals which often gave them humour and charm, while the realism of Ansdell's 'sporting' subjects perhaps limited interest. Moreover, although Ansdell had clientele among the aristocracy, he did not enjoy Royal patronage like Landseer. It was not for want of trying. Queen Victoria apparently asked Ansdell to paint her favourite dogs but the artist was stubborn and demanded that they be brought to his studio; he wouldn't go to them in the Royal palaces. So no Royal endorsement, but an increasing awareness these days of this talented painter of animals whose work can be found in public collections across Britain.
You can see The Anxious Mother on display at the VG&M in 'Creature Feature – A Small Display about Large Animals' until Autumn 2022.


Further information:
Richard Ansdell's paintings on Art UK
A large collection of paintings by Ansdell are held by Fylde Council in the Lytham St Annes Art Collection.
The artist's descendent, Sarah Kellam, is the acknowledged expert on Ansdell with a lot of family information available on her website
More information on the Hunted Slaves
---