Queen Elizabeth II Coronation Medal
Posted on: 1 July 2022 by Amanda Draper, Curator of Art and Exhibitions in 2022

Despite being named after a queen, the Victoria Gallery and Museum doesn't have many Royal commemoratives in its collection, but it does have this medal minted for Queen Elizabeth's Coronation in 1953. We celebrate the Queen's historic Platinum Jubilee year by looking closer at this small memento.

Coronation Medal obverse
The Medal
Queen Elizabeth II's Coronation Medal is not particularly rare: 129,051 of them were created according to a report by the Royal Mint. They were not available to anybody though, instead they were awarded to chosen individuals who had given notable public service in Britain and the Commonwealth countries. The medal is made of solid silver and measures 32mm in diameter (1.25 inches). Obverse is the young Queen in profile wearing Robes of State, topped off by what appears to be the Imperial State Crown. This most magnificent piece of headwear also appears on the reverse of the medal, over the Queen's cipher of EIIR. Around the edge of this side are the words "QUEEN ELIZABETH II. CROWNED 2ND JUNE 1953". The medal was designed to be worn hanging from a red ribbon with two parallel blue stripes in the centre and white edging on either side. Men recipients were to wear the medal just hanging down from its ribbon while women recipients were allowed to wear the ribbon as a bow on their left shoulder with the medal attached to that.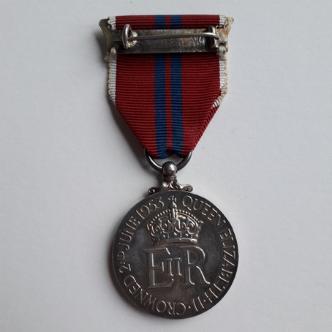 Coronation medal, reverse.
The Designer
The medal was designed by Cecil Thomas (1885 – 1976) a London-born specialist in relief sculpture who undertook many commissions for the Royal Mint for coins, seals and medals. He first learned his skills as an apprentice to his father, John, who was a seal and gem engraver, but also studied at the Central School of Arts and Crafts (now Central St Martins), Heatherley's School of Fine Art and the Slade, all in London. Thomas immediately gained prestigious commissions including some for
Fabergé and widely submitted his work to exhibitions in London and also to the Walker Art Gallery in Liverpool and Manchester Art Gallery.
During the First World War, Thomas enlisted in the army where he worked in intelligence but was severely wounded. Afterwards he got several commissions for funerary effigies and war memorials as well as returning to his more usual work of smaller scale relief sculpture. He again enlisted at the outbreak of World War Two, this time in the RAF where he created 3D terrain models of aerial photographs. He was demobbed in 1945 aged 60.
In 1953 Thomas was appointed Officer of the Most Excellent Order of the British Empire (OBE)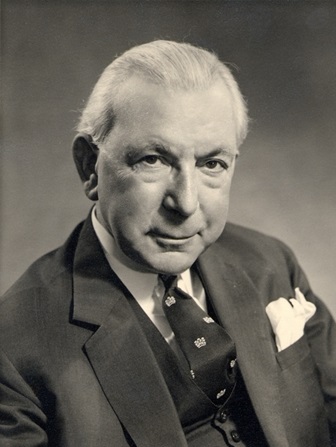 Lord Henry Cohen of Birkenhead
The Donor
The medal was presented to the University of Liverpool as part of a large bequest left by Lord Henry Cohen of Birkenhead (1900 – 1977), a highly eminent physician. It would have been awarded to him for his services to medicine and also his extensive philanthropical work.
Lord Cohen was not born to a grand title; his beginnings were quite humble and he was the son of Polish Jewish refugees who lived in Birkenhead at the time of his birth. He went to school locally, winning a scholarship to the Birkenhead Institute and from there was awarded a scholarship to study law at Oxford but could not take it up due to financial constraints. Instead, Cohen came to the University of Liverpool, this time on a local authority scholarship, and decided to study medicine instead of law. To save money on the commute, Cohen would walk most of the way from his Birkenhead home to the University and back, just paying to cross the Mersey by ferry, and he would take sandwiches in every day. He graduated with a first-class degree in 1922.
From the outset of his career and throughout, Cohen was a member of staff at the Liverpool Royal Infirmary, the teaching hospital of the University. He was promoted to Chair of Medicine in 1934, a position he held for 31 years. Cohen acted as a senior advisor during the establishment of the National Health Service and gained innumerable distinguished awards and accolades. He was knighted in 1949 and raised to the peerage in 1956, when he chose to honour his home town of Birkenhead in his title.
Sadly, in 1952 Cohen suffered a coronary thrombosis which severely incapacitated him, so he would not have been able to attend the Queen's Coronation itself. He certainly took good care of his medal which is in excellent condition and still in its pristine presentation box.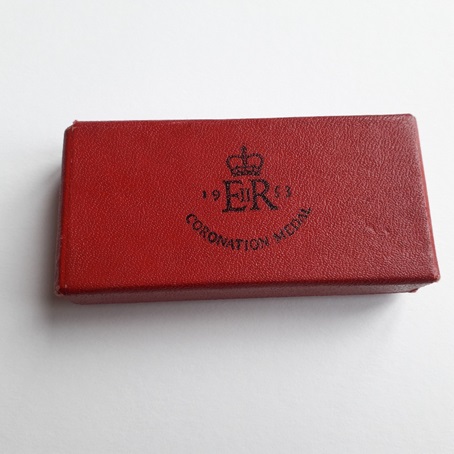 Presentation Box
Further Information:
Cecil Thomas
https://sculpture.gla.ac.uk/view/person.php?id=msib2_1208264663
Lord Henry Cohen of Birkenhead
https://history.rcplondon.ac.uk/inspiring-physicians/lord-henry-cohen-baron-cohen-birkenhead

Henry: a physician of distinction — the Rt Hon. Lord Cohen of Birkenhead, CH
MERVYN GOODMAN
Jewish Historical Studies
Vol. 39 (2004), pp. 197-216 (20 pages)
Published by: Jewish Historical Society of England
https://www.jstor.org/stable/29780078?seq=1


Image of Queen Elizabeth II after her Coronation in 1953, creator Paul Thomson made available via Wikimedia Creative Commons licence.
---