"Unclouded Skies of Brilliant Azure": The work of Caroline Emily Gray Hill
Posted on: 8 March 2022 by Michael White, VG&M Visitor Services in 2022

Pictured above is the artwork that captured my imagination and led me to write this article and find out the story of the artist. It's subtle and economic brush marks placed against the vivid colours and simple composition produces a wonderful effect. The capturing of a moment, without over or underworking the image is what I find inherently enthralling. Being a Victorian woman, her story is also a fascinating look into women's rights of the era.
"The dawn, the sunrise, the sunset, the after-glow, the moon-rise, the starry night- all are equally beautiful from this spot. But loveliest is the dawn" – Caroline Emily Gray Hill.
Introduction
During her time, Caroline Emily Gray Hill was entirely underappreciated and neither well respected or even noticed as an artist. And yet her images captivate, and her work has travelled halfway across the world at one point (for an exhibition in Ticho House Israel in 2002). It is only right for some light to be shone on her life and work for International Women's Day (8th March).
Even Caroline rarely dated, gave a location or even named her own works. We at the Victoria Gallery and Museum are in possession of around 120 works (the largest collection) by her - donated to the University by Sir Norman Hill (her husband's second cousin) following her death in 1924, so we can hopefully shed some light on her story.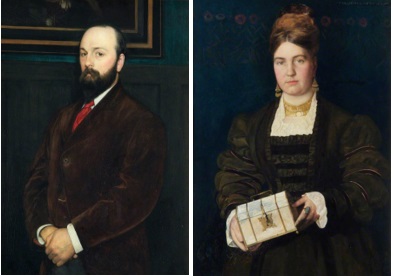 Pictured Left- "Gray Hill" – Edward Robert Hughes. Oil on Canvas. Pictured Right – "Caroline Hill" – Edward Robert Hughes. Oil on Canvas [Bruce Castle Museum Collection]
Who was she?
Caroline was born in 1843 and her father was George Drake Hardy in Tottenham. The unfortunate truth about life for women during this time meant that Caroline was not formally taught in art, and was not allowed to be considered a serious artist, even though it was a common pastime for Victorian women to paint and to sketch. We can look back on her work with a modern lens, yet unfortunately history leaves her with a single mention – a dedication within her husband's book.
Caroline married in 1864 to the solicitor Sir John Edward Gray Hill who specialised in maritime law; likely finding an abundance of work in Liverpool away from his hometown in Tottenham where they both studied at the Bruce Castle School.
Her husband John Edward was senior partner and the secretary of the Liverpool Steam Ship association in the late 1860s representing prestigious clients like the Cunard Partnership and the Inman Steamship Company. Also entering into partnership with John Dickinson in 1874 establishing the law firm Hill Dickinson at 10 Water Street, a firm still operating today. He was eventually Knighted in 1904 by King Edward VII for services to his profession. John and Caroline were both collectors of art, owning works by Gainsborough, Botticelli and Sir Joshua Reynolds. The couple showcased these works within their estate, Mere Hall – Oxton- an elaborately decorated estate with 17 staff members.
Caroline first visited the "Holy Land" of the Middle East in 1888 (as a simple holiday) and later the couple would find themselves living between their home estate in Birkenhead (on the Wirral Peninsula) and the home they built on Mount Scopus in modern day Israel.
Their home allowed them a panoramic view of the old city of Jerusalem to the west and the eastern expanses of the desert. Within her work it is clear Caroline and her husband found more joy being on the fringes of the city and within natural landscapes.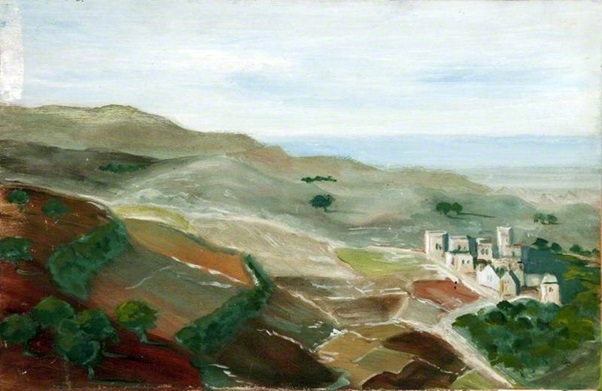 "Landscape With a Hillside Town near the sea" Caroline Emily Gray Hill Oil on Canvas. Views like this was what she lived for.
Their original home was later the first building of the Hebrew University (later demolished as the campus expanded).
For a long time the lands around mount Scopus was her singular muse. After the death of her husband in 1914 however, she would never return to the Middle East. The damp weather of Merseyside was described as detrimental to Caroline's health. They found the dry and arid weather of the east to be much more breathable and better for Caroline's well-being.
Caroline has been often described as an "orientalist" painter, a now problematic term used to describe European artists who found present day Turkey, Greece and the Middle East alluring and exotic. David Roberts (1796 – 1864) is one artist in particular who's beautiful topographical lithographic prints of the 'Holy Lands", Egypt, Arabia and Nubia, published in the 1840s, influenced many British artists.
The writings her work accompanied
Caroline's work and talents were put to use illustrating her husband's travel writings within his memoirs "With The Beduins: A Narrative Of Journeys And Adventures In Unfrequented Parts Of Syria" which is also dedicated to her. Caroline can also be seen writing and illustrating her own article in The Windsor Magazine, entitled "A Journey By The Way Of The Philistines" found within the 17th semi-annual volume of the magazine dated December 1902- May 1903.
Caroline's paintings are perhaps symptomatic of the Victorian self-taught artist, producing sometimes crude work but wonderfully full of emotional connection and feeling. Cameras were not as readily available as today so you might cynically or quaintly consider these her holiday snaps.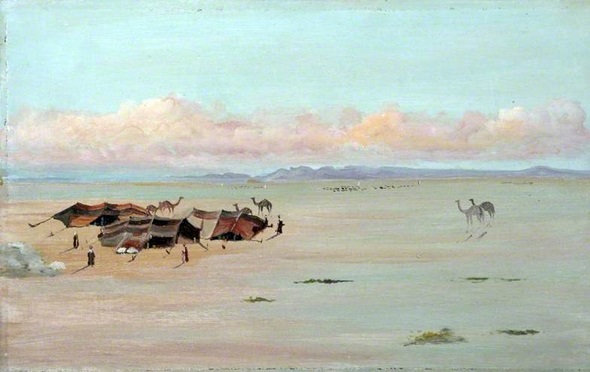 "Desert Landscape with Bedouin tents, Camels and Figures" Caroline Emily Gray Hill Oil on Canvas. Here the human elements stand in stark compositional contrast to the landscape. Neither seem to marry well to the other.
Within her own writings we can find particularly insightful passages of prose and ideas. Caroline writes within her Windsor Magazine article that whilst the advancement and construction of railways in the region will:
"Probably some day will destroy its romance for ever but till that day for those who love unclouded skies of brilliant azure, the purest and most invigorating of air, little oases of palm trees springing up under intensely yellow hills of virgin sand, occasional glimpses of the deep blue of the Mediterranean, above all freedom complete and unbroken from the labours and worries of our busy work-a- day world, will find nothing in this wide world more delightful than a ride in the spring of the year across this desert".
It is fascinating to hear Caroline's own words describing her thoughts and the vistas she enjoys from the mundane world of industrial England to what was seen as a paradise of endless blue skies. She may be just a traveller to these Middle Eastern lands, and yet fell in love with the light and atmosphere and decided to stay. And that love is visible both within her writings and her mark making.
The subject of her work
Whilst Caroline had amiable interactions with both Muslims and Christians in the area, her work makes the viewer visually far away, distant physically and metaphorically to the tiny people she paints. She and her husband have many stories describing the danger and troubles they encounter along their adventures. She describes the time in which she and her husband met the head of the Egyptian Police surrounded by soldiers with the displayed photographs of criminals on the walls. "The soldiers [surrounding their table] laughed when we said that we thought we had better offer coffee to any such folk, and not quarrel with them," afterwards they offered two soldiers as escort for these hapless Britons. This quality of feeling out of place might be subjectively described as prominent in her work. Within her husband's memoirs, they are found kidnapped, ransomed and even arrested whilst on their travels.
What we can learn from her story
It's rather sad that true and real experience displayed so thoughtfully goes unnoticed during Caroline's day.
The obvious emotional weight of freedom behind the paintings, and the love of the open air comes through in everything she does both in writing and with her brush.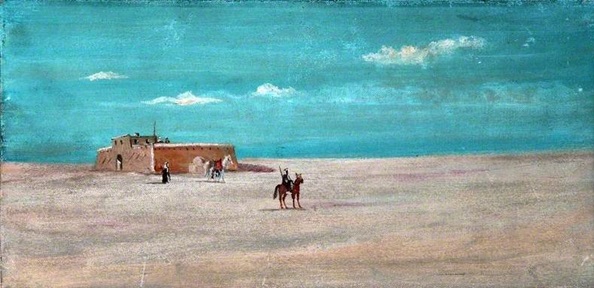 "Desert Landscape with a remote building, Figures and Horses" – Caroline Emily Gray Hill Oil on Canvas. A simplistic and lonely scene that seems to stretch on forever.
As artists we can learn a lot from the simplistic lesson of being truthful to what you want to capture. The images in which Caroline concerns herself with the artificial effects such as tents or congregations of people lead to staccato brush marks and a distinct lack of connection between the man-made and natural elements of her images. Yet her glorious paintings of the sunset don't just seem to capture the colour, tone or the shape but the totality of her contemplations far away from home. A small amount of paintings are overworked, concerned with getting it 'right'. The shapes becoming blocky, forced and without feeling; just unemotionally getting down the information of the various figures or lifestyle that surrounds her. Whilst the majority have a wonderful energy all their own.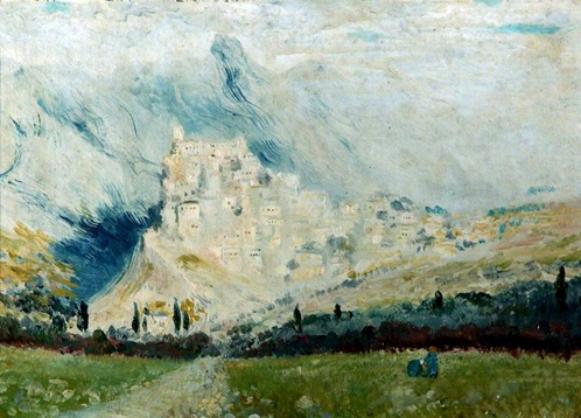 "Castle in Corsica" – Caroline Emily Gray Hill Oil on Canvas. She was obviously a traveller yet still continued in much the same way, with beautiful faraway views.

"Desert landscape with Camel Riders at Sunset" – Caroline Emily Gray Hill Oil on Canvas. A quiet contemplation of the end of a day.
Like many amateur artists, Caroline's work could encompass both the rudimentary and the polished, her talents and interests lie in specific areas of study while others are particularly lacking. Her sky and seascapes, for example, are perfectly accounted for in terms of their mark making and brush economy.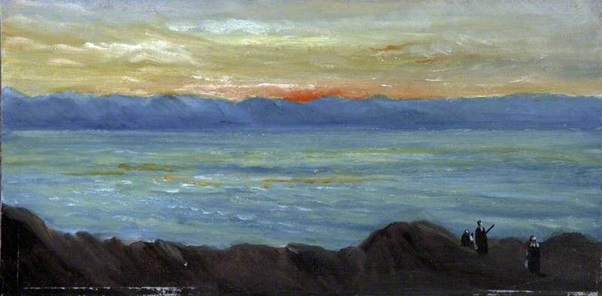 "Landscape with a Lake Surrounded by Mountains with Figures at Sunset" – Caroline Emily Gray Hill Oil on Canvas. The sheer numbers of skies she painted- she gets great joy from the activity.

"Sunrise over the Mountains of Moab" – Caroline Emily Gray Hill Oil on Canvas. Repetition of these colours and composition- a beautiful idea she felt was not properly captured within one go.

"Camel Rider on a shore" – Caroline Emily Gray Hill Oil on Canvas. Yet another lonely and imaginative painting. This composition could be off the sketchbook of a modern illustrator. Simplistic and timeless
This is something typical of all creative types and is a lesson worth learning from Caroline, both to not shy away from what we are lacking in skill -to actually get better you must practice what you're not so good at - but to also find worthy joy and enjoyment from creating. Art is not a chore, and neither should it be for anyone - even professionals have their comfort zones. Caroline Emily Gray Hill was never (and due to the time she lived in was prevented from) trying to be a great name in the artistic world but was instead finding enjoyment in a pastime and recording what she saw. We can criticise and pick apart what she put onto paper and canvas, but she gave us wonderful notions of pure air and wide horizons, away from the damp and pollution of North West England. From what we know of Caroline, she was honest and led a quiet life which ended in 1924, but she leaves with us a wonderful story and example to be learned from.
Further Reading on Caroline Emily Gray Hill:
'A Journey By The Way Of The Phillistines" Windsor Magazine- Archived version containing an account of a journey of hers, written by Caroline. Windsor Magazine Vol 17 December 1902-May 1903 : VictorianVoices.net : Free Download, Borrow, and Streaming : Internet Archive
'With The Beduins' – John Edward Gray Hill Archived pdf https://ia902706.us.archive.org/10/items/withbeduins00unkngoog/withbeduins00unkngoog.pdf
Historical article from the History Group of Oxton Society - history periodical April v4 (theoxtonsociety.co.uk)
Newspaper article about the Ticho House exhibition of Caroline Emily Gray Hill's works - Gray Hill landscapes lend color to Ticho House show - Israeli Culture - Haaretz.com
Painting by Caroline Emily Gray Hill on Art UK: https://artuk.org/discover/artworks/search/actor:hill-caroline-emily-gray-18431924/page/3
---