Linda Stein: Gender Scrambling
Posted on: 23 June 2023 by Oliver Donald, a student at Sir John Dean's Sixth Form College in Cheshire. in 2023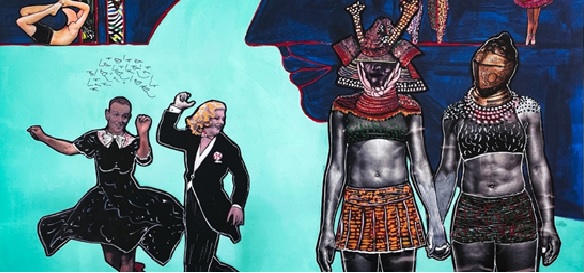 To celebrate Pride Month, we've invited emerging art historian and curator Oliver Donald to write about our current exhibition, Gender Scrambling, by American feminist LGBTQ+ artist Linda Stein.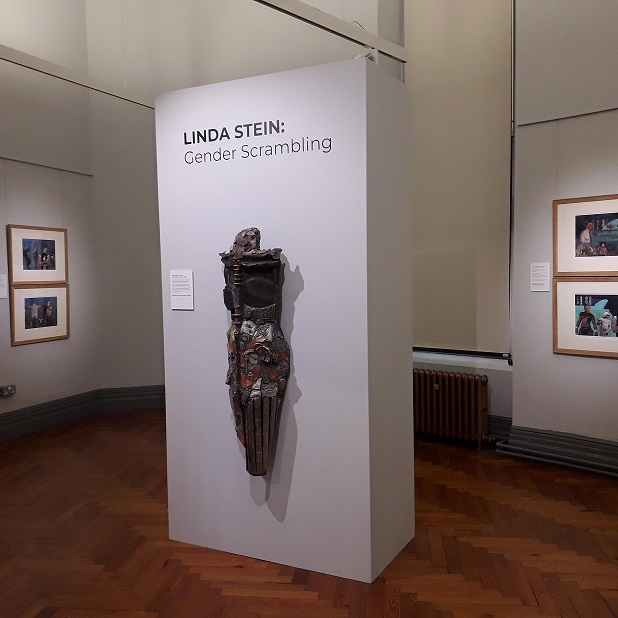 Gender Scrambling exhibition at the VG&M
Artist, activist, educator and writer: Linda Stein was among the first in art to confront and explore notions of feminism and gender identity. Linda Stein's influence can be seen across all art media even today, with contemporary emerging artists such as Hanna Quinlan and Rosie Hastings exhibiting in Tate Britain, addressing similar issues. Stein's professional artistic career began in 1961 when she received her Bachelor's degree from Queens College (CUNY), later earning her masters from the Pratt institute, and eventually attending the Art Students League, Pratt Graphics Centre and the School of Visual Arts.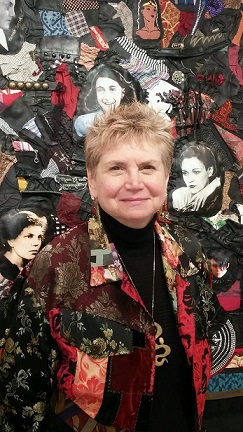 Portrait of Linda Stein by Karen Keifer-Boyd
From life to art:
Linda Stein was born in 1943 to a working-class Jewish Family living in the Bronx. She faced numerous obstacles, though perhaps most prominent being those inherent with being a woman in a world of men and the strong gendering of roles at that time. Her struggle first manifested itself in Stein at a very early age, where in recurring nightmares she would find herself again running from the "bad guys". Being a teen in the late 1950s New York scene seemed to cultivate what was to become a strong radical voice. The vibrant atmosphere of the city fostered a new collective of activists and artists who challenged the prejudices of the 20th century. Stein recalls her first encounter with feminism at the age of 20, attending a Betty Friedan talk in which she tackled a live audience of antagonistic men - Stein remembers how captivated she became as an audience member, in awe of Friedan's skill in navigating her challengers. This experience perhaps uncovered her first motivation to become a member of the stage and not the audience - an 'upstander' rather than a 'bystander' - two words which became the ethos of some of her later works. This experience undoubtedly sowed an important seed for Stein, but her real association and identification with the idea of feminism came following the 9/11 attacks of 2001 during which she was forced to flee her Tribeca apartment and studio. These times proved extremely difficult and Stein found herself again in need of a sense of protection. It was nearly a year later that she was finally able to return to her studio and continue work on her sculptures, by this point realising her once abstract forms now began to resemble a warrior-like figure based on a woman's torso. With strong shoulders and a hefty silhouette of metal, this figure symbolised a protective guardian - or a "foil for [Steins'] fears" in a world of prejudice.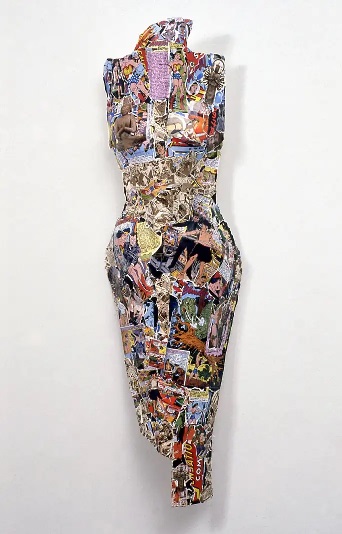 Linda Stein: Wonder Women sculpture (©Linda Stein)
This sentinel character was soon named "wonder woman" and eventually evolved into the forewoman of her first major travelling exhibition 'The Fluidity of Gender' in 2010, which journeyed to over 35 museums and universities around the US. This project, Stein says, was what first shifted her stance as an artist to focus on social justice and feminism, stating that her goal as an artist "is to use my art to transform social consciousness and inspire activism for peace, equality and diversity. With my androgynous forms and pop-culture icons, I invite the viewer to seek diversity in unpredictable ways, to 'try on' new personal avatars and self-definitions."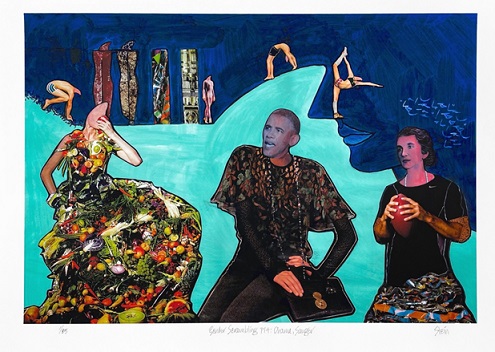 Linda Stein: Gender Scrambling 774 Obama, Sanger (©Linda Stein)
Gender Scrambling:
Eventually, these symbolic characters of androgyny led Linda to consider the distance between how the male and female form is represented in pop culture and media. Through combining paint, acrylic, and magazine cuttings, Stein creates a whole new world of collage that transcends, or rather scrambles, these conventional ideas of gender identity and expression. The exhibition, Gender Scrambling, centres around the 26-print series of that name, which describe a rather chaotic landscape of cultural references, symbols and questions through mismatching celebrity faces with unpredictable bodies and clothing.
For instance, in this piece above we see President Barak Obama and, rather than in his usual suit and tie, he playfully dons a floral blouse and handbag. Contrasting, to his right we see a lesser-known figure, Margaret Sanger (an important female figure who pioneered the invention of birth control), who wears the body of masculinity and strength. With Stein's use of scrambling, she is able to elevate these figures - arming them with a visual metaphor for the audience to recognise their strengths. We also often spot other recurring symbols important to Stein, like the two buildings visible in the background that appear in every piece - standing as a reference to the Twin Towers and the 9/11 attacks. Stein states the importance of these symbols is "to feel 'whole'" by including her history: "I like bringing the different parts of me together".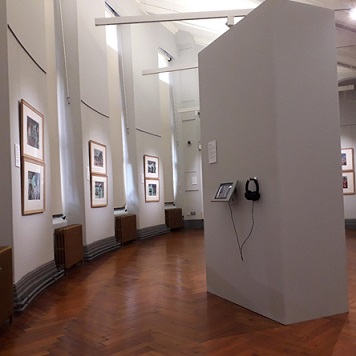 Gender Scrambling exhibition at the VG&M
Final thoughts and future:
For me, Stein's paintings and sculptures are not only visually captivating, but award the viewer with a great sense of introspection - using art to allow us to question the norms and conventions surrounding feminism, activism, gender and identity. Stein has both created and become the protective figure who she so sought as a child, and it is clear that, with her new art and new ideas, she has created the same for many contemporary young people around the world. The evolution of Stein's art is a supremely compelling story, narrating the metamorphosis of a small girl in a frightening world, into an inspiring, pioneering artist. Her influence is undeniable, and with such a remarkable journey, it will be intriguing to see where her work will progress and which topics she will tackle next.
Oliver Donald is a student at Sir John Dean's Sixth Form College in Cheshire.
Linda Stein: Gender Scrambling is showing at the VG&M until 2 September 2023. The VG&M's Linda Stein collection was generously donated by Mr Raymond Learsy in 2022.
References:
Linda Stein. (n.d.). Linda Stein - Artist. [online] Available at: https://www.lindastein.com/home [Accessed 27 May 2023].
admin (n.d.). THE VFA PIONEER HISTORIES PROJECT - LINDA STEIN. [online] Veteran Feminists of America. Available at: https://veteranfeministsofamerica.org/vfa-pioneer-histories-project-linda-stein/ [Accessed 27 May 2023].
Tate (n.d.). Hannah Quinlan and Rosie Hastings | Tate Britain. [online] Tate. Available at: https://www.tate.org.uk/whats-on/tate-britain/rosie-hastings-and-hannah-quinlan.
Cornmell, A. (2023). Gender Scrambling at the Victoria Gallery and Museum - University of
Liverpool News. [online] News. Available at: https://news.liverpool.ac.uk/2023/05/09/gender-scrambling-at-the-victoria-gallery-and-museum/ [Accessed 10 Jun. 2023].
Anon, (n.d.). Gender Scrambling Frequently Asked Questions | Have Art: Will Travel! Inc. [online] Available at: https://www.haveartwilltravel.org/prints/gender-scrambling-faq/ [Accessed 17 Jun. 2023].
---