Jane Herdman: Science and Sewing
Posted on: 8 March 2023 by Amanda Draper, Curator of Art and Exhibitions in 2023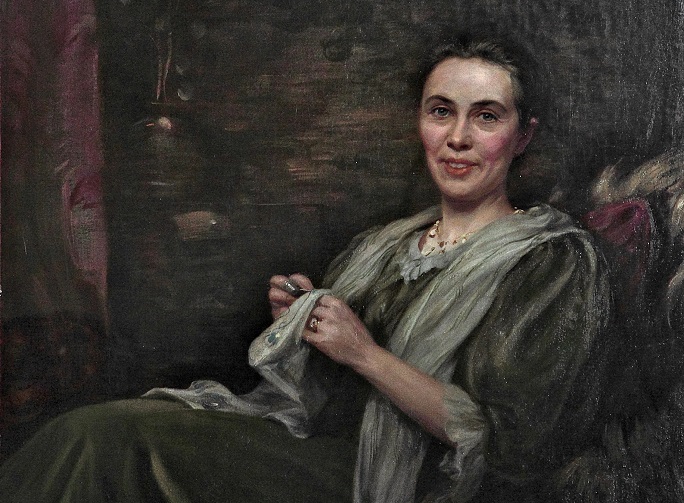 Deep within the University's Department of Earth, Ocean and Ecological Sciences building hangs a portrait of a lady serenely sewing. She is Jane Herdman and the building is named after her. Jane's story is a mix of love, tragedy, science and, above all, the encouragement of learning.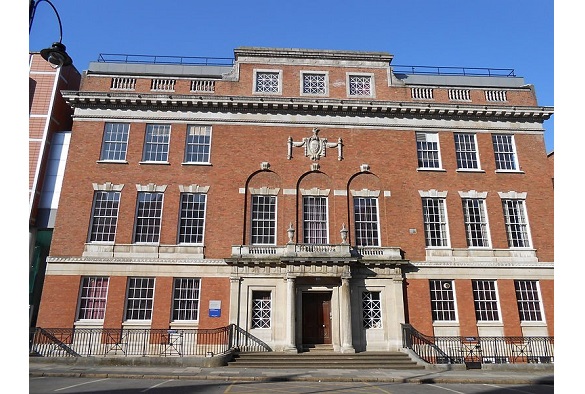 Jane Herdman Building, University of Liverpool Campus
Early years
Born Jane Brandreth Holt in 1867, she was the only daughter of wealthy Liverpool ship merchant and engineer Alfred Holt, founder of the Blue Funnel Line. Jane's mother, Catherine, died when she was only two and her father re-married when she was four. Along with her two brothers and two half-brothers, Jane grew up at Crofton Hall in Aigburth.
Something of their father's interest in science and engineering rubbed off on the Holt siblings. Elder son George followed his father into the shipping business, while both Jane and youngest son Alfred Jnr came to study science at University College, Liverpool, forerunner of the University of Liverpool. Jane studied physics (and some sources say chemistry), graduating with first class honours in 1891. It was awarded by the University of London because Liverpool could teach subjects but not award degrees at that time. Jane was by no means the only woman to be studying sciences at degree level, but it was still rare and not an easy path to choose. She was committed to supporting access to education for all, but especially women. The year after taking her degree, Jane became the first President of the Women Students' Representative Council, and also was a member of the Hostel Committee for many years which organised accommodation for women students.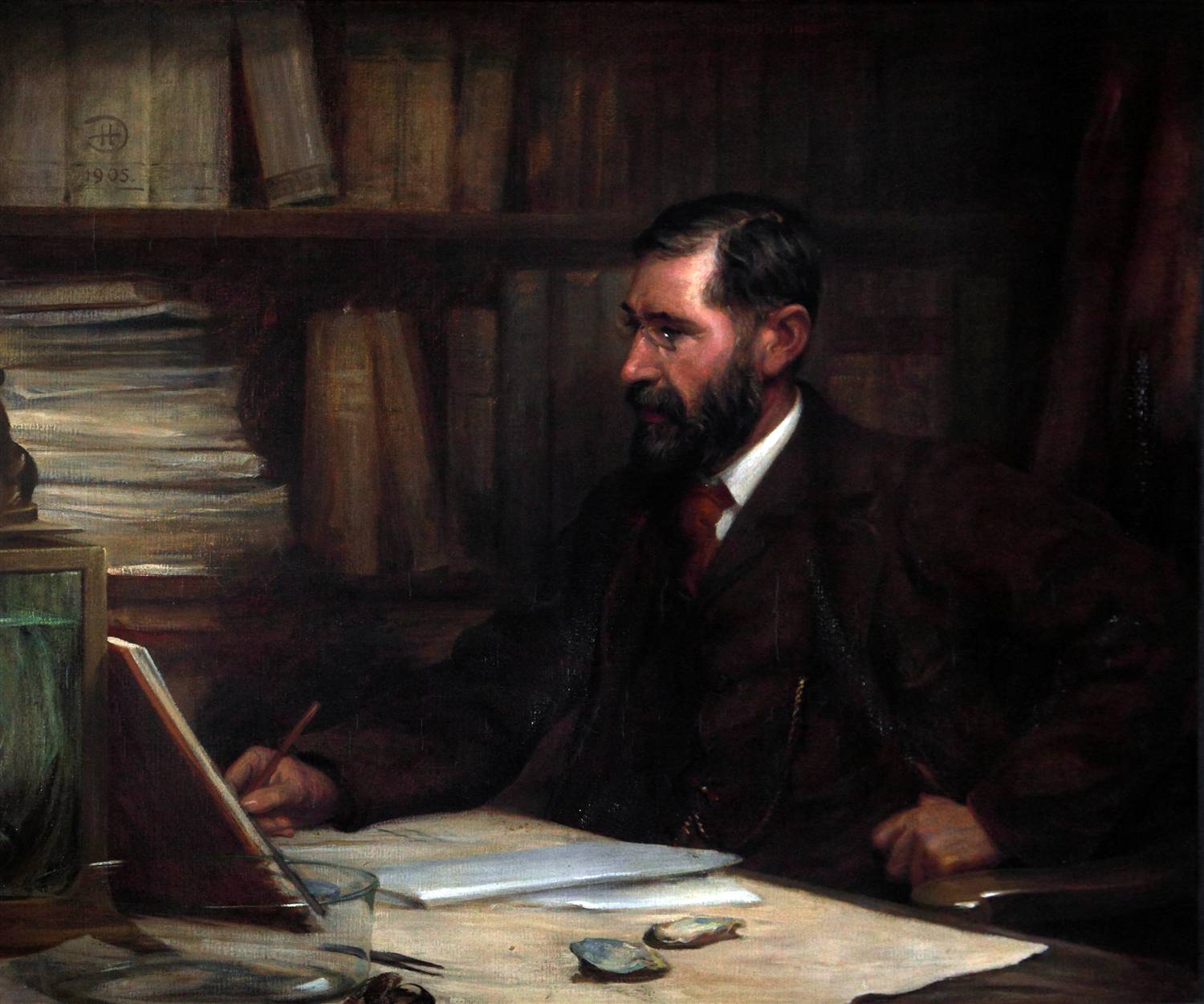 Robert Duddingstone Herdman: William Abbott Herdman, 1905 (oil on canvas)
William Abbott Herdman
A perhaps unexpectedly romantic outcome from Jane's University years was a marriage proposal from Professor William Herdman (1858 – 1924), an eminent natural historian with specialism in marine biology. He had been appointed the first Derby Professor of Natural History at University College, Liverpool in 1881. As such, it is very likely that the couple met in a student/tutor context. William was a widower, whose first wife Sarah had died in 1886 after just four years of marriage, leaving him as the single parent of two infant daughters. Jane was a single woman nine years his junior, and William's family situation echoed her own early years. The couple married in 1893 and added to the family with a son, George Andrew, and a daughter, Emma Catherine.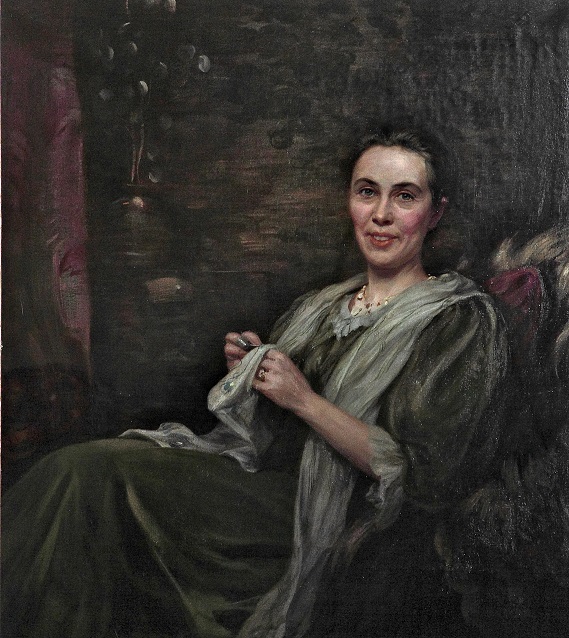 Robert Duddingstone Herdman: Portrait of Jane Herdman, 1910 (oil on canvas)
The Portrait
After marriage Jane did not pursue an independent career in science, even though she was well qualified to do so. Instead, she followed her interests in encouraging young people, especially girls, to further their education, and supported her husband in his work as he excelled and grew famous in his field. His accolades and awards were many: General Secretary of the British Association; Fellow and Council Secretary of the Royal Society; President of the Linnean Society; recipient of many honorary degrees; and all the while holding senior academic positions at what by now was the University of Liverpool.
Both William and Jane were painted at different times by William's brother, artist Robert Duddingstone Herdman (1863 – 1922). While William is depicted looking studious in his office surrounded by learned documents, Jane is depicted sewing in a comfy chair at the family's home, Croxteth Lodge; the picture of domesticity. In many ways this is disappointing and ignores her personal achievements, but it reflects the mores and sensibilities of the time with regard to gender roles among the middle-classes. A contemporary commentator wrote of Jane: "In her mental endowment, as in the other attributes that go to the making of a happy union, she was a fit companion for the distinguished scientist …" (Liverpool Echo, Nov 1922). Indeed, accounts of Jane's life tend to be set out in terms of her husband and father, whose lives are much better documented.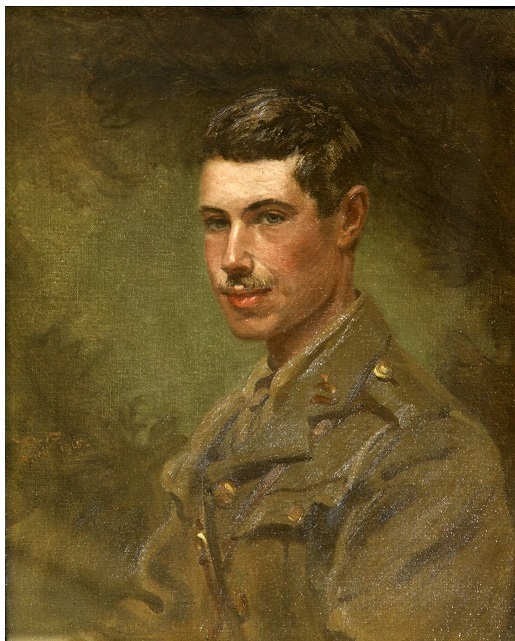 Robert Duddingstone Herdman: George Andrew Herdman, 1915 (oil on canvas)
Tragedy
Jane's portrait was painted in 1910, at a time when all was apparently well in her world, but this was to change with the outbreak of World War One. Her and William's son, George, entered the war as a commissioned officer, serving in 18 Battalion, the King's (Liverpool) Regiment as 2nd Lieutenant. Above is the portrait of him in his uniform, painted by his uncle and dated April 1915. George was killed on the first day of the Battle of the Somme, 1 July 1916, in Northern France. He was 20 years old.
Together, George's grief-stricken parents endowed a Chair in Geology at the University of Liverpool in his name, and also funded a Memorial Institute (library) in Port Erin, Isle of Man, where William had founded a marine research station as part of his work. It relocated to new premises in the 1980s but is still known as the George Herdman Library.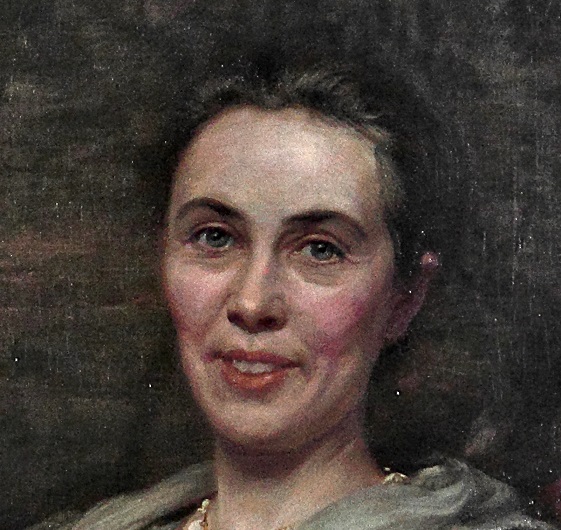 Robert Duddingstone Herdman: Portrait of Jane Herdman (detail)
More endings
William was knighted in 1922 and so the couple became Sir William and Lady Herdman. But sadness was soon heaped upon William again when Jane passed away suddenly at their home after contracting pneumonia in November 1922. She was accorded an obituary in Nature magazine which made a point of celebrating her own achievements, especially with her services to the Liverpool Education Committee:
"… Lady Herdman exercised an influence which was always beneficial and often more far-reaching than she herself ever conceived. She possessed wisdom as well as knowledge, and the remembrance of her life will long be cherished with affection, to console as well as to inspire." (Nature, Vol. 110. Nov. 25 1922)
To honour Jane, William donated £20,000 to the University to build a new geology facility in her name (about £500,000 in today's value). The handsome building was finally opened in 1929, five years after William's own death in July 1924. Jane, William and George's portraits all hang in the Jane Herdman building and Jane's commitment to science and education continues there.
---