Electricity is a fine servant, but a very bad master
Posted on: 22 May 2020 by By Lorna Sergeant, Collections & Exhibitions Officer in 2020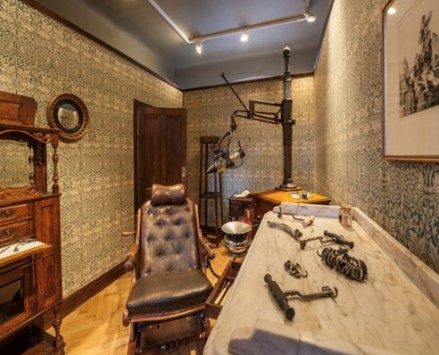 Part of my job is to look after the displays, and this includes routine object checking and cleaning of the heritage collections. This can lead to some interesting finds, as you see an object close up when you check and clean it. Here at the VG&M we look after one of the earliest and most important Dentistry collections in the world, which was originally set up by the staff and students of the Dental School in 1880. In the VGM the Curator of Heritage has used a selection from the collection to recreate a dental surgery - as it would have looked if established in the 19th Century. Furnished with plenty of bone chilling implements to set your teeth on edge, it includes an early example of an X-Ray machine - which the dentist would have purchased as soon as they became available (in the early 20th Century).

Recently I was cleaning this dental surgery - resulting in a particularly interesting find.
100 years ago, X-rays were more dangerous than you think…
I set about carefully cleaning the dentist's room cabinetry, adjustable dental chair with claw feet, attached spittoon, table, and then came to the X-Ray machine. The machine was made by a British company called Watson & Sons (Electro-Medical) Ltd in 1923 but the business was established in 1837. I knew from Professor Callum Youngson that when this machine was working, one touch of the wire that runs from the top of the machine down into the cathode tube would cause instant death! Typically, 50,000 to 150,000 volts ran down that wire – today, a substation that powers pylons taking electricity to factories would carry this amount of voltage!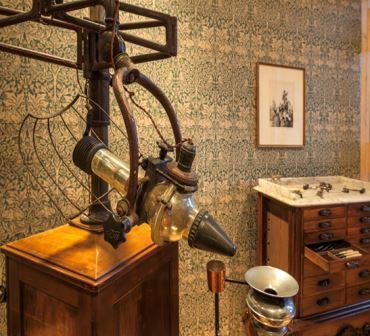 Watson & Sons 1923 X-Ray machine
Thankfully this machine is no longer operational. On opening the base of the X-Ray machine to check for grime, I discovered a myriad of mechanics wires and pulleys and a 1923 Health and Safety set of operational instructions that made me smile!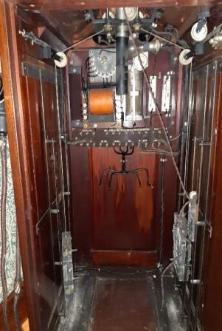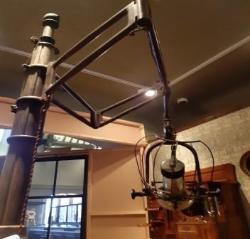 Inner workings Wire leading to the cathode tube
Our early health and safety user-instruction panel
My favourite warning is No 1. 'Electricity is a fine servant, but a very bad master' and indeed this is true. It's interesting that scant concern was given to health and safety at this early stage. After all, the loss of digits and hair, and even death, for some of the scientists who had developed the early X-Ray medical imaging would not have been far from the manufacturer's mind. The fear of electrocution would not be far from mine if I was a dentist at this time using this machine. The warning that 'standard practice should become a habit' would quickly become something to live and work by!
This X-Ray machine is possibly the first in a series of two. In 1927 the company developed the 'Like Floating in Air' model which is very similar but slightly more refined. This model apparently had an improved safety standard for both patient and dentist.
'Affords adequate protection to the dentist and patient and conforms to the recommendations of the X-Ray and Radium Protection Committee' - which makes you wonder if our model caused any mishaps! Especially as all of this is without even considering the massive doses of radiation inflicted on patients by this contraption.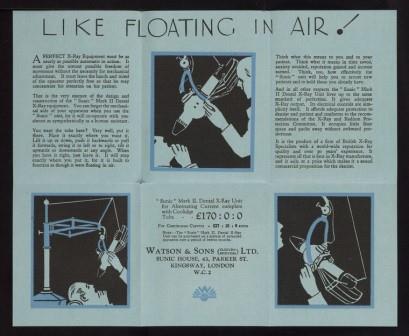 'Like floating in air'. Watson & Sons advert, 1927.
Credit: Wellcome Collection. In copyright
Today, dentistry continues to evolve and modern technologies have seen huge advances in every area of the discipline.
What the next century will bring is unknown - but with patient safety and care now the priority - there might not be a reason to fear the dentist ever again.
---