I Predict a Riot
Posted on: 29 May 2020 by Dr Amanda Draper Curator of Art and Exhibitions in 2020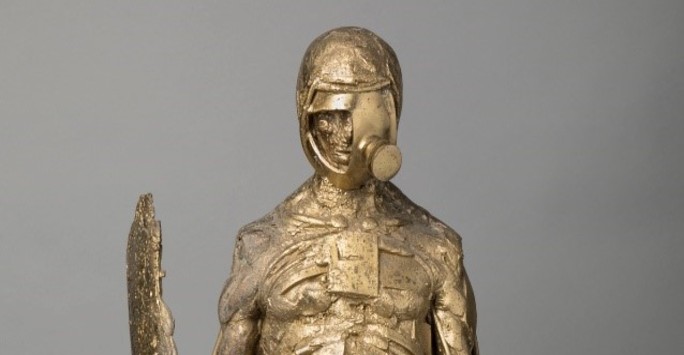 Amanda Draper, Curator of Art & Exhibitions writes …As a curator you're often asked "what is your favourite item in the collection?". It's a bit like asking which is your favourite child, and can depend on your mood, time of day, when you last ate and how much trouble they've been recently. At the moment I'd say this bronze sculpture by the Liverpool-based artist Sean Rice. I'm a HUGE fan of his work. And it's not just me. Riot Policeman, which is displayed on our staircase, is a big favourite with visitors despite (or maybe because) of its rather apocalyptic air.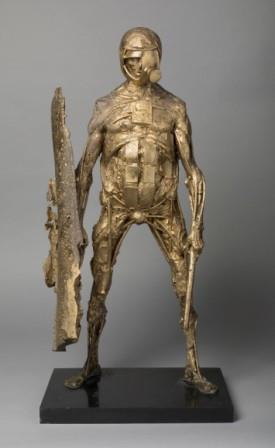 Riot Policeman, c.1982 by Sean Rice (1931 – 1997)
Bronze
In creating this sculpture, Rice was deeply influenced by the Toxteth riots of July 1981. Racial tensions and high unemployment led to violent clashes between protestors and police in riot gear. You can see Rice's figure is made menacing with its baton, shield and gas mask, but at the same time it has a vulnerability.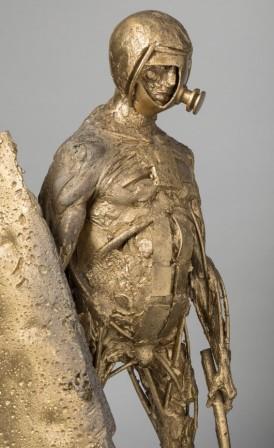 Riot Policeman, detail
The body armour only partially covers the figure to reveal, not just flesh, but skin that has been flayed back to reveal the skeletal structure of the armature beneath. It is part man and part machine. A cyborg straight out of a sci-fi scenario.
When looking at the sculpture face on, it is at its most imposing and confrontational, but from other angles the figure appears rather downcast, almost defeatist. We have no record of Rice's intentions with the work so it is up to each viewer to make up their own mind about its meaning.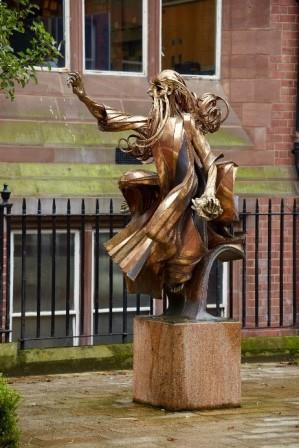 Shemaiah by Sean Rice
Rice's man/machine aesthetic seen here was a recurring theme of his work and was undoubtably influenced by his great love of motorcycles. But he had other strands to his work. Rice was interested in religious and mythological themes and, when creating sculpture on those subjects, tended to use a sinuous, flowing line with organic forms. Indeed, his figures often look like they are caught in a strong breeze. An example of this is the figure of Shimaiah, a Prophet from the Old Testament, which is installed just off the Quad on the University campus. The figure is one of a suite of sculptures commissioned for Liverpool's Metropolitan Cathedral which included representation of the fourteen stations of the cross set around the central space of the cathedral.
Although Rice is considered a Liverpool artist, he was actually born in London in 1931 and then lived in Brighton during the war. He began studying art there as student of painting but, influenced by sculptor James Woodford RA, began to focus on sculpture himself. In the early 1950s, Rice studied at the prestigious Royal Academy Schools in London where he was taught by sculptor Maurice Lambert whose taste for mythological subjects, animals and birds seems to have rubbed off on him. Rice won a Prix de Rome scholarship and spent two years in Italy, which was to be an enduring love of his. You can, perhaps, see influences of Italian Mannerist sculpture in his work, with its exaggerated poses of twisted torsos and outstretched arms.
By the late 1960s, Rice had settled in Liverpool and took up a teaching post at Liverpool School of Art in 1967 which he held until 1980. At this point he started to concentrate solely on his art, working from the foundry and workshop he built at his terraced house in Walton, close to Everton's Goodison Park football ground. He had the capacity there to work on a large scale for public sculpture such as his 17-foot fountain for the Atlantic Tower Hotel near Albert Dock in 1972. Another major commission was Noah and the Four Winds for Chester Zoo in 1977.
Rice enjoyed considerable success in Liverpool, as we have seen, and was also a regular exhibitor at the Alwin Gallery in London leading to his work being in some prestigious private collections. However, at this death in 1997, there was a significant body of work left in his studio. It wasn't until 2015 that a final sale from his studio took place and Riot Policeman was purchased for the collection.
Today, you will find Riot Policeman safely confined behind Perspex (all 67cm of him). Do come in and see what you think of him.
You can find information on Art UK website about other Sean Rice sculptures in our collection and that of The Atkinson in Southport here:


And see a very young Sean Rice at work here (beware the Terry-Thomas style voiceover)
---