Packing in a Pandemic - Moving the museum store
Posted on: 11 December 2020 by Lorna Sergeant, Collections & Exhibitions Officer in 2020
This time last year, it was with mixed emotion that the curator of the Heritage Collections and I received the news that we would be getting a new Heritage Store. Hooray! - we thought - much improved storage at last, oh but hang on… the thought of moving more than 14,000 objects from our current store to our shiny new store was daunting indeed - and that's putting it mildly.

It isn't just the quantity that makes our hair curl, it is the diversity of the University's Heritage Collections that we have to move that makes the task truly eye popping.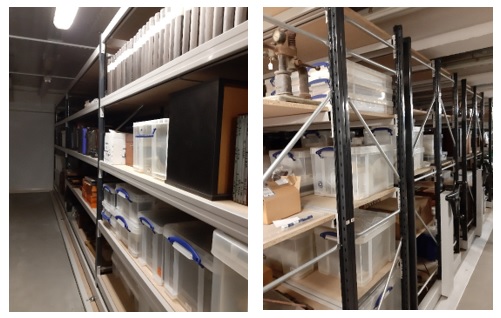 Our current Heritage Store

For instance, our Dental Museum collections contain 10,000 items alone ranging from unique and ornate dental chairs to dentures made from human teeth, and dental tools with ivory or shell handles.
Dental chairs

We have a fantastic and important collection of medical imaging including - from 1896 - some of the first medical X-rays ever taken. Charles Thurston Holland assisted Oliver Lodge with what is arguably the first ever surgical X-ray, and was subsequently responsible for the development of the country's (and possibly the world's) first department of Radiology at the Royal Southern Hospital in Liverpool. Our collection includes many of his experiments and research into his particular specialism, which was the location of foreign bodies - both in humans and animals - such as this poor Pekingese dog below who swallowed a needle...ouch!
His work was at the cutting edge of the development of X-rays as a tool in surgical practice. Some of the X-rays are on glass and others are printed onto photographic paper, so require different conditions of care.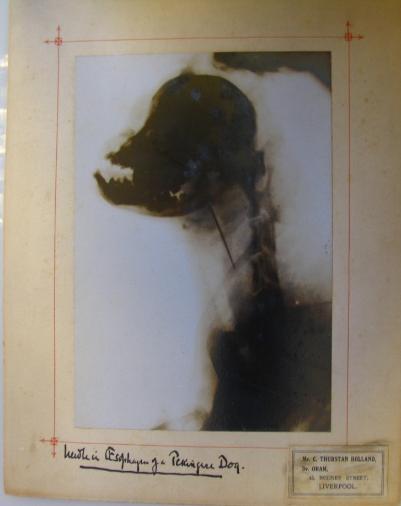 A
Pekingese dog with needle in oesophagus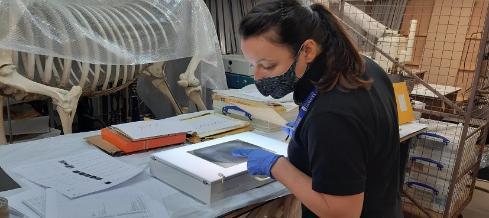 Lorna documenting the X rays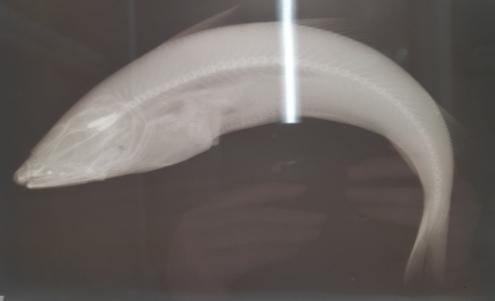 Early X ray of a fish by Charles Thurston Holland

We also have architectural models from Civic Design, engines and a racing car from Engineering, poisons from Anaesthesia, teaching models from Anatomy, taxidermy and creatures in bottles from Zoology, Geiger counters and ornate experimental glass from Physics, and from the Vet School - the skeleton of the famous racehorse Manifesto, who's Grand National record was second only to Red Rum. So far, our favourite 'quote of the day' has been 'we're ok, apart from the Anthrax and the Tuberculosis'.
Challenging Times
It has been up to us to coordinate, plan and organise the packing and movement of objects to our new store carefully and smoothly. We knew we could do it - but not alone - we needed help. It was time to get professional help from contractors M&G Transport and Technical Services to work with us and make a start on packing some of our most fragile collections.
The project has been 'slightly' delayed by the Coronavirus pandemic, but the nature of this work means that we are well equipped for the new requirements around safety and so we continue to beaver away recording, cataloguing, planning, packing and preparing for our big move.
Time to get packing
It has been important to plan the packing of the objects carefully and be sure we know what needs to move into the new store first. Consideration has to be given to fragile or sensitive collections - preventing them from harm or damage. We have tried to concentrate our efforts on these collections first. We make sure the objects are clean, uninfested and comfortable, getting the temperature and humidity just right. We prevent any damage by making sure they are packed carefully and with the correct materials.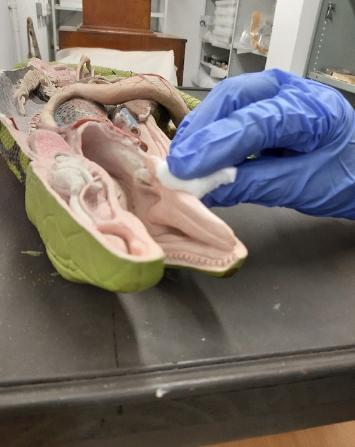 Cleaning before packing

The collection is diverse and we are constantly coming up against objects that need careful or specialised attention. We also have a variety of mixed media objects with incredibly fragile surfaces, such as the anatomical models that contain wax, paper mâché, plaster and bone (sometimes all on the same object).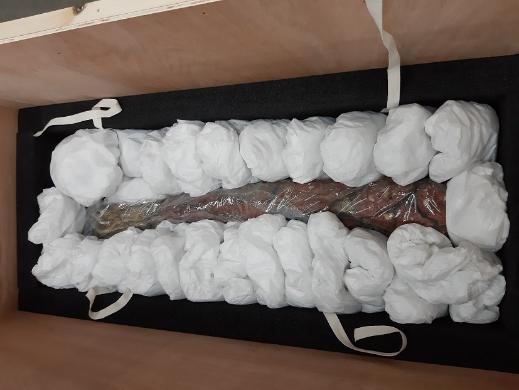 Paper mâché model showing the musculature and superficial venous drainage system packed in Dartek
Carefully does it
These objects (like the arm model above) are draped in a protective material named 'Dartek'. This is a transparent film that looks like a cling film but most certainly isn't! It is commonly used for art packing, storage, and conservation as it has no plasticizers or surface coating. This is draped over the object first to act as a barrier prior to being placed in its box and then we use acid free tissue pads to fill the void in the box.
This method applies only the very lightest contact with the object but it means it takes excess vibration out of the equation during movement between sites and give it a fully protective 'airbag' should the worst case happen and the box receive a jarring impact. But let's not go there, let's be positive!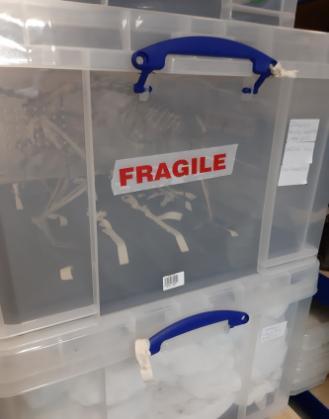 Some of the collection packed and ready for the new store
New Horizons
We have yet to make the journey to our new store, and we have more objects to pack. Have a thought for our wonderful Heritage Collections during this second lock down as we will not be the only ones cooped up awaiting a fresh start on the other side of Covid.
---