Away with the Fairies
Posted on: 18 December 2020 by Amanda Draper, Curator of Art and Exhibitions in 2020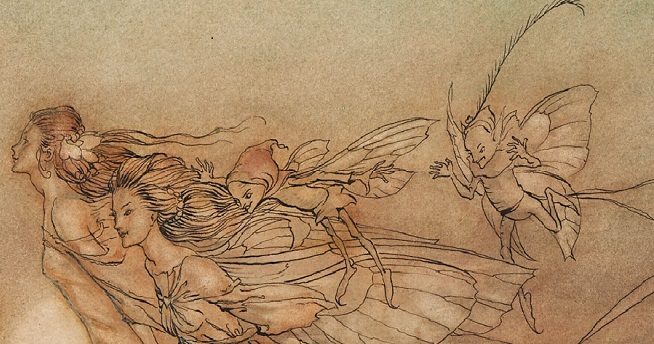 Outside, Winter's long, dark nights are bringing frost-tipped chills, so far nicer to stay inside and curl up with a book about mystical enchantments, magical creatures and monstrous beasts. And who better to illustrate our story but Arthur Rackham? Here is the bewitching tale of one of our visitors' favourite paintings: Twilight Dreams.

Twilight Dreams
A skein of ten gossamer-like fairies stream across the sky as twilight settles over London. It is Winter, and a full moon is reflected in the River Thames winding towards the capital with black, skeletal trees on its banks. On the horizon twinkle the city's lights as its citizens settle down for the evening. The fairies themselves are a mix of the beautiful and stately, with their long hair, gowns and wings cast behind them as they glide through the air, and youthful Puck-like creatures looking for fun and perhaps even mischief. Where are they going? Where have they been? Only their artist knows, and he isn't saying.
Origins of the Painting
Arthur Rackham originated his Twilight Dreams composition as a black and white pen and ink drawing. It was intended to be turned into a printed end-paper design for a new edition of J.M. Barrie's fairy tale 'Peter Pan in Kensington Garden'. The end-paper is usually a decorative design which has one half pasted to the inside of the book's cover and the other half then becomes the first free page.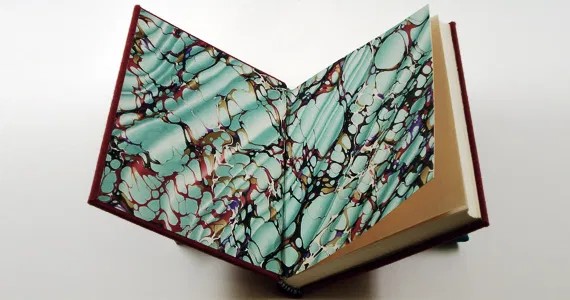 End papers. Photo copyright and courtesy of Henry Hebert.

The design was intended for the second Hodder & Stoughton edition of Barrie's children's story. The first edition, with illustrations by Rackham, had been published to huge acclaim in 1906 and this second edition published in 1912 included additional illustrations. Barrie had described to Rackham his favourite work from an exhibition of the artist's paintings held at the Leicester Galleries in London: "I think I like best of all the Serpentine with fairies …" With Twilight Dreams, Rackham was obviously trying to give Barrie something similar in mood and content. The illustration started out as a pen and ink drawing that would be reprinted as a black and white design but, with an exhibition on the horizon, Rackham coloured it in using watercolour to make it more appealing to prospective buyers.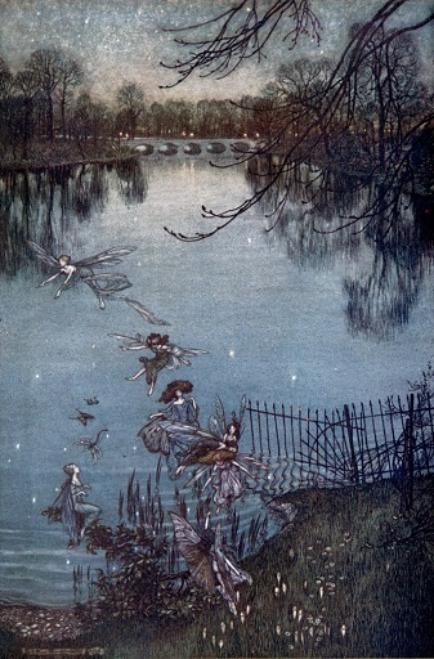 The Serpentine is a lovely lake, and there is a drowned forest at the bottom of it ...
[reproduction taken from 1912 edition of Peter Pan in Kensington Gardens,
original illustration from 1906]

Arthur Rackham
Arthur Rackham is considered the leading figure of the fleeting 'Golden Age' of book illustration between about 1890 and 1930. This flourishing of illustration was promoted by innovations in colour printing techniques which allowed for delicate and subtle ranges of tone and a very high-quality finish. Colour plates printed using a complex three-colour method were created separately from the main book and pasted in later, often with a tissue covering to protect them. It was an expensive process though, leading publishers to cover the costs by producing sumptuous gift books which could be sold for premium prices.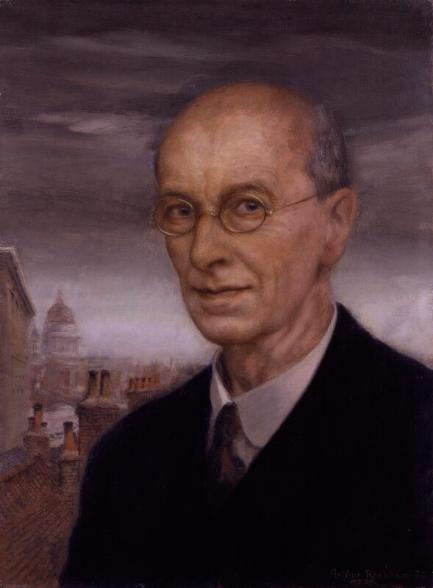 A Transpontine Cockney (self-portrait), 1934 by Arthur Rackham. Oil on canvas.
Courtesy of the National Portrait Gallery. London. NPG6103

What was unique about Rackham? His style is distinctive, even by the elaborate and fantastical standards of his peers like Edmund Dulac and Kay Neilson. He managed to mix, often in the same composition, the exquisitely beautiful with the frighteningly grotesque, and yet the overall mood would be playful and humorous.
There is a great sense of movement in Rackham 's figures, which he drew from live models. As with the fairies in Twilight Dreams, his figures often appear in weightless 'floating' poses which can be attributed to his models' use of a trapeze suspended from his studio ceiling. Even the artist himself used the apparatus for exercise.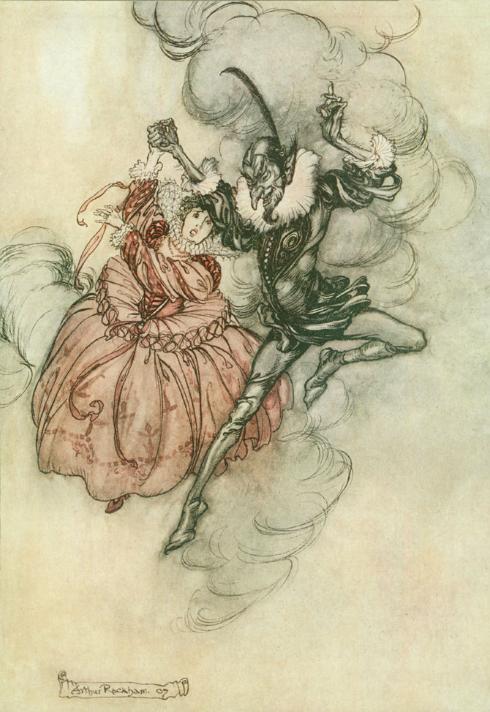 Pas de Deux from The Ingoldsby Legends (reproduction taken from the 1907 edition)

Rackham was born in 1867 in Vauxhall, London where his father worked as a legal secretary. Rackham junior started his working career as an insurance clerk but simultaneously attended night classes for eight years at Lambeth School of Art. After gaining some success as an illustrator in popular periodicals of the time, Rackham quit his job in 1892.
Although he was now a professional illustrator, Rackham really wanted to be a landscape artist. He managed to get a few landscapes exhibited at prestigious venues like the Royal Academy but it wasn't bringing in any money, so he went back to illustration. His big breakthrough came in 1898 when he was commissioned by publisher J.M. Dent to submit 80 black and white and twelve colour illustrations for a new edition of a collection of fairy stories called The Ingoldsby Legends.

Other major commissions for books followed, most notably Grimm's Fairy Tales (1900) Gulliver's Travels (1900), Rip van Winkle (1904), Peter Pan (1906), Alice in Wonderland (1907) and Shakespeare's A Midsummer Night's Dream (1908)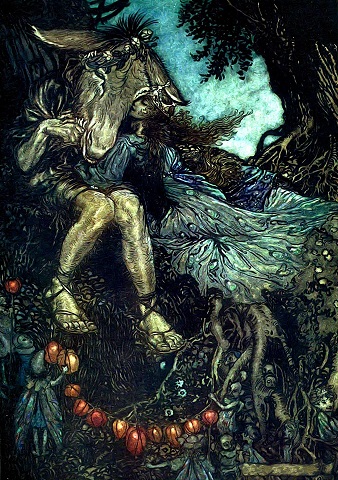 Bottom and Titania: 'Sleep thou, and I will wind thee in my arms'from A Midsummer Night's Dream (reproduction from 1908 edition)
Rackham continued to keep up a ferocious work rate, spurred on by other illustrators of the period who he feared would overtake his popularity. He was especially wary of Edmund Dulac and asked for any reviews of that artist's work be sent to him.
Rackham's worries about rivals and potential loss of work to them can be attributed to his early struggles. He was also conscious of the perceived disparity in status between commercial illustration and fine art and sought to close it by displaying his work publicly. He frequently exhibited at the Leicester Gallery in London but also internationally, winning awards at the Milan and Barcelona International Exhibitions. Rackham was eventually recognised by his peers and elected Vice President of the Royal Watercolour Society and Master of the Art Workers Guild.
Although the taste for lavishly illustrated, and therefore costly, gift books dipped in the 1920s, Rackham continued to receive major commissions and his later works included Hans Anderson's Fairy Tales (1932) and Wind in the Willows, which was published in 1940, the year following Rackham's death.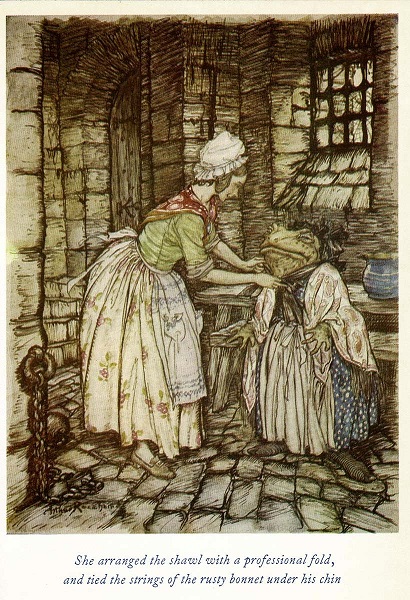 Wind in the Willows (reproduction from 1940 edition)

Back to the fairies
So how did the fairies of Rackham's Twilight Dreams end up at the University of Liverpool? This lovely painting was part of a significant collection of watercolours bequeathed by Sir Charles Sydney Jones in 1947. A wealthy philanthropist with an active involvement in the development of the University, he is one of our major benefactors. It is understood that Jones purchased the painting directly from Rackham in 1913 and may have seen it exhibited in a show of the artist's work held that year. It is atypical of Jones' usual taste in paintings as most of his collection comprises examples of the great British watercolourists of the late 18th and early 19th centuries including David Cox, John Sell Cotman, Thomas Girtin and no less than five by J.M.W. Turner. It seems that the fairies seduced Jones as they do so many of our visitors.
Twilight Dreams is currently hung in Gallery 5 at the VG&M and we hope you will come and see it when we reopen.

Further information:
On Arthur Rackham:
James Hamilton: Arthur Rackham, A life with Illustration,1990 (Pavilion Books Ltd, London)
Rodney Engen: Arthur Rackham, 2002 (Dulwich Picture Gallery, London)
On book illustration of the period:
Rodney Engen: The Age of Enchantment, Beardsley, Dulac & their Contemporaries, 2007(Scala Publishers Ltd in conjunction with Dulwich Picture Gallery, London)
Alan Horne
For a glimpse into the fascinating art of book binding: https://henryhebert.net/category/bookbinding/
---