Slavery and Snuff
Posted on: 6 October 2020 by Amanda Draper in 2020

Sometimes, as a museum curator, you are responsible for items in the collection that you find distasteful and even upsetting. And yet, they represent a story that needs to be told. Here is a little snuff-box which represents a huge injustice in history: the transatlantic slave trade.
What is it?

It is a small box, smooth to the touch, measuring 9.6cm in diameter and made of dark brown animal horn which has been pressed into shape. The lid pulls off so a treasured commodity such as snuff or tobacco can be stored in it, kept air-tight and made portable. The box would fit neatly into a jacket or coat pocket.
The real story here is what is shown on the lid: it is a person's head in left profile. We see the strong features and tightly-curled hair of a Black man who wears an earring. Around his neck is a slave-collar so we must presume he is an enslaved African. We don't know if the figure was modelled by a real person or if the image was copied from elsewhere, perhaps a print or book illustration.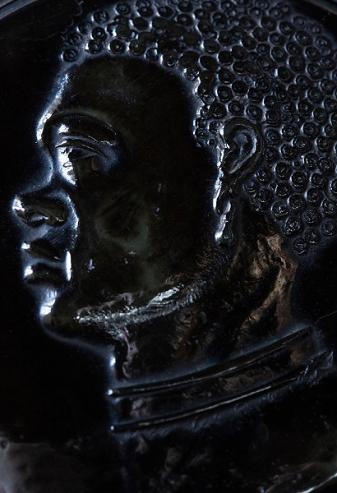 Detail showing close up of the man's head

Britain and the slave trade

British involvement in the commercial slave trade is usually dated to the 1640s and linked to the development of sugar plantations in the Caribbean. It evolved into a complex triangular trade route where domestic goods left Britain for the west coast of Africa to be traded for enslaved Africans, who were transported in horrific conditions to the Caribbean and the Americas to work on plantations cultivating products including sugar, coffee, tobacco and cotton. The resulting products would be shipped back to Britain with additional goods from the region. Other European countries participated in the slave trade, such as France, Spain and Portugal, and it is estimated that about 12 million Africans were enslaved and transported.
Here in Liverpool, the port became a key factor in the British slave trade and was the main departure point for slave trading ships by the 1760s. It is estimated that the ships of Liverpool merchants transported about 1.4 million enslaved Africans, over 10% of the total number. Many of the merchants also had investments in plantations and were slave-owners themselves.
There are more sources of information on the transatlantic slave trade at the end of this blog.
Snuff
And what went in the box? It could have been tobacco, but the box is very small so is it is more likely to have been snuff. This is a powdered form of tobacco which is inhaled through the nose, so 'snuffled' up. A pinch of snuff would be taken from the box with one hand and either put on the back of the other to be inhaled, or put directly into the nostrils to be sniffed in. It is a way of getting the hit of nicotine without smoking and is still manufactured today.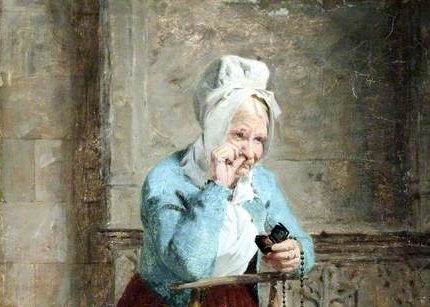 James Hayllar: Pleasure with Devotion, 1882 (Detail - Courtesy of The Atkinson, Southport)

Snuff originated with the indigenous people of Brazil and began to be used in Europe in the early 1500s, becoming widespread in Britain by the 1650s where it was thought to have medicinal qualities.
Snuff was manufactured in Britain using imported tobacco which was milled to the appropriate texture and often had flavourings added such as vanilla, rum or spices. The tobacco itself was part of the triangular transatlantic slave trading route and came back to Britain from the Americas, especially Virginia, and some Caribbean islands. The tobacco was grown on plantations using enslaved labour. By the 1700s the use of snuff was at a peak and considered a fashionable habit amongst the elite stimulating the demand for accessories, like snuff boxes, that were often highly decorative luxury items.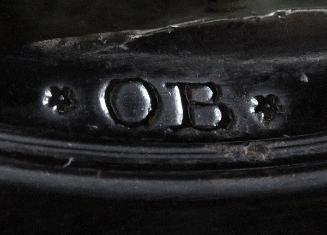 Detail of maker's mark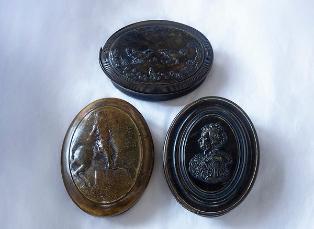 Three other snuff boxes by Obrisset at VG&M
John Obrisset

Looking again at our box, discretely engraved under the portrait are the initials 'OB' which is the usual signature of John Obrisset, a specialist maker of small decorative boxes in horn, tortoiseshell and silver catering to the luxury market.
He was the son of Jean Aubrisset, a French Protestant Huguenot ivory carver from Dieppe, and so his name is an Anglicised version of his father's. Obrisset is believed to have been living in London by 1691 and dated examples of his work range between 1705 and 1728 when he probably died. His work was highly prized in his day and by snuff box collectors of subsequent generations. His small boxes can be found in prestigious museums around the world including the Royal Collection, the V&A and the Metropolitan Museum of Art in New York.
The VG&M has another three snuff-boxes by Obrisset which came from the same private collection as the enslaved African snuff-box. Indeed, ours is not the only example of this design. There is a version in the British Museum and another in the Colonial Williamsburg collection in Virginia, USA and we must conclude that Obrisset made multiple copies of it as he did many of his other box designs.

(Left)© The Trustees of the British Museum
(Right) Courtesy of the Colonial Williamsburg Foundation. Museum Purchase.

Who used it?

It seems strange and cruel to us that somebody would buy an artefact with an enslaved person on it and consider it attractive, but it would have been so with this box. We do not know who purchased it new from John Obrisset; all we know for sure is that it came into the collection in 2000 as part of the Mrs Betty Horsfall Bequest along with six other snuff boxes. Her generous donation included artworks, glassware, ceramics and furniture. Many of the items can be traced through family records to her father, Captain Frank Rushby of Reading, but the collection of snuff boxes do not seem to have come from him, so we need to look at her husband's family.
Mrs Horsfall was the widow of the dashing Ewart Horsfall, an Olympic gold-medal winning rower and First World War flying ace who came from the Liverpool Horsfall dynasty. They are well-known in the city as funders of several churches but if we go back through the generations to Ewart's great-great-great grandfather we find Charles Horsfall (1776 – 1846). He was a merchant whose wealth was based on his trade with Caribbean islands and investment in plantations. In 1823 he was recorded as owning 69 slaves. When slavery was abolished in British territories in 1833, Horsfall was awarded over £1 million pounds in compensation (in today's monetary value). He was Mayor of Liverpool around this time. We do not know for certain, but it is feasible that the snuff box may have belonged to him and been passed down though the family.
You will be able to see the snuff box later this year as part of a display featuring domestic items, considered decorative in their day, that have links to the transatlantic slave trade.

For more information about the transatlantic slave trade:

NOTES:

1. The trading of enslaved people was outlawed by British Parliament in 1807 and owning enslaved people was outlawed on British territories in 1833. However slavery continued in other territories with Brazil, the largest receiver of enslaved Africans, being the last to abolish it in 1888.

2. The University of Liverpool was founded in 1881. We are aware that, as a civic institution created in one of the centres of Britain's eighteenth and nineteenth century economy, and a seaport, the legacies of slavery and colonialism form part of our story. We are about to enter into a period of reflection through which we will consider, in consultation with our members and local communities, how we might appropriately recognise this.
---