Secret Art of Lockdown - Online Exhibition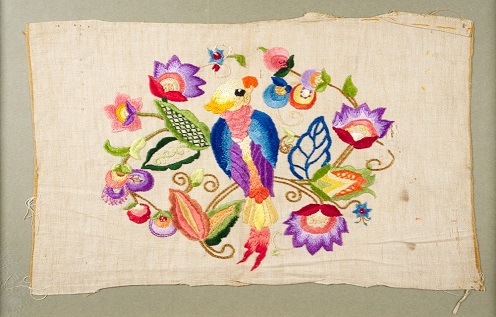 Embroidery, Thailand 1943 by Gunner J. B. Chalker
© Courtesy of Guy Chalker-Howells
When Gunner Jack Bridger Chalker was a Far East prisoner of war (FEPOW) in Thailand, he was taught how to embroider by a sick Australian FEPOW lying next to him. Making art as a FEPOW provided a much-needed morale boost. For some it was a way of documenting their situation, for others it was a way of feeling closer to loved ones back home.
Your response
This online exhibition is inspired by our Secret Art of Survival exhibition which showcased original artworks created by British military Far East prisoners of war (FEPOW) while in captivity during the Second World War. They used their artworks to keep up their morale, make each other laugh and remember their loved ones back home.

We invited you to create an online exhibition celebrating the power of art which has made us feel better and kept us connected to loved ones during lockdown.
You sent us drawings, painting, crafting, sculptures, photographs and poetry and here is your online exhibition.
All artwork is listed alphabetically by artist name.
We asked each artist to answer the following: 'Tell us a little bit more about your artwork and how it has helped you with missing friends and family during lockdown.' and their answers to these questions are under each artwork
Andrew Weeks
Professor of International Maternal Health, University of Liverpool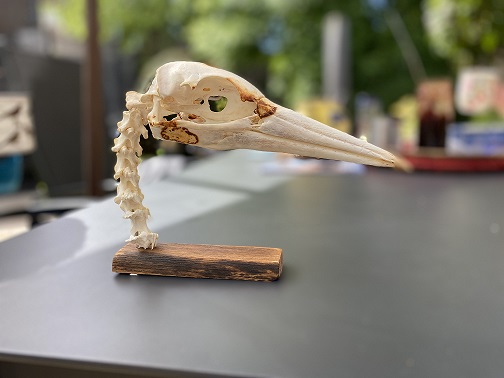 "A project that I did with my 16 yr old son to help him learn about anatomy, birds and dissection skills.
This is the head and neck of a dead Gannet that we found on a Pembrokeshire beach before lockdown. It was brought home and left to decompose for several months. We then followed online guidance to remove any remaining flesh, sterilise, bleach, reconstruct and mount the bones. It now sits in a small glass display cabinet on our kitchen wall."
Anna Pawley
Retired but always loved crafting.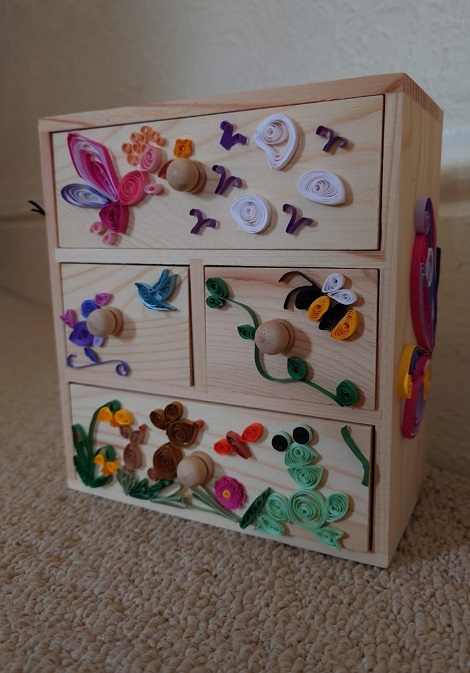 "A way of showing the daughter l couldn't see that she is always in my heart and loved so much.
The box is decorated with quilling and l decorated it with colourful little images from nature to make Emma smile."
Anne Peters
I am a recently retired 66 year old individual needs teacher.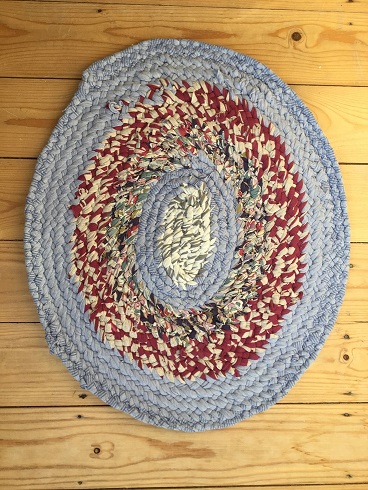 "Learning a new skill helped pass the time during the first days of lockdown, which I found tough. Using old t shirts and items used by my family make me think of them as I was making my rag rug."
Anya Allen
34 stay at home mum.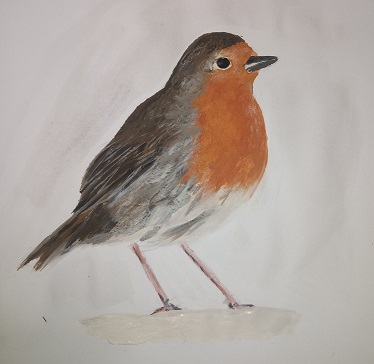 "This is one of the first paintings I've ever done. I decided to give painting a try during lock down and this is the result. It reminds me of the robins I see in my mum's garden and reminds me of spending time with my mum who loves watching the birds in her beautiful garden. It helped me look forward to sitting with her in person and enjoying the birds, flowers and conversation."
Bryony Parsons
I've worked at the University for over 10 years. I used to research microbiology, and now I work as part of the KnowHow team in the Library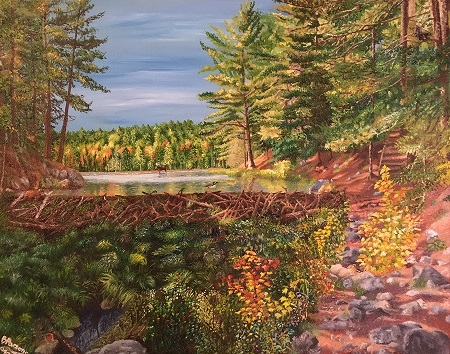 'The animals of Algonquin park.'

"I did this painting of a photo I took from Canada and did it for my Dad as a father's day present. I added animals in for him to find, he really likes Canada, especially moose, so it gave me something to focus on, knowing that I'd give it to him for Father's day or when lockdown eased."

Carolyn Punch
I work at City Cafe Vine Court, also gained MSc Archaeology at the University of Liverpool.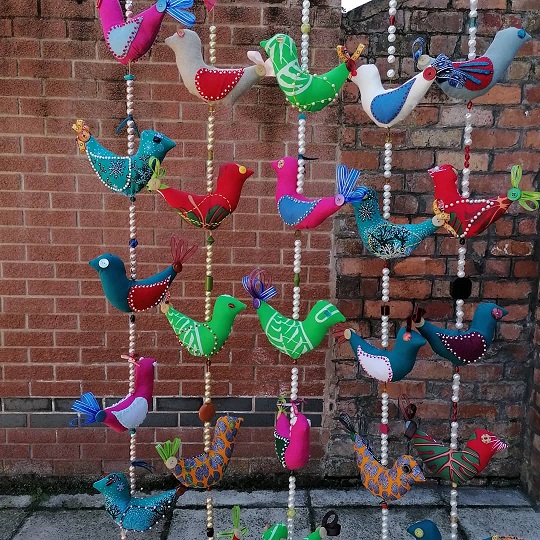 'Lucky Ducky'
"The technique used to create these mobiles primarily consists of a combination of sewing and beadwork.
For me creating art/crafting has been a stablizing force during the Covid social policies. I live on my own with my dog due to lockdown none of my family have been able to visit usually they do to help with extra support through physical and mental health issues thus, isolation had proven distressful. Creating the art has eleviated my stress levels and built up my confidence to the extent that I am considering doing a PhD Archaeology at the University of Liverpool."
Carolyn Reed
I am retired and moved to Wirral in 2012. My working life was spent as an inhouse tax adviser for a multinational hotel group. My passion has always been textiles and I love crafting.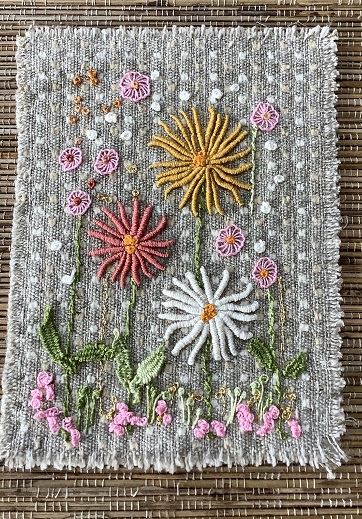 "Background fabric is linen, Hand stitched incorporating, bullion, french knots, eyelets, pistil and coral stitches.
I find spending time on a piece of textile work, hand embroidery in particular, has helped me to remain focused and to enjoy a more relaxed routine."
Chelsea Spaughton
I am 12 yrs old and now live in wallasey with my little sister Emily and my mum Sam, I started big school last September and like music.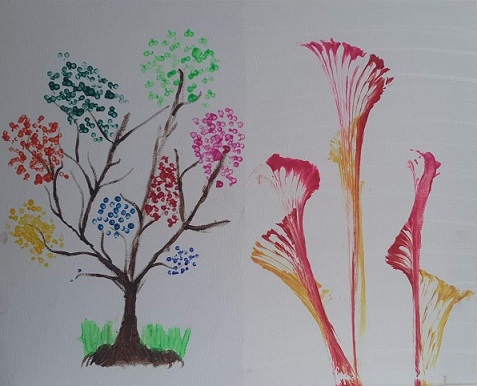 'We'll meet again Happy Family tree (with NHS rainbow)'
"I was sad not seeing my new friends so my nana and I have been doing some arty stuff, the rainbow tree is for family and the NHS. I have a big family and so I filled it with colour. I did it by myself after my nana showed me how and I have more ideas of my own now."
Chrisell Kenyon
I am 8 years old and will be starting Year 4 at a new school in September.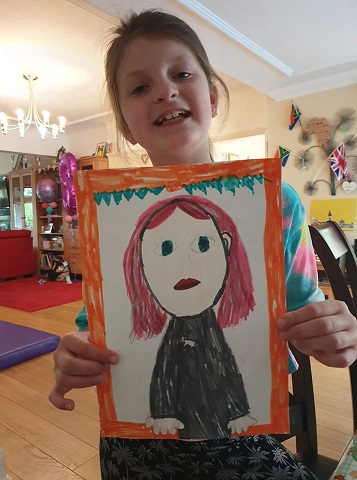 "My art helps me to feel connected to my family and friends and is a positive distraction in these difficult times. It brings me a lot of joy.
This piece I lovingly drew of my superhero mum. She has been very poorly with her chest but she always makes us smile and take very good care of myself and my brother."
Corinne Whitham
I'm 67 and retired.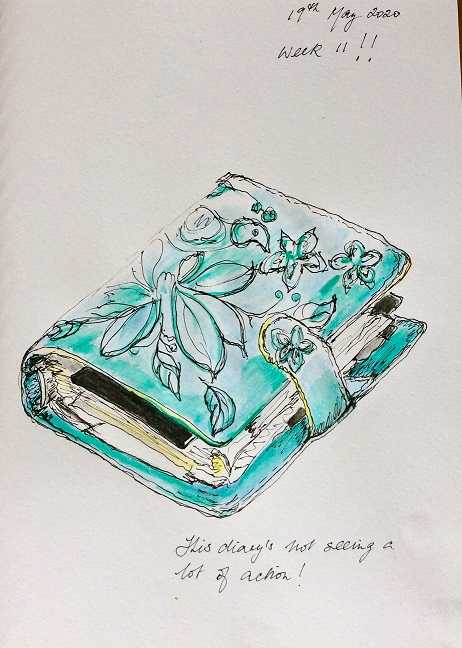 'My Diary.'
"Before lockdown this was how I kept track of a very busy social life - during lockdown it became irrelevant!
I started a sort of visual diary part way into lockdown, mainly as a way to pass the time, but sharing the images on Facebook helped me to keep in touch with friends and family."
Deborah Anderson
I'm 57, a retired early years teacher who has only just discovered art for the first time.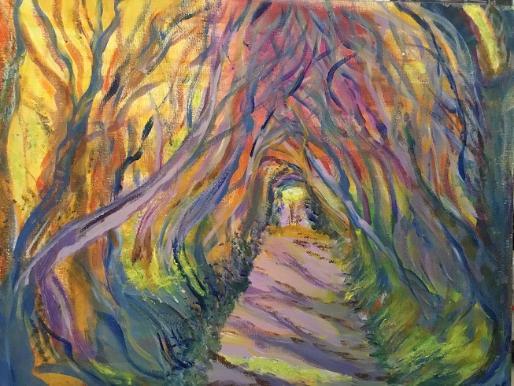 'Autumn light at the dark hedges'
Acrylic on canvas 18x 14 inches.
"My daughter lives in England (I'm in Northern Ireland) she and her husband have a 1 year old son, my grandson. She is a doctor and was doing shifts in ICU. I was very anxious about her and her family, the joy of painting really helped to calm my mind and focus me on something else. I began painting scenes from Northern Ireland as a way to connect with home and possibly encourage her to remember how beautiful it is here."
Elaine Benson
I'm 61 and am a psychotherapist by profession, and worked for a children's charity until a week ago when I changed jobs. I'm also finishing my MSc at the University of Chester.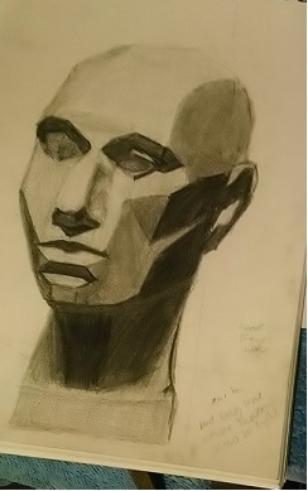 'Tonal drawing of Asaro Head'
"I love art and find it relaxes me but during lockdown the pressure of working at home and writing up my dissertation and coping with living through a pendemic and lockdown meant I lost my motivation for art. Until this week when I signed up for a class on tonal drawing.
I think it brought me back to me. It's hard being isolated from family and friends - especially my art group. I lost my way and stopped drawing altogether. Drawing something for the first time since lockdown helped me to reconnect to something positive."
Ella Fox-Widdows
I'm a 25 year old PhD student at the University of Liverpool studying Plasma Physics!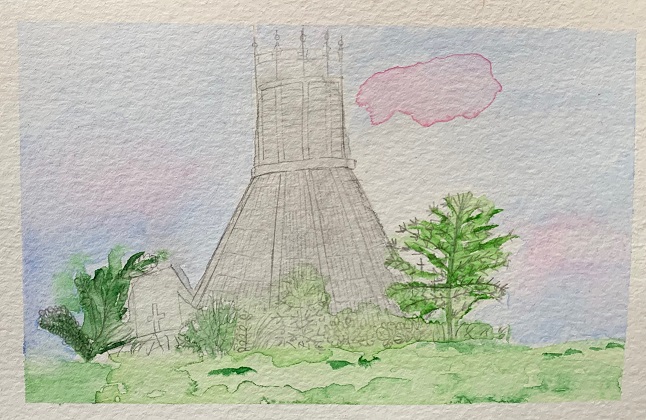 'Liverpool Metropolitan Cathedral on a beautiful spring day'
Watercolour!
"During lockdown I left Liverpool to return to my hometown. I really missed walking passed the Metropolitan Cathedral every day on my way to university and missed all my friends in Liverpool, so painting my favourite Liverpool landmarks made me feel a bit more connected!"
Ella Walker
I am 30 years old, I work for a Charity supporting residents of communities to get involved and lead the development and regeneration of where they live and work. During lockdown I have been redeployed to support the local Foodbank. I have missed meeting up with the community but it has been inspiring to work with the Foodbank and meet their wonderful volunteers.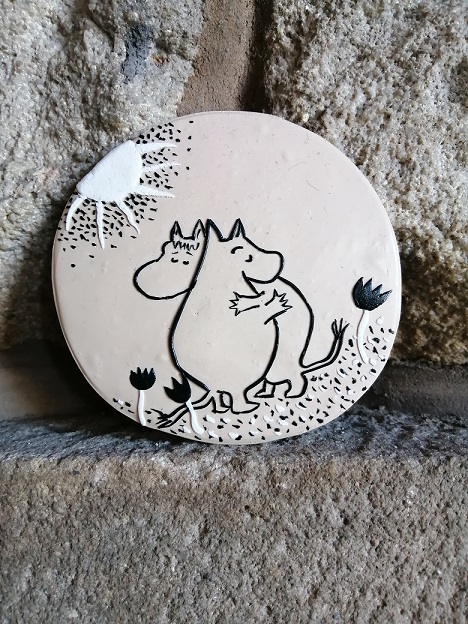 'Postable Hug'
Polymer clay hug ornament. Made using polymer clay, with a press print extruded clay design.
"I have a very close knit, small family, consisting of me, my Mum and my Grandmas and we usually see each other a lot! It's been really difficult over lockdown as I've missed seeing my family, and found it really difficult to not be able to pop round to give my Mum and Grandma a big hug. As a hobby I make jewellery from polymer clay and recycled materials, during lockdown I started to explore other uses for my polymer clay! I started to create postable hugs to send to family and friends! This cheered me up, creating designs to match peoples personalities and challenging my clay skills, and hoping that my designs would be a welcome surprise to cheer up family and friends in a safe way! This piece is a virtual moomin hug, sent to my Mum, when she was self-isolating with mild virus symptoms. It was really hard to not be able to pop round to help out, or give her a hug, or make her a coffee and some get well snacks. I was desperate to do something to cheer her up and give her the next best thing to a real hug, so postable hugs were born!"
Emily Lloyd
Aged 16. Attending Yale collage in September. Attended Ysgol Morgan Llwydâ welsh secondary school.
"Recreation of my wonderful Gran and Taid's picture on the Queen Mary 2.
Making art was a sentimental way to show people how much they mean to me. Gifting them something so personal was completely worth every inch of effort just seeing their reactions."
Emma Thick
40, professional horticulturalist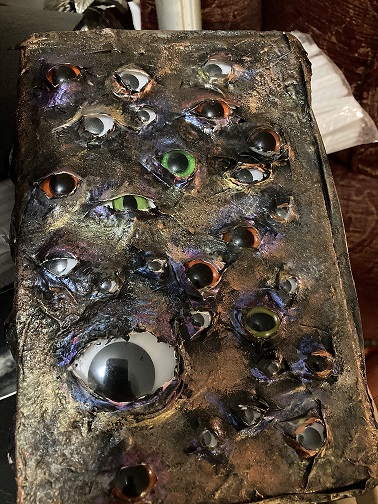 "Yes artwork helped very much.
Inspired by a book called little town of marrowville by John Robertson."
Freya Levy
Formerly I worked in immigration law. Now my focus is as a mosaic artist.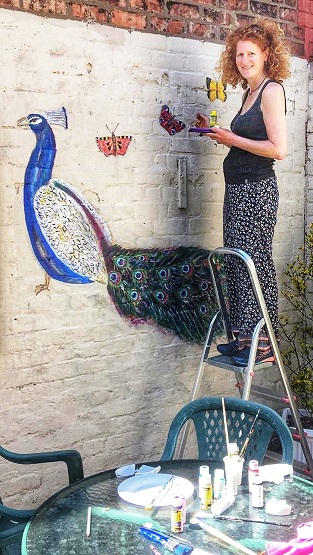 "This is me painting a peacock in the Community Soul cafe backyard. It is a veritable menagerie, with all manner of creatures.
I live alone and knew that during height of lockdown, I would struggle with being stuck all day at home with no company at all. I wanted a way to escape from my four walls and create artwork that would take me outdoors. I therefore decided to paint a flamingo and heron on my backyard walls. I was then asked to create murals at Community Soul Cafe in Wallasey and was delighted to create art that the wider public can enjoy, hopefully for years to come. I am a very sociable person and knew that I would really miss all my friends. Creating these pieces helped keep me happy and busy and I found myself so immersed in the whole creative process."
Greta Palmer
I was 70 at the start of Lockdown. Retired.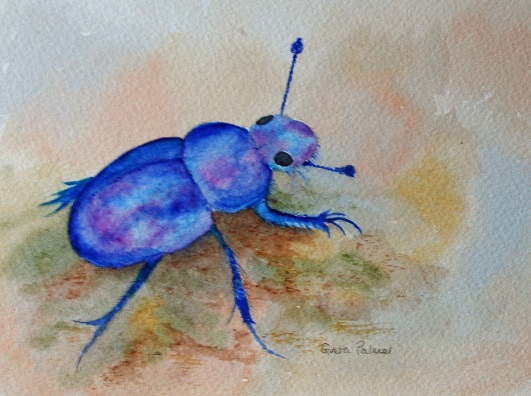 'Forest Beetle'
"This 'picture' is a memory of a visit to the Forest of Dean with our grandsons last summer. There were lots of blue/violet beetles on the paths which they had great fun in moving to safety, and turning them the right way up! This is a watercolour impression of the Forest beetle!
It is one of the things that has kept me occupied."
Helen Birnbaum
I am currently a mature student at LJMU on the MA In Art in Science. viruses and bacteria.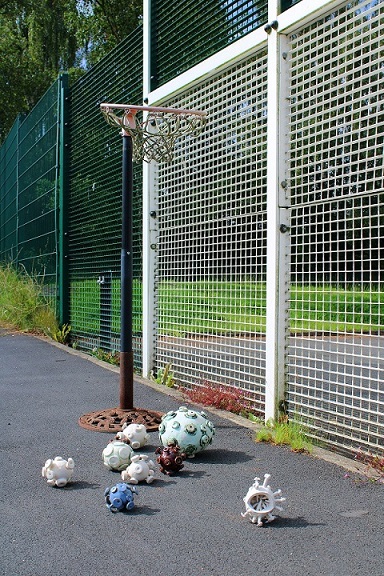 'Slipping through the Net.'
The viruses at the bottom of the baseball net are imaginary but symbolise those viruses we have been able to ignore. The white Coronavirus in the bottom right of the picture is described as the one that slipped through the net of modern medical and public health interventions.
Concentrating on this work has enabled me to get away from the worries of everyday lockdown - even though much of my sculpture is about viruses
For many years I have found inspiration for my ceramic sculptures in the strangely beautiful forms of viruses and I have continued to work on this theme throughout the pandemic: https://significantbunchofviruses.wordpress.com/"
Helen Thomas
I am an amateur musician and would normally rehearse and do concerts with groups in Merseyside 3-4 times a week.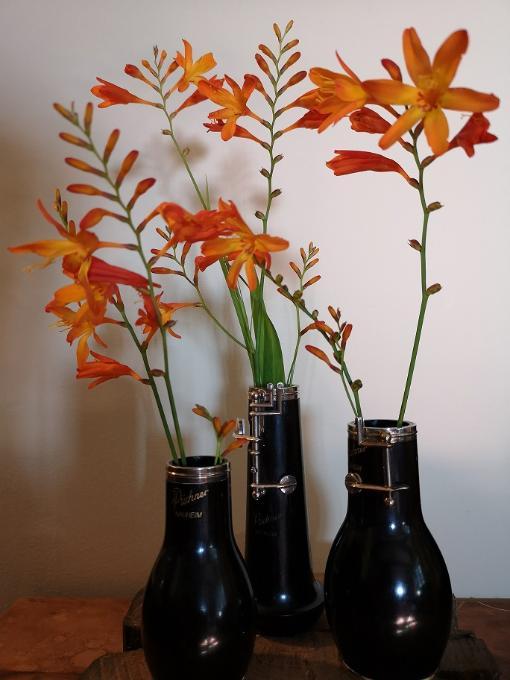 'Musical Rest'
"I have found it very difficult to practice any music in lockdown as the motivation of playing with and performing for others is gone so I decided to 'repurpose' parts of my instruments."
Jackie Passman
I'm 73, a retired teacher of deaf.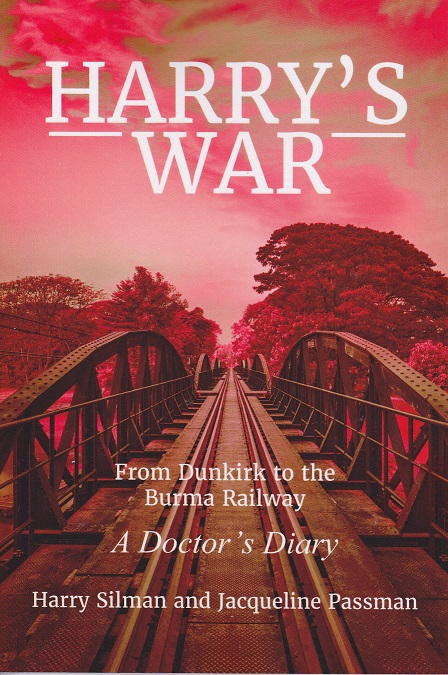 "This is the cover for Harry's War, a book based on my father's comprehensive FEPOW diaries. Reading the diaries, I was increasingly aware of the strong link with these coronavirus times as combatting boredom was essential for the prisoners' morale.
As a widow, I was truly socially isolated during the first few weeks of lockdown. Writing a book based on my father's FEPOW diaries gave me a real purpose. "
Jackie Sutherland
Retired, living in Scotland. Volunteer coordinator for COFEPOW in Scotland (both my parents were in Singapore)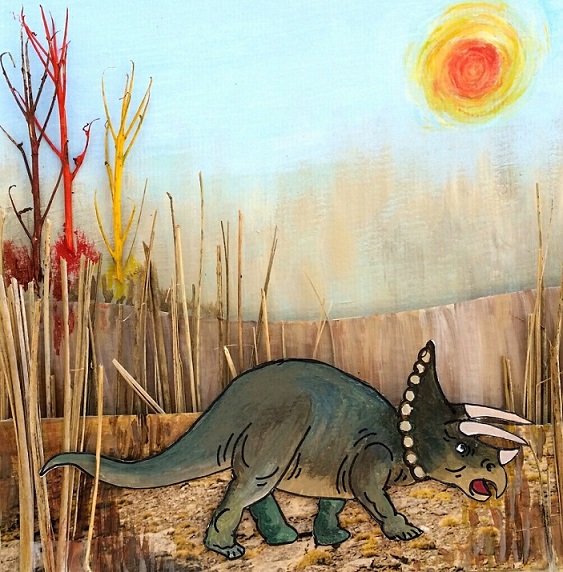 'Triceratops for Angus'
"A 3 dimensional, mixed media (acrylic with cardboard, dried grass and flower stalks) in a box frame.
I'm strictly isolating in lockdown. The attached mixed media was a request from my 3 year old grandson - Triceratops is his favourite 'dinosaur'"
Jane Townsend


Retired. Married to Roger Townsend of FEPOW 75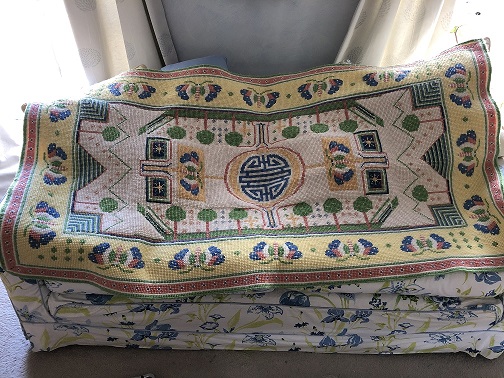 'Serenity'
Tapestry measures 160 x 90cms
"The central image is the Chinese symbol of Serenity.
Present for daughter living 1000 miles away. This was designed and created over 10 years and finished during lockdown."
Jennifer Davies
33, Librarian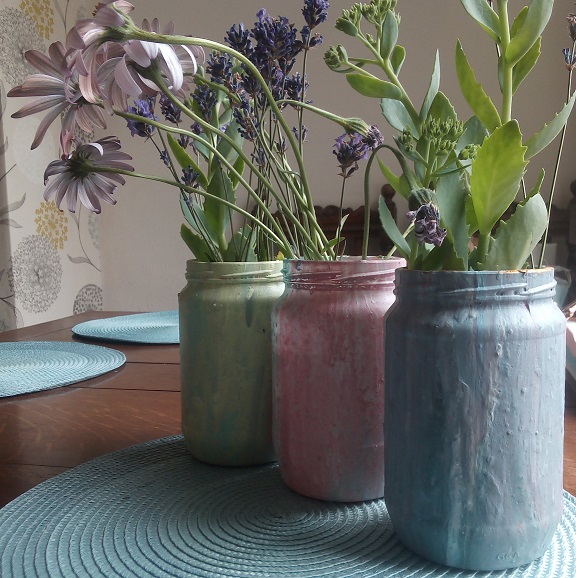 "Art can be practical and we had ended up with a lot of glass jars in the house. So I made poured paint recycled glass jars for family and friends. Using an acrylic paint and glue mix I mixed colours specifically for each person and poured. They are personal, practical and lovely. Picking everyone's favourite colours has really helped me focus on something nice and realise they are only a phone call away, especially when I realised that I had no idea what their favourite colours were."
Jenny Martin
Age 77, I live in Edinburgh but began life in Changi Prison and Sime Road Camp with my mother.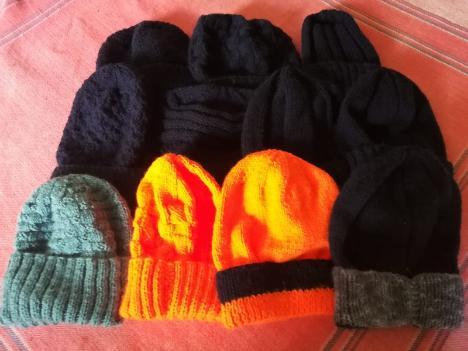 "Sailors often have to travel to the Arctic ocean in winter and really appreciate a woolly hat.
Not able to visit my grandchildren during lockdown, I started knitting hats for sailors which will be appreciated by our Port Chaplain in Leith to give to crew on ships visiting the port."
Kathryn Keane
22 year old Design Student from Liverpool studying at Liverpool Hope University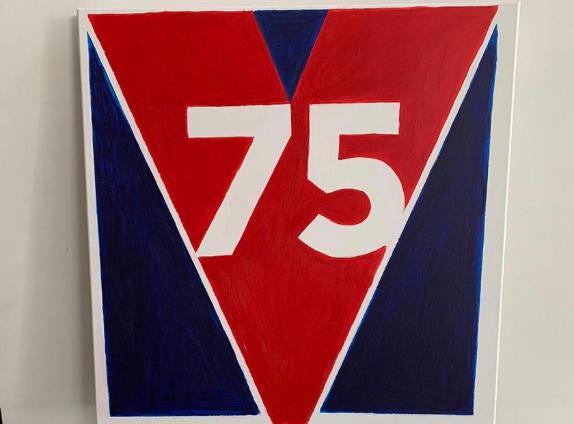 'Celebration of 75th anniversary (VE Day) my hero,my grandad'
"I am at peace when I am painting. It has been hard being unable to visit my grandad. I painted this in his and all the other soldiers honour."
Kim Fisher
34, Visitor Services Assistant at the VG&M
'Kimmindfulness Friendship Cards'
"I have always been a creative person but as I live alone I have found that making artwork during lockdown has given me something positive to focus on. I have been able to create things for myself but also send things to friends via post to cheer them up.
I coloured in half of these cards and sent it to my friends. They then coloured in their half to create a friendship artwork during lockdown and it also helped with mindfulness and give us a breakaway from the computer screen."
Linda Affleck
Scottish woman living in Liverpool. Mum of 2. Volunteer in Alder Hey.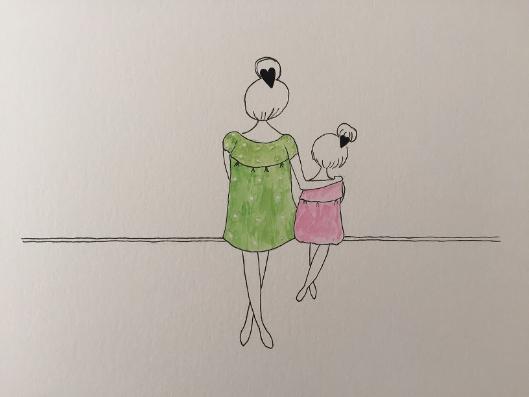 "Painted by me from an image my daughter found online that she though looked like us together.
Painting helped me to focus on an activity that was entirely not Covid related. Most of our actions taken during our lockdown period have been driven by necessity, painting helped both alleviate the repetition of the new normal, and to shift my attention, without guilt, solely to something to do for myself."
Lynne Winstanley
I'm a Mum of 2 teenagers, part time marketing communications consultant and designer. I'm 49, which flabberghasts me!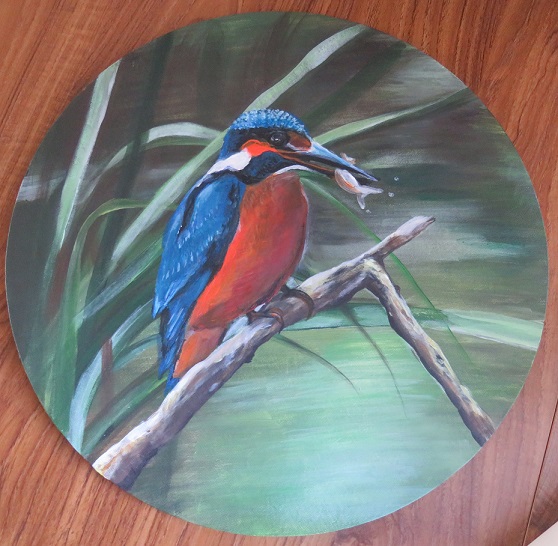 'Kingfisher in acrylics'
"I only paint on round or oval boards or canvas, as I love this shape. feels more natural, as there are no squares in nature? Round shapes apparently are joyful to the eye. Painting birds makes me feel closer to the beauty of nature.
I've always had art as a refuge and comfort. Being forced into quarantine helped alot of us find the confidence in expressing ourselves creatively and communicating visually. I have always sketched and painted for friends and family, designed for my job, but hesitated in painting for pleasure and sharing that with others. Making art saved me, as I escape into a different world and feel completely calm and focused in creating. I've loved how art has inspired so many to pickup a pencil or brush, including my 17 daughter Saskia who has Asperges Syndrome and has a very difficult time this year. Saskia's illustrations give her and her family real joy. I've submitted my painting of a kingfisher, as our love and appreciation of nature has increased enormously. I've now found the confidence to be the artist I've always wanted to be and share the pleasure of making art."
Margaret Daniels
I am 70 years old and worked as an Activities Assistant in a Residential Home for the elderly until the Virus came along.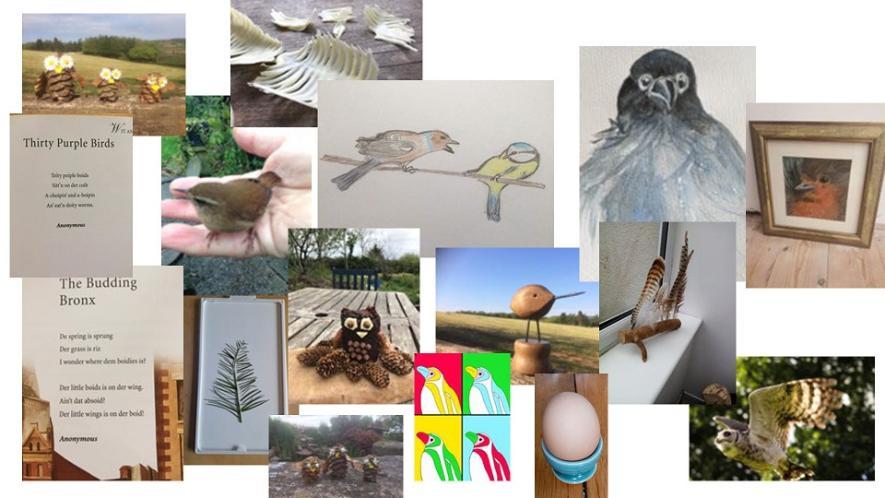 'Birds of a Feather'
"It's a collage of the participating artists that week, those that could not paint used other mediums such as knitting and woodwork.
I was missing Family until my Nephew started an "Isolation Artists" group for his and his wife's wider family, every week we were given a challenge and we all, young and old had a go, attached is a Montage if one of the weeks "Birds and Feathers" it kept us all in touch."
Mary Cunliffe
Aged 68. Retired. Volunteers for VG&M and the Reader Organisation.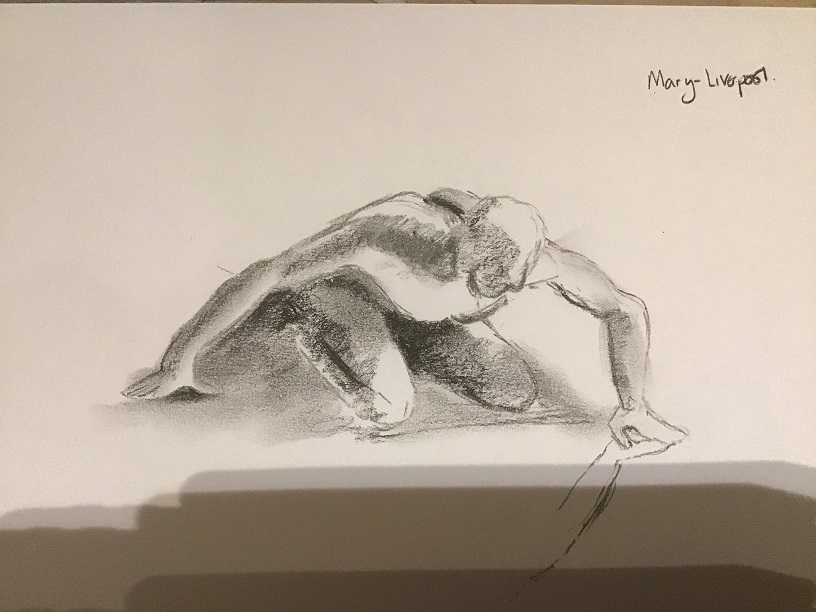 "Linocut with watercolour featuring my favourite flower to paint - the sunflower - always cheery. Painting what can be found in the kitchen cupboards. Joining a life drawing class on tv from the Royal Academy.
Creativity was low during lockdown as time went on. I was thankful for the many suggestions coming from on line sources and professional bodies."
Michael Clarke
I am 73. I live in a countryside cottage with a large garden that keeps me busy.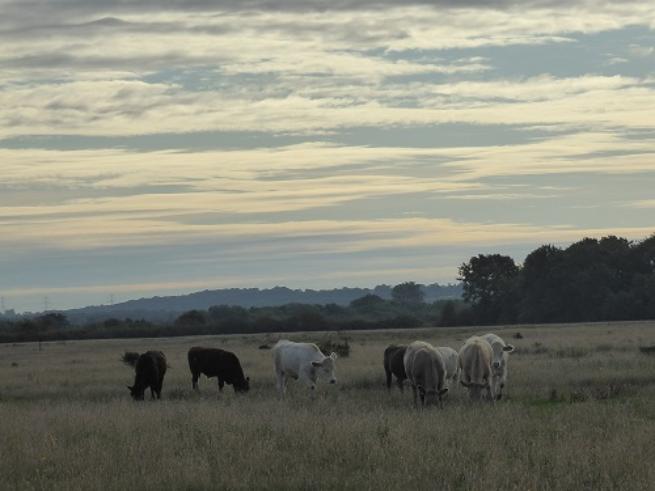 'Fresh Air'
"Walking along "The Oxfordshire Way"
Early Morning on Otmoor.
I do a daily early morning walk from my home and send a photograph to my sister. Challenging her to identify the location. Good fun as I live in the family home that we grew up in, she now lives in another part of the country."
Natasha Covill
I'm 23, I graduated last year from the University of Liverpool, now I work for the NHS in the cancer department back home in Oxford.
'Sunflower Earrings'
"I taught myself how to use Polymer Clay in lockdown, and I began making wearable art to send to friends in the form of earrings. Sunflowers are my favourite flower as the colour yellow makes me feel so happy, so of course I had to create some beautiful and ornate sunflower earrings.
It fills my time and distracts me from feeling sad and missing friends. Creating things and finally seeing the finished art makes me feel joy and without it I would've been miserable in lockdown. I've loved being able to send my friends my wearable art, and seeing photos of them wearing them is so exciting."
Jane Loveday
I'm a self-employed Fundraising Consultant, but also enjoy creating things in ceramics as a member of the Baltic Clay studio.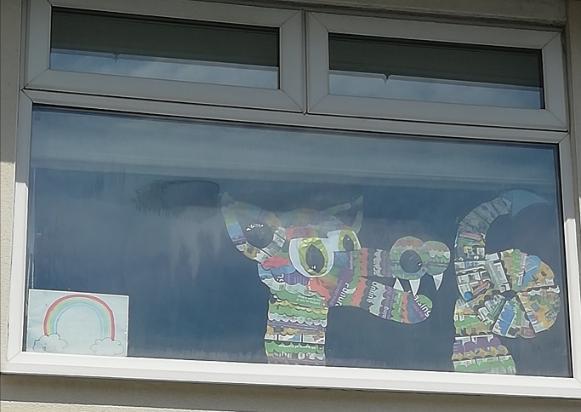 'Neighbourhood Window Walk - Mythical Creature'
"Prompted by a list originating in Sheffield I believe, the original idea was to provide people with something to look at as they did their hour's outside exercise.
Producing new windows every week not only gave me something creative to distract myself with, but the photos then also provided a prompt to send regular emails to my family, updating them with news or simply to touch base. Sometimes they received long narratives, other times just a brief hello, but sending out the pictures and getting replies and reports and photos back from them made me feel more connected and less adrift. My nephew's dog 'Hal' even made an appearance as a specific request for my 'animal' window'.
The dragon I did for "Mythical Creatures" was my most labour intensive window, and probably the largest. The wonders of office supply catalogs and a pile of leaflets about Conferences and training that were cancelled or moved online! I have kept the original, and it's keeping me company up on my home office wall."
Pam Griffiths
Vet Auxiliary Nurse, aged 48
'A painting from the heart.'
"I painted this for Father's day 2020, my Dad needed something special this year after losing his wife of 50 years.
My beautiful Mum passed away in March due to Covid, I found myself grieving and on furlough, this was not a good combination and I needed a happy distraction. This came in the form of oil painting, I am self taught (apart from watching a couple of Bob Ross episodes) . I found painting gives me calmness in these crazy times. I'm sure my Mum can see my masterpieces!"
Pat Walsh
I am a very keen retired knitter who is in a local knitting group.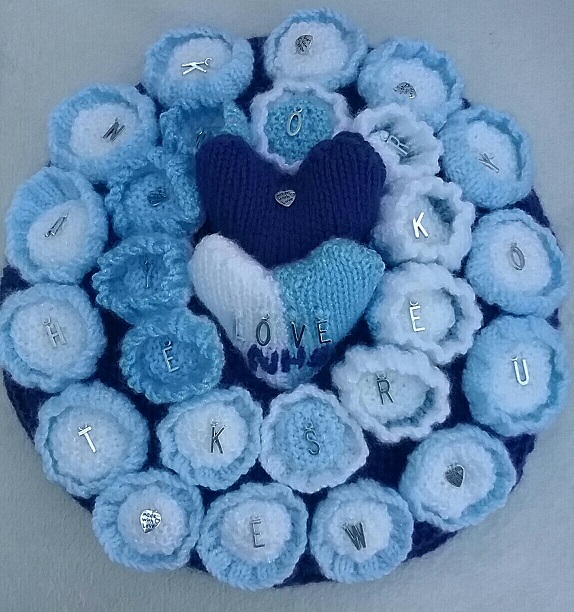 'Love and Gratitude'
"Making Hearts for my family has made not being able to hug, kiss and hold them that little bit easier, I also made this knitted cushion as my heart and thanks really did go out to all those wonderful Health care Professionals working on the frontline and all the key workers keeping us safe and fed. Heartfelt thanks to all."
Rachel Spinks
I'm 37 and work as a catering manager for UoL.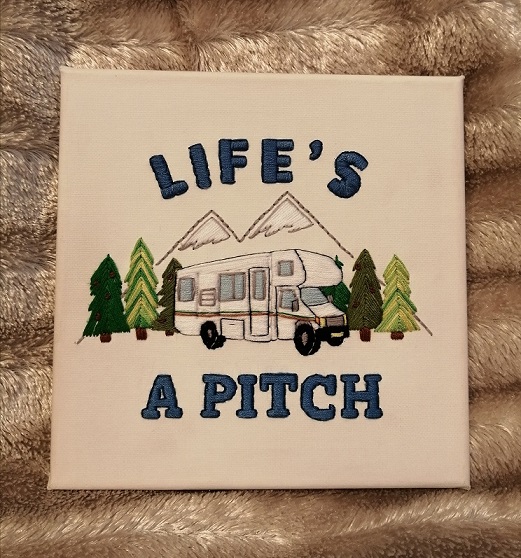 "This was a gift for my retired parents, they were ready to start a 6 month journey around Europe in their camper van when Covid struck. They have been a massive source of support to me so I made this to go in the van when they can finally start their travels.
This has helped me make personal gifts for friends and family we could not see, practice my new skills and stop me eating the entire contents of the house daily. I started to embroider last year after watching videos online. I decided to play around with canvasses and have received requests for custom canvasses since posting my work."
Roy Peach
33, Youth Worker, Oxford
Hugs and Kisses

The world is all in turmoil,
Something's quite amiss.
Friends are encouraged not to hug,
Families not to kiss.


A virus is among us,
Breaking our spirits, lives, and will.
An unseen evil we struggle to fight,
An invisible out to kill.

We wash our hands and stay apart,
An act of showing we care.
Yet despite our efforts to save each other,
Many families are in despair.


Brothers, sisters, mums, and dads,
All taken away too soon.
Healthy or not, the virus won't care,
Killing loved ones is a boon.

Yet through it all when hope was lost,
And lives were being snuffed out,
We came together, in solidarity,
Stepping up and stepping out.

Out of the shadows and into the light,
Clapping for carers, key workers, and more,
Showing thanks for lifesavers across the land,
From Shetland to Durdle Door.

We all clapped and we cheered,
And sang songs in the street.
Wartime spirit of community,
It did not miss a beat.

Families apart became closer.
Neighbours suddenly became friends.
Love and kindness to our fellow man Came in fast.
How quickly will it all end?

Shopping was done, street parties held,
Nature reclaimed the earth.
While we mourned the loss of beautiful lives,
There was also a sense of rebirth.

The world slowed down, adjusted, adapted.
Flowers grew stronger than ever.
Peace and quiet reigned supreme.
We were rewarded with great weather.

People took up painting and reading,
They noticed creatures great and small.
Hobbies evolved into wonderful careers,
We chose to rise up, and not fall.

We donned our masks and kept our distance,
Shared ideas for amusing the kids.
We made life work because we had to,
Even though it was all on the skids.

Families Zoomed and Tic-Tok'd away,
With granny and granddad all dancing.
Our love was sent virtually around the world,
Other's lives we were enhancing.

Compassion appeared aplenty,
Empathy soon followed suit.
The world for once felt together,
Harmony was our resolute.

As we look forward to a world covid-free,
And think of what we shall become,
Will we return to our hateful old ways?
Or love one another and have fun?

The world is slowly repairing,
From a time when all was amiss.
Friends will one day hug again,
And families all will kiss.
Tell us a little bit more about your artwork and how it has helped you with missing friends and family during lockdown.
"I came up with this poem, Hugs and Kisses, one morning and it rolled straight out of me. I didn't know what to do with it but the family said I should do something so I ended up videoing it and putting it on my Facebook page. Other than that, it's been tucked away.
I have been isolating with the family but as I live with mental health conditions at times it has felt isolating still. When people panic bought food I went for arts supplies and started getting back into my creative writing. With my writing in particular, I know that my granddad who was a prisoner of war kept notes of his time in camp and sometimes the simplest art forms do not require more than a paper and pen."
Sarah Thomas
27, civil servant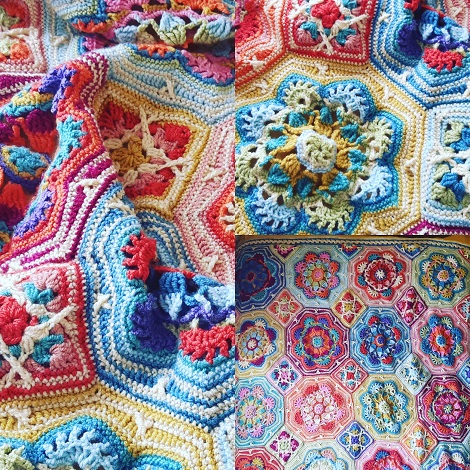 "I found this crochet pattern on Instagram in December and learnt to crochet to specifically make this blanket. It's called persian tiles.
It has helped keep my mind in the right places, given me a sense of achievement and stopped me from thinking about what I couldn't do but what I could do."
Saskia Sherrard
I am 17 years old and live in Liverpool with my mum and brother. I was diagnosed with Asperges Syndrome and dyspraxia last year, which has helped me understand who I am and how to cope in the world.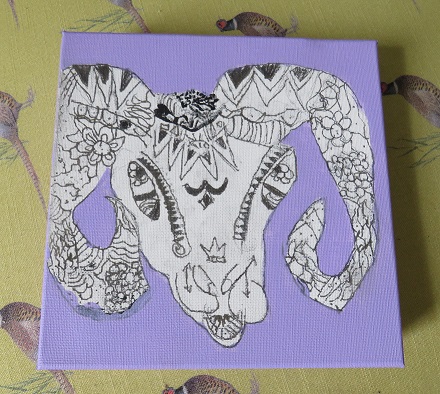 "I like drawing patterns. It makes me feel calm and safe. I am an Aries and my favourite colour is lilac. I drew this free hand and painted around the ink sketch. This will always remind me of that happy day when I found a new way to make something and make my family happy.
It made me feel closer to my family. My dad is a photographer and my mum is a designer and i have always avoided being creative, as art is what they do. I had a go at drawing an illustration of an Aries ram [my star sign] when my mum tried to get me involved in a class. I really didn't want to do it, but then I found I really enjoyed it. I just did it. In my own freehand style. I shocked myself at how much I liked it and my family and friends loved it. It made me feel happy for the first time in ages, as I've been very depressed. I will now have a go every week and enjoy showing sharing my art with everyone."
Sean Dagnall
34 years old, I sell soap.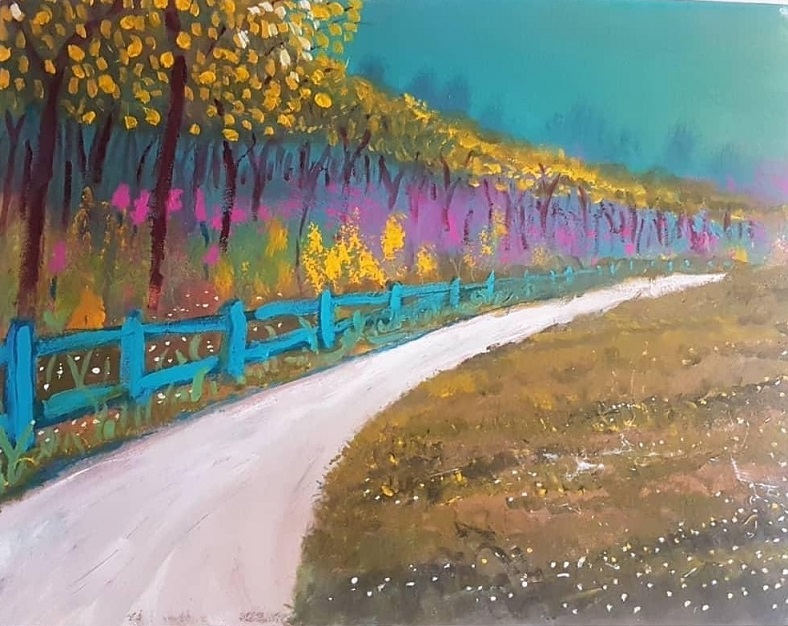 'Untitled', 2020. Acrylic on canvas.
"Art has always been an outlet from reality and at these times of forced isolation, I realised how alone and isolated I was. I've always explored isolation in my work and it gave me something to focus on."
Selma Insley
I am 50 year old single parent and I work as a staff nurse at the Royal.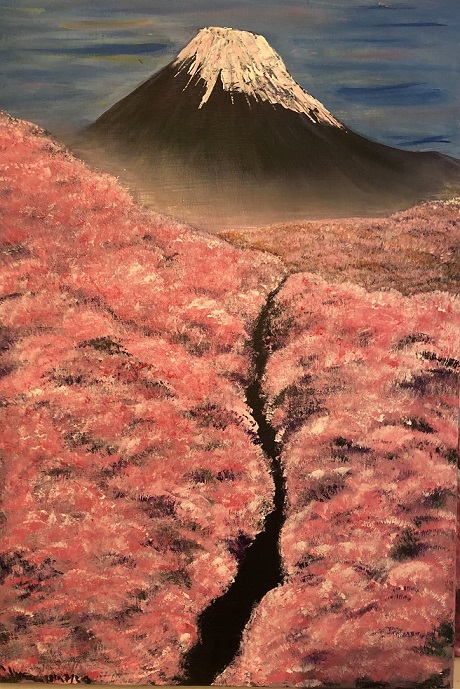 "Fujicolour acrylic on canvas. Keeping positive in bad times."
Suzanne Meaney
I'm 47 years old. I'm a hairstylist by trade. I've been painting for over 20 years.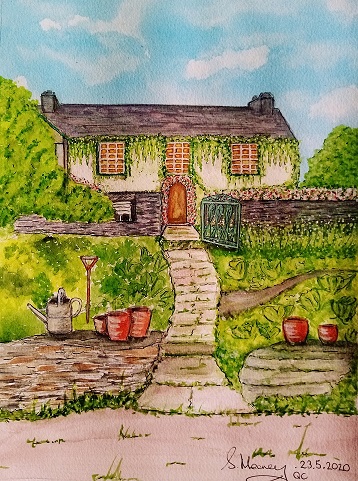 "This particular painting is of Beatrix Potters home, Hill top cottage. I've always been a huge fan, so I really enjoyed painting this picture.
During lockdown, I have painted alot. It really has helped take my mind off these very worrying times. I have been making greeting cards out of my work and sending them to family and friends to try and spread a little cheer in these uncertain times."
Tim Armitage
I am a Forest School Leader and before lockdown I worked outdoors with children teaching them about how to appreciate being outside and in the natural world.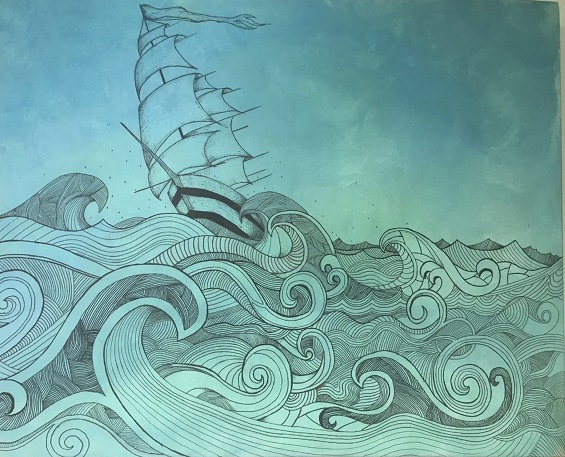 "The Hispaniola is the title of the piece. It's named after the ship in Treasure Island and it's my favourite book. Robert Louis Stevenson also lived for a while in my town (Bournemouth) and the tale of pirates, the wild sea and adventure has stayed with me since I was a boy. It reminds me of home and also striking out on your own, being who you want to be and not worrying about others.
I grew up by the sea but right now live in London, because of my love for the sea and my inability to visit it as frequently as I'd like during lockdown I've been painting it, this has helped me enormously, reminding me of what I have missed.
Being near the sea is very important for me, it's where I learnt to swim as a child, where I grew up and it informs how I feel about the world. I've got two best friends and we haven't seen each other since Christmas, we've known each other since school and we're very close, it's been difficult not seeing them. My mum lives by herself at the sea and whilst I've seen her three times it's only been for a couple of hours each time. My art has helped me get through this by allowing me to go back to the world of the sea and the coast whenever I pick up a pencil or a paintbrush."
Tippi Pritchard
Aged 5
'Birthday Clash'
"Our Granddad Joe celebrated his 60th Birthday during lockdown. We were unable to visit him, so I made a massive card and included all his favourite things! There's a drawing of me (Tippi), my little sister Zuzu, Nana Yvonne, Uncle Joe, Mum, Dad, James Dean, The Clash and Woody from Toy Story!"
Ziyad and Baida Almajali
I am 45 years, Liverpool alumni... PhD holder in 2015.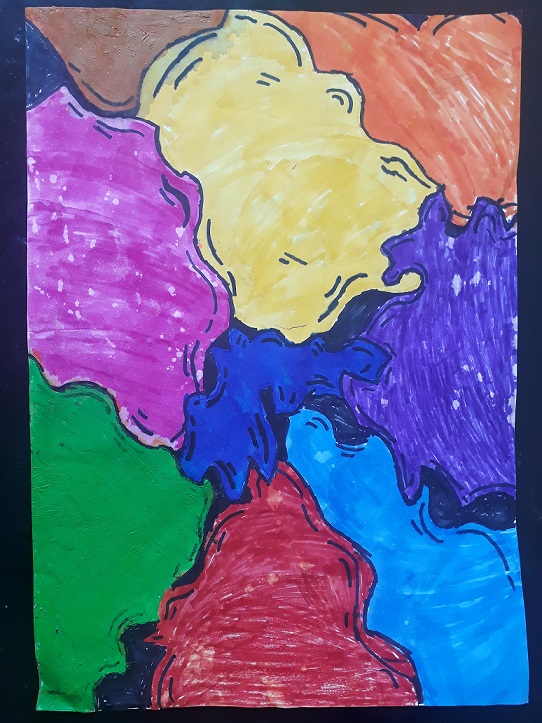 "The drawing is by my 13 year daughter Baida. Still strong and beautiful despite lockdown.
My daughter keeps connecting with her friends by exchanging photos of their creations through social media groups."
Zuzu Pritchard
Aged 3.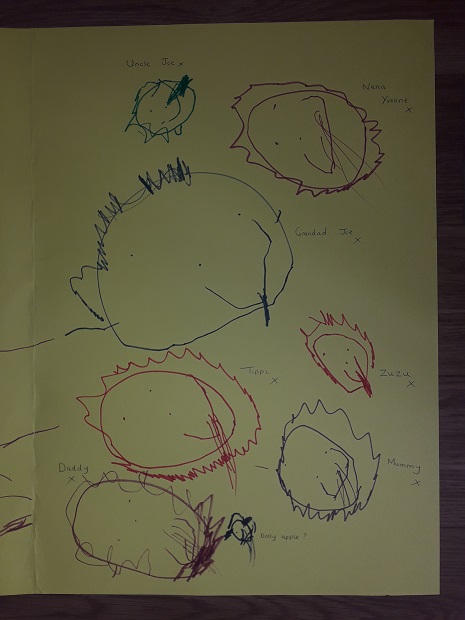 'Pulling Tongues'
"We were unable to visit our Granddad Joe for his 60th Birthday so I made him a huge A1 card! There's drawings of; me (Zuzu), my big sister Tippi, Nana Yvonne, Granddad Joe, Uncle Joe, Mum Natalie and Dad Trev. We're all pulling tongues!"