She's Eclectic: Women Artists of the VG&M Collection
15 December 2018 - 11 May 2019
Location: Galleries 6 & 7, first floor
This exhibition showcased the diverse mixture of artwork by women artists in our collection.
The University has been acquiring artworks since the 1880s but there was a major drive to add new works during the 1960s and 70s when the campus was undergoing a period of rapid expansion. Acquisitions of that time included a sculpture by Elisabeth Frink and a large painting by Gillian Ayres. The University has continued to add to its collection over the years. Some of the women artists represented in the collection are world famous, such as Bridget Riley, and others are less known but still talented and interesting. Some are local, some are international. It's an eclectic mix.
The exhibition featured our latest major acquisition, Runway Show by Fiona Banner RA, purchased with the support of the Contemporary Art Society in 2018.
Exhibition Images
Koan Cuts II, 1971 (left)
(Screenprint and collage)

Liliane chooses to see the world in terms of light and energy. Born in New York, she studied in Paris and has lived in London since 1966. Her series of cone-shaped artworks are based on a Japanese word Koan, referring to an enigmatic text sometimes used as the starting point for meditation.
Liliane is most famous for working with kinetic text, or 'poem machines'. She is believed to be the first woman artist to use an electric motor on her artwork.
FA. 692 Purchased in 1973


Fountain, 1967 (large red painting on the right)
By Gillian Ayres CBE RA (1930 - 2018)

Gillian was one of the world's leading abstract artists. Her later work moved to complete abstraction but this is one of Gillian's early paintings when she still gave her images identifiable forms and descriptive titles. She later said: "People like to understand and I wish they wouldn't … I wish they would just look. It's visual."
Born in London, Gillian began studying at Camberwell School of Art but left to become a chambermaid in Paris. She later returned to London and to painting. She taught at St Martin's and Winchester Schools of Art and was a Turner Prize nominee in 1989.

FA. 294 Purchased in 1968 with the support of the Ocean Steam Ship Company (Holt Trust)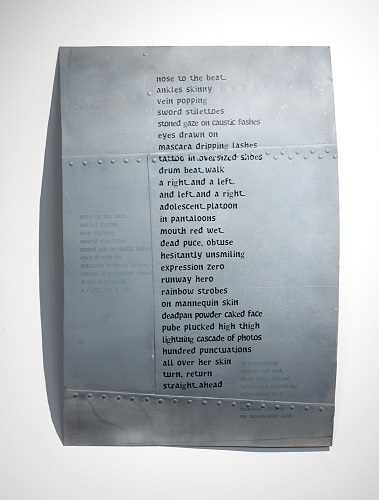 By Fiona Banner RA (b.1966)
(Aircraft part and Letraset)

Runway Show fuses two elements of Fiona's wide-ranging art practice. As The Vanity Press, she explores language and text as an artform, but Fiona is also known for her work based around military aircraft. Here, a piece of fuselage carrying a poem on the fashion world's use of young and vulnerable catwalk models makes wordplay on the term 'runway'.
Fiona was born on Merseyside and has an MA from Goldsmith's College, London. She was part of a Young British Artists (YBAs) exhibition at Venice Biennale in 1995 and a Turner Prize nominee in 2002. Fiona exhibits internationally and her work is in major collections worldwide. She was elected to the Royal Academy in 2018.
FA. 3663 Purchased in 2018 with the support of the Contemporary Art Society.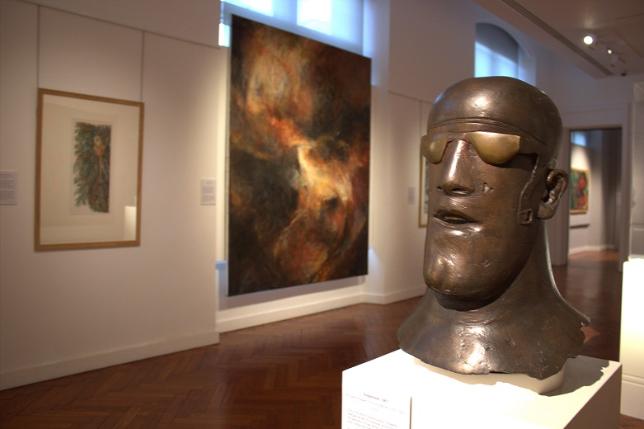 Gogglehead, 1967 (sculpture front)
By Dame Elisabeth Frink CH DBE RA (1930 - 1993)

One of the world's great sculptors, Elisabeth emerged as part of a post-war group known as the Geometry of Fear school. Her subjects were birds, horses and men, but rarely female figures.
Elisabeth tended to depict her male subjects as aggressive or vulnerable. Here, she perceived the sunglasses as a symbol of evil. The wearer does not allow eye contact, which gives him a psychological advantage.
Elisabeth studied at Guildford and Chelsea Schools of Art. She exhibited internationally, including at the Venice Biennale, and her work is in many of the world's most prestigious collections.
FA. 1209 Purchased in 1969
Untitled, c.1994 (large artwork behind Gogglehead)
By Dr Peggy Postma (b.1962)

These days Peggy is a clinical psychologist based in Hertfordshire, but she had previously developed a successful career as an artist. Having achieved an MA in Fine Art from Birmingham Polytechnic, Peggy exhibited in Britain and in the Netherlands. Her abstract paintings of that period reflect movement influenced by music, landscapes, horses or people.
In 1994 Peggy decided to return to college to study psychology, eventually gaining a PhD and working in the field full-time. Peggy believes that her art training helps with the creative thinking required in her clinical field. She still sculpts and draws in her spare time and intends to return to painting when she retires.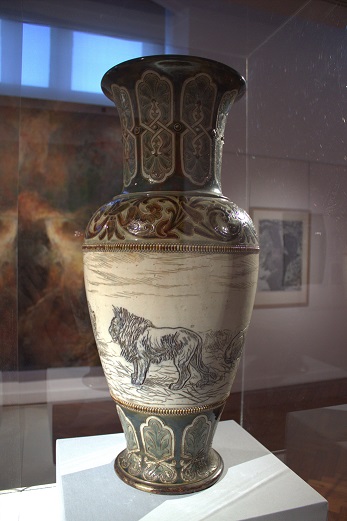 Decorated by Hannah Barlow (1851 - 1916)
(Stoneware vase by Doulton Lambeth)

When Hannah joined Doulton Lambeth in 1871 she was their first female artist. She lost the use of her right hand around 1876, probably due to a work-related injury, but learned to use her left hand just as deftly. She could decorate up to 20 vases per day.
Hannah studied at Lambeth School of Art and then was one of four siblings who worked for the London-based pottery company. Her sister Florence specialised in flower and bird decoration while Hannah excelled in depicting animals. The two shared a studio and sometimes worked together on pieces. They used the decorative incising technique known as 'sgraffito'.

CER. 377 Gift of Prof. & Mrs R. Gardner-Medwin
in 1993
Gift of the Warwick Arts Trust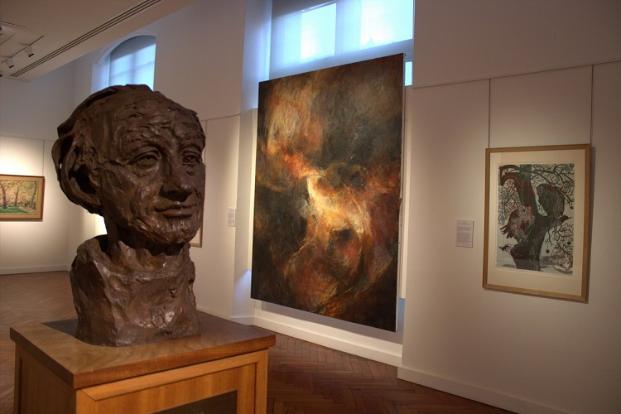 Professor Herbert Fröhlich, 1986 (sculpture left)
By Eve Goldsmith (b.1928)

Eve is a multi-talented sculptor, painter and writer based in Liverpool. As a portraitist she aims to capture her sitter's character as well as the fleeting mood of their expression. She is also known for her landscapes and large paintings of recent conflicts.
Eve studied at St Martin's School of Art and the Courtauld Institute, London. She exhibits nationally and is represented in collections in Britain, France and in California.
Professor Fröhlich (1905 – 1991) held the Chair for Theoretical Physics at the University of Liverpool.
FA. 2784 Purchased from the artist in 1988

Owls, 1955 (artwork far right)
By Gertrude Hermes OBE RA (1901 - 1983)

This striking linocut of owls is one of Gertrude's best-known works. It was chosen for a Pictures for Schools programme, which ran during the 1950s and 60s, so copies adorned many classrooms.
Gertrude was raised in Kent and studied sculpture and print-making at the Brook Green School of Art in London. Henry Moore was a fellow student. She was an immediate success as an artist, working in a modernist style. She also taught at the Royal Academy Schools and St Martin's School of Art. Gertrude frequently exhibited at the Royal Academy and internationally including representing Britain at the Venice Biennale of 1939. Her work is in many important public and private collections.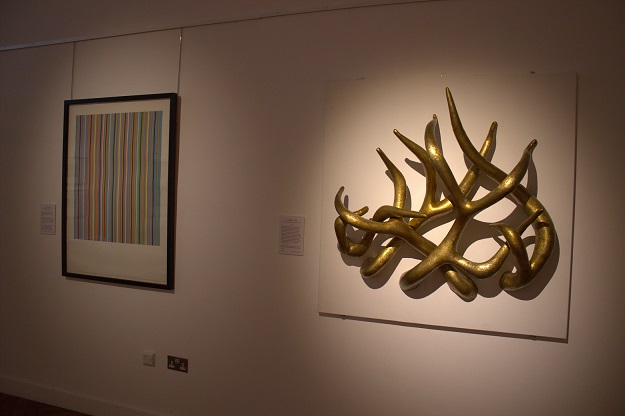 Study for Ra, 1980 (left)
By Bridget Riley CH CBE (b.1931)

One of Britain's most eminent living artists, Bridget is synonymous with Op Art, using geometric designs which can induce optical illusions.
Bridget studied at Goldsmiths College of Art and the Royal College of Art, quickly becoming successful in the 1960s. In 1979 she visited Egypt and the colours she encountered in the landscape introduced a new palette into her work, of which this is an example.
In the early 1980s Bridget undertook a decorative scheme for the Royal Liverpool Hospital comprising horizontal stripes running along corridors. She exhibits internationally and has works in the world's most important collections.
FA. 1933 Presented by the Contemporary Art Society in 1983

Loosestrife, c.1951 (right)
By Mitzi Solomon Cunliffe (1918 - 2006)

Mitzi is best known for designing the golden 'mask' trophy presented to winners of the BAFTA awards. She was born in New York and studied art at Columbia University but moved to Manchester when she married a lecturer at the University there. She worked successfully across many disciplines including jewellery, textiles and ceramics but specialised in architectural sculpture and design. Mitzi developed an innovative system of modular, mass-produced relief panels which she called 'sculpture by the yard' seen on buildings throughout Britain.
Another sculpture and a pair of door handles by Mitzi are at the University's School of Civic Design.
FA. 1588 Purchased from artist in 1951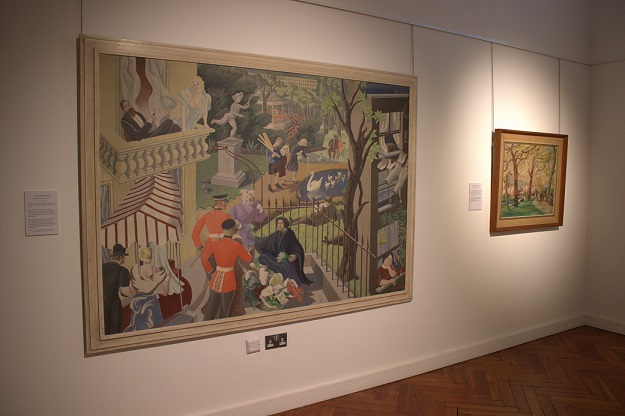 London Evening, 1933 (left)
By Mary Adshead (1904 - 1995)

Born in the central London area of Bloomsbury, Mary here presents an evocative scene of life in the city.
Mary studied at the Slade School of Art in London. Her early promise led to commissions for murals, where she developed her flowing, decorative painting style, which is full of incident and humour.
Mary's father was Professor of Civic Design at the University of Liverpool. She was later commissioned to create a set of murals for a University dining room. Mary was a prolific and successful painter and designer who was still working at 90.
FA. 3363 Purchased in 2006 with the support of the MLA,
V&A Purchase Grant Fund and Art Fund

Spring, Regents Park, c.1935 (right)
By Anne Estelle Rice (1877 - 1959)

Anne studied at the Academy of the Fine Arts in her native Pennsylvania and became a magazine illustrator. She was sent to Paris in 1905 to illustrate fashions and stayed, taking up painting. Her early work was especially influenced by the colourful Fauvist movement.
Anne moved to England in 1913 following her marriage to an art and theatre critic. She became increasingly engaged with the theatre world, producing stage sets and costumes. Her paintings are in numerous American and British collections.
FA. 1259 Accessioned in 1977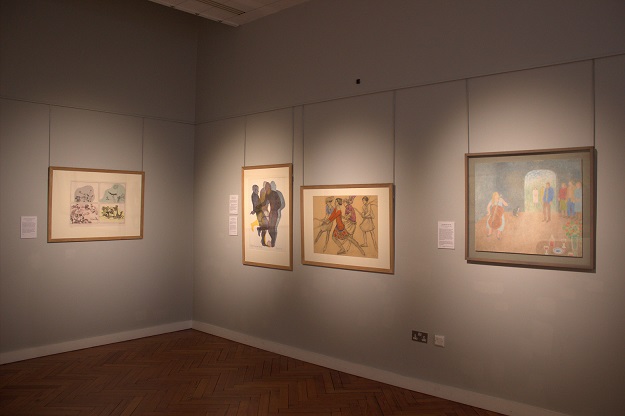 Territory of the Imagination, 1983 (left)
By Susan Hiller (1940 - 2019)

Born in America, Susan was one of the most influential artists of her generation and lived in Britain from the 1960s. She had a PhD in anthropology but, during a lecture on African art, decided to become an artist. Susan's art is wide-ranging but she is perhaps best known for her installation, video and performance pieces.
The full title of this artwork is 'The territory of the imagination is not the property of a privileged group'. Susan's work often addresses the subconscious, a world of imagination, dreams and memories. Here, she gives political charge to deceptively child-like images.
FA. 2025 Purchased in 1983

Football Players VII, 1971
By Barbara Newcomb (b.1936)

Barbara is American but has long been resident in Britain, and has been a leading printmaker since the 1960s. Barbara explained why she created a series of prints representing athletes and sport:
"The movement and excitement of it and somebody making all that effort, giving it all they've got, I love that."
Barbara studied art at Syracuse University in New York and Central School of Art, London. She then worked at the celebrated Atelier 17 print studio in Paris. Barbara has exhibited internationally and her work is held in many prestigious collections including the V&A and Arts Council England.
FA. 734 Purchased in 1973
By Averil Mary Dell Burleigh (1883 - 1949)

Averil's daughter, Veronica, often modelled for her mother and she probably features in this energetic scene of fierce but fashionable girls playing ice hockey.
Described as 'an exceptionally gifted artist', Averil was a painter, designer and book illustrator. She studied at Brighton School of Art and spent much of her life on the Sussex coast. Averil was an active member and exhibitor with the Society of Women Artists and exhibited widely including at the Royal Academy.
Veronica also became a professional artist.
FA. 2050 Purchased in 1984

The Cellist with a Cat, 1991 (far right)
By Elisabeth Vellacott (1905 - 2002)

Elisabeth had a remarkable late flowering of her career from 1963 onwards. She adopted a tempera style of painting, building up thin layers of pigment over a white ground giving a luminous quality. Her typical paintings featured gentle studies of figures set inside, outside or around doorways. Music was a regular theme but sometimes she surprised, as with powerful depictions of the Bosnian war during the early 1990s. One was exhibited at the John Moores painting prize where Elisabeth was the oldest entrant by 25 years.
Elisabeth studied at the Royal College of Art in the 1920s alongside print-maker Evelyn Gibbs who created a portrait of her displayed elsewhere in this exhibition.
FA. 3035 Purchased with support of the V&A Purchase Grant Fund, 1994
Homage to Saraswati, c.1993
By Jagjit (Jai) Chuhan (b.1955)

Jai is a renowned Indian-born British artist. Her paintings often feature solitary figures or duos in enclosed spaces where she draws out the psychological tension, exploring themes such as love, conflict, birth and death. Here, Jai references Saraswati, the Hindu goddess of knowledge, art and music.
Jai studied at the Slade School of Fine Art. Her paintings are exhibited internationally and are in many public collections including the Arts Council. She is Professor of International Art at Liverpool John Moores University.
FA. 3578 Gift of the Arts Council in 2010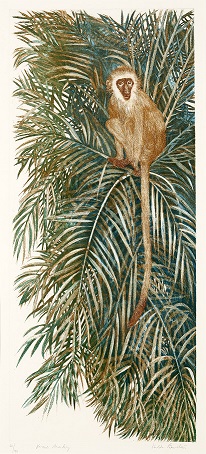 Hilda Watts Bernstein (1915 - 2006)
Hilda was born in London to Jewish émigré parents. She moved to South Africa in 1932 where she was an active member of the Communist party and anti-apartheid campaigner. Hilda returned to London in 1964 to escape arrest and started working as an artist and printmaker despite having no formal training.
From England, Hilda continued to campaign against apartheid and wrote books on Nelson Mandela and Steve Biko. In 2004 Hilda returned to South Africa and won an award for her contribution to gender equality and democratic freedom. Gambia issued a Hilda Bernstein stamp in 2011 as part of a series on legendary heroes of Africa.

FA. 1507 Purchased in 1979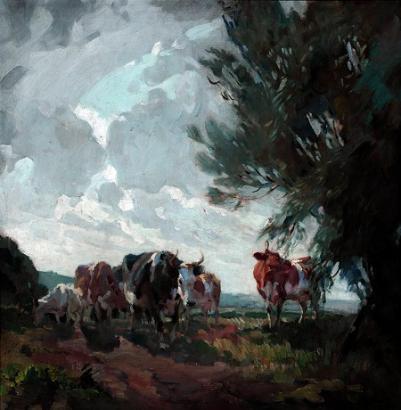 Near Bidston, Wirral, 1925
By Dorothy Adamson (1894 - 1934)

Born in Wallasey, Dorothy studied in Hertfordshire with the famous animal painter Lucy Kemp-Welch. Back home Dorothy quickly found success and was described at the time as 'Liverpool's most gifted artist'. She was a member of several important artists' societies and began to gain a national reputation. A few months before her untimely death she had three paintings exhibited at the Royal Academy. All three sold, indicating her potential to become a leading artist.
FA. 38 Bequeathed by Sydney Jones in 1947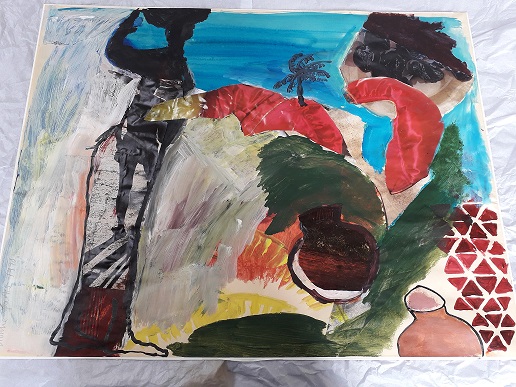 By Dionne Sparks (b.1966)
(Collage, mixed media – shown here de-framed)

Here Dionne engages with issues of black women's history and identity politics. She develops her work through the layering of paint, pen and found images to create a rich surface.
Dionne has a First Class BA Hons in Fine Art from Liverpool John Moores University. She has exhibited nationally and has work in several public collections. Dionne is based in Enfield where she continues to develop her art practice and teach art and design

FA. 2924 Purchased in 1991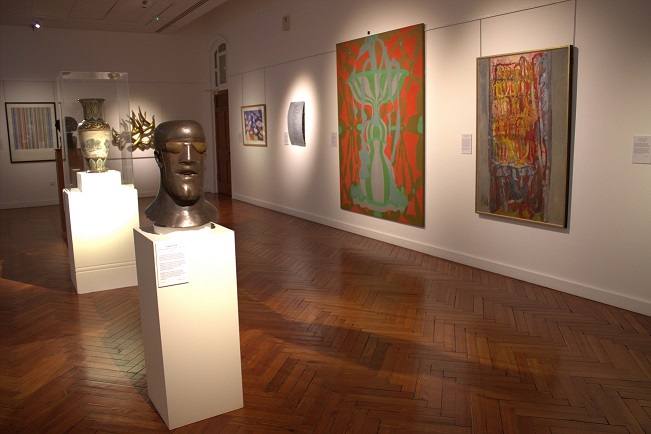 Leo Computer Storage Unit, 1964 (far right artwork)
By Kathleen Allen (1906 - 1983)

While Kathleen was out posting a letter in 1939, a bomb dropped on her studio and destroyed all her paintings. It changed how she saw the world and her subsequent work was more urban and industrial in theme. As the 1960s rolled in, Kathleen was influenced by Harold Wilson's vision of the 'white heat of technology' and fascinated by the workings of modern machinery. Here she shows the wiring of LEO (Lyons Electronic Office), the first computer used for commercial business applications.
Kathleen was born in Acton, London and studied at the Royal College of Art and at the Slade School of Art. She was an art teacher as well as an exhibiting artist.

FA. 517 Purchased in 1965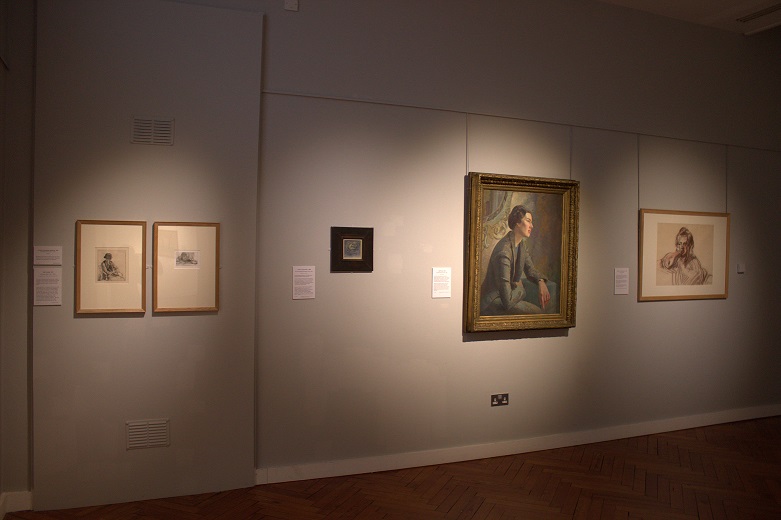 Portrait of Elisabeth Vellacott, 1928 (far left)
By Evelyn Gibbs (1905 – 1991)
Elisabeth was a fellow student with Evelyn at the Royal College of Art in the late 1920s. There is a painting by her elsewhere in the exhibition.
Self Portrait, 1927 (2nd left)

By Evelyn Gibbs (1905 – 1991)

(Drypoint etching – modern print from original plate)

This rather glowering self portrait was created by Evelyn while she was a student at the Royal College of Art in London. She shows herself holding a drypoint needle, etching a printing plate.
Evelyn was born in Liverpool and studied at the city's School of Art. She won the prestigious Prix de Rome for engraving in 1929 enabling her to study there. On her return she taught children with disabilities and later was an art tutor at Goldsmith's College, London. During the war Evelyn was an official war artist recording women making munitions and working at blood transfusion stations. After the war she settled in Nottingham where she continued to work as an artist into her 80s.
FA. 338 Purchased in 2002

Self Portrait, 1940
By Marjorie Brooks (1904 - 1990)
(Oil on canvas)

At the time she painted this self portrait, Marjorie was based in Liverpool. Her husband, William Holford, was Professor of Civic Design at the University. They had met in Rome in 1930 after both had won Prix de Rome scholarships. Marjorie's was for mural painting.
Marjorie had enjoyed a dynamic start to her career and had won several awards and a travel bursary while studying at the Royal Academy schools. Afterward she was a regular exhibiter at the Royal Academy. Marjorie also designed sets and costumes for the Liverpool Playhouse.
FA. 3540 Bequeathed by Mrs C.M.G. Dorward in 2001
Study of a Young Woman, c.1998

Sam is a printmaker based in Northamptonshire. She has said that the basis of all her work is drawing and, if inspiration doesn't come, she has a cup of tea and starts again.
As well as running her own art practice, Sam teaches printmaking at the Royal Drawing School and runs workshops at the Queen's Gallery, Buckingham Palace.
Sam studied at St Martins School of Art, the Slade School of Art and has an MA in drawing from the Royal Drawing School.
FA. 3262 Bequeathed by Reginald Thorne Davies, 2002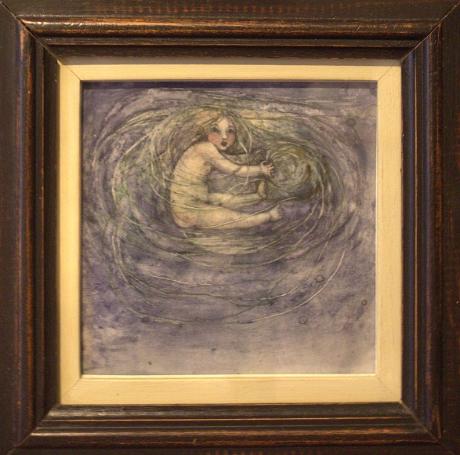 Child in a Rose Bowl, c.1899
By Frances Macdonald MacNair (1874 -1921)

This tiny painting is typical of the maternal and relationship themes Frances favoured.
Frances studied at Glasgow School of Art along with her sister Margaret. Working collaboratively with their future husbands, J. Herbert MacNair and Charles Rennie Mackintosh, they developed a distinctive, mystical Art Nouveau style nicknamed the 'Spook School'.
Between 1899 and 1908 Frances and Herbert lived in Liverpool where they taught at the University's School of Architecture and Applied Design. Frances taught embroidery but continued painting and designing jewellery, textiles and metalware. The couple then moved back to Glasgow to continue their artistic careers.
FA. 1697 Purchased in 1981 with support from the V&A Purchase Grant Fund