A New Beauty
Location: Gallery 2, first floor
A New Beauty – Romanticism in Art 1880 – 1920
A display exploring the evolving ways that physical attractiveness was depicted from the late 1800s.
New ways of depicting beauty evolved during the late 1800s, influenced by later Pre-Raphaelite artists like Edward Coley Burne-Jones. The harshness and moralising of Victorian academic painting was rejected in favour of 'art for arts sake' embracing the purely decorative. This phase came to be known as the Aesthetic Movement, which mixed visual influences from classical antiquity, Japanese culture and the European Art Nouveau. Alongside, the school of New Sculpture emphasised naturalistic poses and emotions using the sinuous, graceful lines seen in Art Nouveau.

Yet, while women were being depicted as delicate and otherworldly creatures in art, real women were beginning to demand emancipation and equal voting rights. The press labelled them as 'the New Woman'. James Hamilton Hay's portraits of some of his female friends represent their new independent spirit as Britain moved into the Twentieth Century.
360 Tour
Exhibition artwork and labels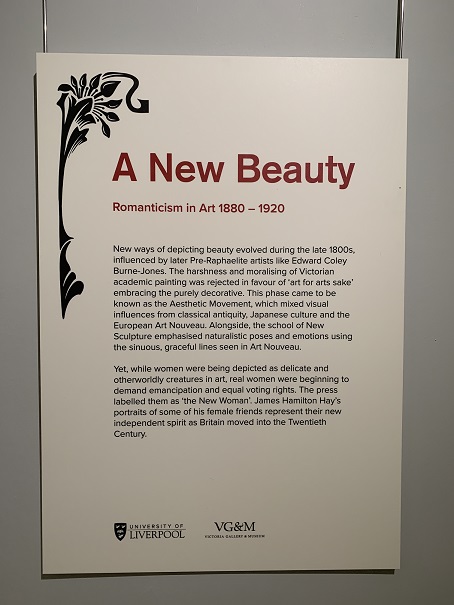 Introductory Exhibition Panel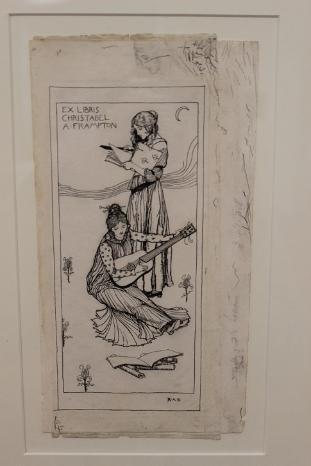 Bookplate for Christabel A. Frampton, c.1895
By Robert Anning Bell (1862 - 1933)
(Pen and Ink with white)

This design was for Lady Christabel Frampton, also known as artist Christabel Annie Cockerell (1864 – 1951). It shows Bell's workings and the short black lines are where he cleaned the nib of his pen. It was a fashion to have personalised printed plates pasted in the front of books to show ownership.
Bell's style followed the Arts and Craft and Aesthetic movements. His female figures have the delicacy seen in Burne-Jones but there are also hints of influential illustrator Aubrey Beardsley.
Between 1894 – 1899 Bell was a Lecturer at the School of Architecture and Applied Arts at this University.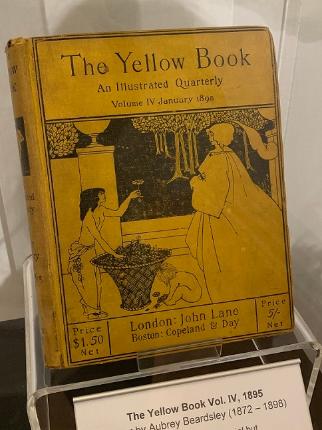 The Yellow Book Vol. IV, 1895
Cover by Aubrey Beardsley (1872 – 1898)
Beardsley was a highly controversial but influential illustrator. He worked predominantly in black and white using sinuous lines influenced by Japanese wood-cut prints. His work was often exquisite, but could be grotesque and even obscene. Beardsley was art editor for the first four editions of this journal.
From the Curator's private collection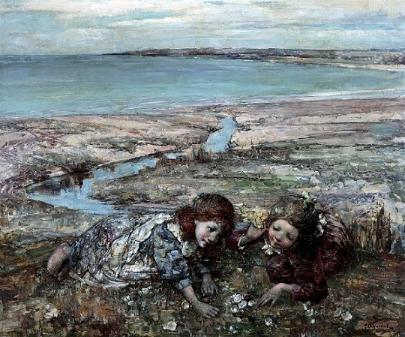 Two Girls on a Beach, 1912
By Edward Atkinson Hornel (1864 - 1933)
(Oil on canvas)

Hornel was an Impressionist painter living in the Scottish town of Kirkcudbright. He carved out a lucrative career painting sweet-faced girls in locations around the local Galloway area. This seaside scene is probably set on Brighouse Bay, a favourite location of the artist. The two models would be children from local families. Decorative in nature, with no moral or social message, his paintings exemplified the credo of 'art for arts' sake'.
Hornel's Impressionist style was characterised by the thick application of oil paint laid down using a palette knife. It gave deep texture known as 'impasto' with an almost tapestry-like effect.
FA. 2 Gift from the family of J.H. Springman, 1946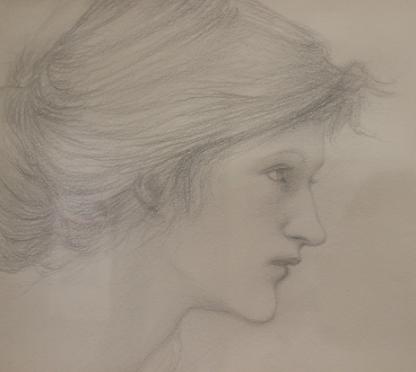 Study of a Head, 1895
By Edward Coley Burne-Jones
(1833 –1898)
(pencil drawing)

Burne-Jones was a key figure of the later Pre-Raphaelites and the shift towards the Aesthetic Movement. Taking his own influence from Renaissance artists like Botticelli, Burne-Jones' figures, especially women, tended to have dainty, elfin features. It was a look much copied by other artists.
The name of the model is not known. A note on the back of the drawing says it was a study for "The Dream", possibly the painting The Dream of Launcelot at the Chapel of the San Graal. It was painted around 1895 – 6.
On loan from Mark & Jason Flint in memory of their late mother, Sally (née Whitehead)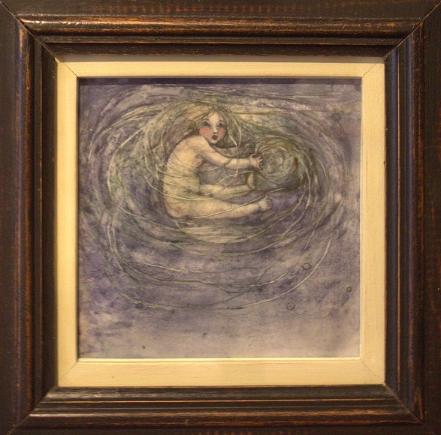 Child in a Rose Bowl, c.1899
By Frances MacDonald MacNair
(1874 - 1921)
(watercolour on vellum)
As Frances MacDonald, the artist studied at the Glasgow School of Art along with her sister Margaret. Working collaboratively with their future husbands, J. Herbert MacNair and Charles Rennie MacIntosh, they developed a distinctive, mystical strand of Art Nouveau nicknamed the 'Spook School'. It was part of a new Glasgow style typified by otherworldly figures, motifs from nature and trailing lines.
Between 1899 and 1908, the MacNairs taught at this University's School of Architecture and Applied Design.
FA. 1697 Purchased with support from the V&A Purchase Grant Fund, 1981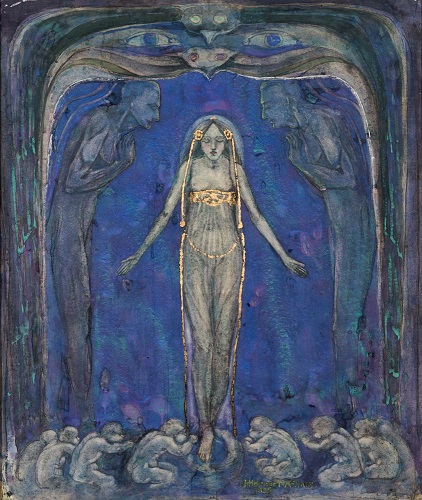 Ysighlu, 1895
By J. Herbert MacNair (1868 - 1921)
(pencil, charcoal, watercolour with gold and silver paint)

Like his wife, Frances Macdonald, MacNair worked in an otherworldly Art Nouveau style developed during their time at Glasgow School of Art.
The painting was published in The Yellow Book, a journal of the Aesthetic movement edited by controversial illustrator Aubrey Beardsley. It was accompanied by the words, "The very shadows in the cave worshipped her. The little waves threw themselves at her feet. And kissed them." Ysighlu appears to be an imaginary Celtic-style deity of MacNair's creation. There is no reference to her elsewhere.

FA. 1754 Purchased with support from the V&A Purchase Grant Fund and the Eleanor Rathbone Trust, 1982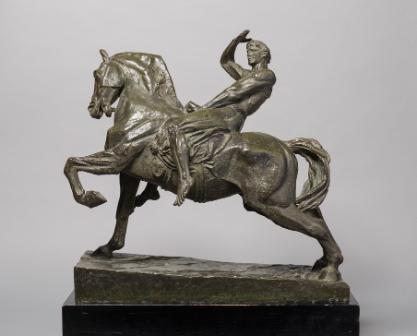 Physical Energy, c.1914
After George Frederick Watts (1817 - 1904)
(Bronze)
This is a reduced scale version of Watts' major public sculpture of a horse and rider. Its dynamic pose is believed to symbolise human mastery over nature. Watts began the full-size sculpture in 1884 and was still working on it when he died.
FA. 1765 Sir Charles Sydney Jones Bequest, 1947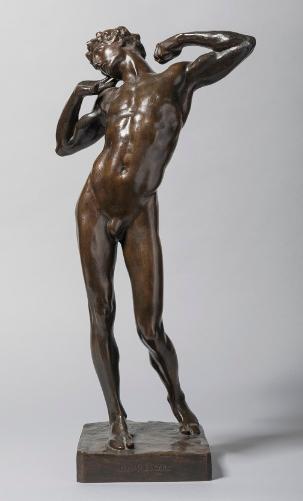 The Sluggard, 1890
By Sir Frederick Leighton (1830 – 1896)
(Bronze)
Leighton was the most eminent artist of his day and the first to create works in the style known as 'New Sculpture'. This stretching figure exemplifies male beauty and was based on a favourite model, Italian-born Gaetano Valvona.
FA. 2855 Purchased with support of the National Art Collections Fund, 1989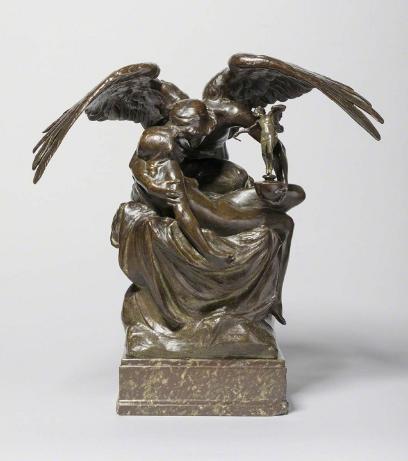 A Dream of Love, 1895
By Charles John Allen (1862 – 1956)
(Bronze)
Allen was a Lecturer in art at this University. As a sculptor he worked in the New Sculpture style, typified by dynamic figure poses and mythological or allegorical subjects. This work is loosely based on Cupid and Psyche.
FA. 3125 Purchased with the support of the V&A Purchase Grant Fund in 1994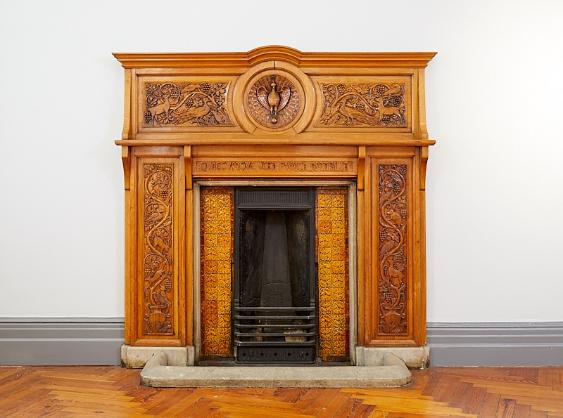 Arts & Crafts Fireplace, 1892
(Walnut)

This room was originally the Common Room for female students and its fireplace was created by a team of women.
It was designed in the Arts and Crafts style by Miss Eleanor Gordon of Blundellsands, who was a college student. Her design was then carved by Mrs Florence MacCunn, whose husband was the Professor of Philosophy, and Miss Helene Caröe, sister of noted architect William Caröe.
The design on the panels represents the tree of life with a central cartouche of a peacock. Its inscription translates as "Everything True, Pure and Lovely" and is derived from St Paul's Epistle to the Philippians (chapter 4, verse 8).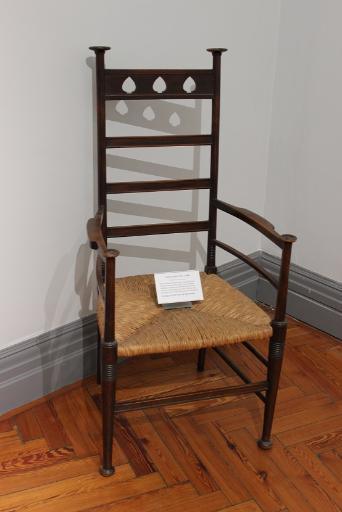 Arts & Crafts Chair, c.1900
(Birch with rush seat panel)
With the vision of William Morris and the Arts & Craft movement of the 1860s, furniture design simplified. It used rustic elements, such as the woven rush seat panel seen here, but also had an elegance that came from Japanese influences.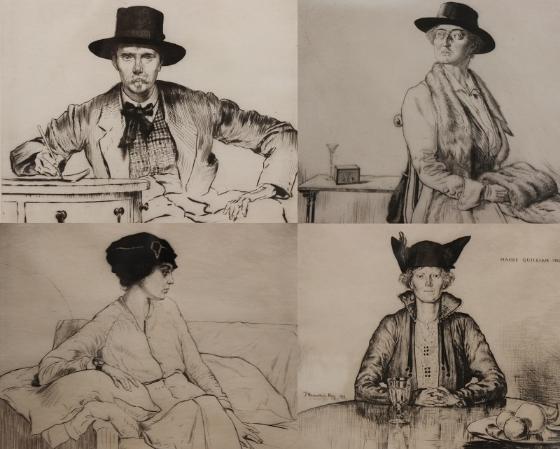 Top left - James Hamilton Hay
Bottom left - Margaret Forbes
Top right - Beatrix Burne
Bottom right - Maude Quilliam
Yvonne Keye
Selection of Portraits, 1915 - 16
By James Hamilton Hay (1874 – 1916)
(Drypoint etchings)
Alongside the artist's self- portrait are his depictions of four very different contemporary women. Each has a distinct personality emphasised by their outline, pose and hat. Their soft, uncorseted dress reveals the move away from the strictures of Victorian fashions during the early years of the Twentieth Century.
Birkenhead-born Hay styles himself as a rakish and Bohemian artist, holding an etching needle to emphasise his method of mark making. Already in delicate health, these portraits were his last works before he died aged 42.
Do you know anything about the sitters Maude Quilliam, Beatrix Burne, Yvonne Kaye or Margaret Forbes? If so, please let us know.
FA. 1967 – 71 Gift of Prof. John D. Hay (artist's nephew), 1983