Granby Workshop Installation
August 2021 - Sat 25 September 2021
Location: Gallery 7, first floor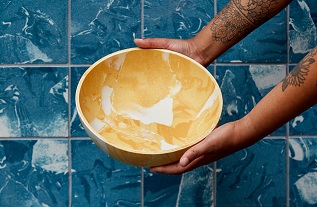 This display has been created from products made by Granby Workshop, an innovative ceramics studio based in the L8 area of Liverpool. Granby Workshop grew out of wider community-led efforts to rebuild the neighbourhood and was founded as a collaboration between The Granby Four Streets Community Land Trust and the London-based design collective Assemble. Granby Workshop were part of the Assemble collaboration which was awarded the Turner Prize in 2015.
Granby Workshop products are designed through extensive material investigations, combining craft techniques with an experimental sensibility to develop new architectural materials and finishes.
The team continue to work closely with the Granby Four Streets Community Land Trust on products and projects and they form part of their board advising on the direction of the workshop.
These Granby Workshop products were presented to the VG&M by the Contemporary Art Society through their Rapid Response Fund.
Find out more about Granby Workshop by visiting their website or fowllowing their Twitter account.
Find out more about the Contemporary Art Society on their website.
360 video
#GranbyWorkshop #Gallery7 - Spherical Image - RICOH THETA
Granby Workshop Installation
Granby Rock table and console tops
Granby Rock fire surround
Speckled porcelain light pendants
Granbyware 3-piece dinner sets in 4 colours
Green and Blue Splatware serving platter
Blue and White Splatware plate*
Blue and Green encaustic tiles
All by Granby Workshop
Untitled, 1968 (lithographic and serigraphic print)
No.III, 1966 (oil on canvas)
By Sandra Blow RA (1925 – 2006)
*All items are from the VG&M collection except the Splatware plate which has been kindly loaned by a private collector.
Further Images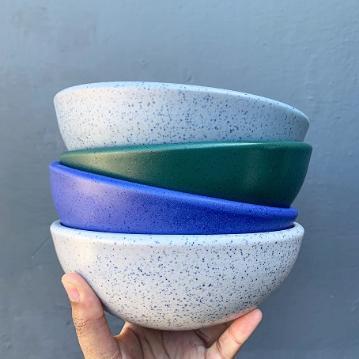 Granbyware dinner set in three different colours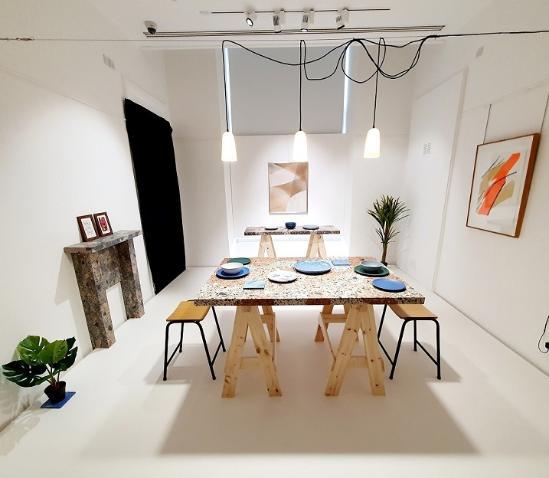 Installation in Gallery 7