Benefactresses – Women of the Holt Family
24 November 2018 - Until April 2019
Location: Gallery 4, first floor
The role of women in the University of Liverpool's history is often overlooked.
This exhibition turned a spotlight on Eva Melly, Emma Holt and Jane Brandreth Holt, who were patrons of the University in its early years. The three women were cousins. They were part of the Liverpool-based Holt family whose wealth stemmed from their merchant and shipping businesses. The trio used their privileged position to support study at the University, especially for women.
The portraits on display are from the VG&M collection.
This exhibition was developed by guest co-curators Francine Wilson and Daniel Riding of Liverpool Hope University.
Exhibition artwork and further information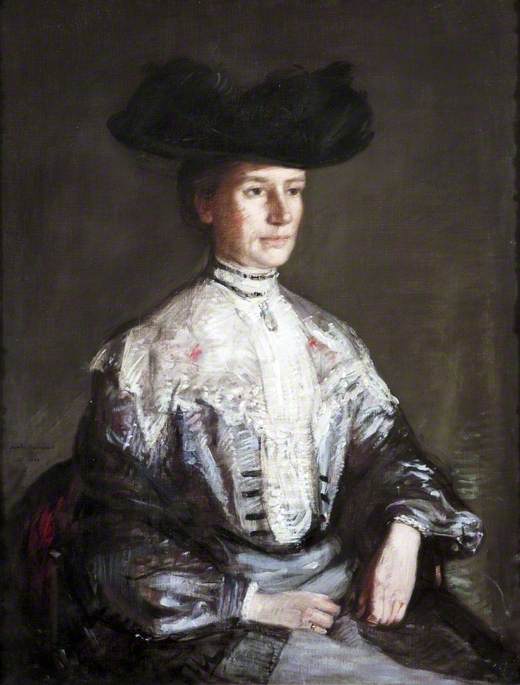 Miss Emma Georgina Holt, 1904
by David Muirhead (1867-1930)
Oil on canvas
Emma Holt (1862 – 1944) had a long involvement with the University of Liverpool beginning as a student in its early years when it was known as University College. She was an only child and inherited a substantial fortune in 1896 on the death of her father, George Holt Junior, a merchant and ship owner. Emma used her wealth to continue the family tradition of patronage for the University with a particular interest in the welfare and advancement of women students. As well as financial support, she became a Governor of the University, a life member of the University Court and was a member of the University's Council from 1909 to 1934.
About the artist:
David Muirhead was a Scottish portrait painter and landscape artist who studied at the Royal Academy Schools and at the Westminster School of Art. He exhibited regularly at the Royal Academy. When Muirhead painted this portrait, he was tutor of Drawing and Painting at the University's School of Architecture and Applied Art.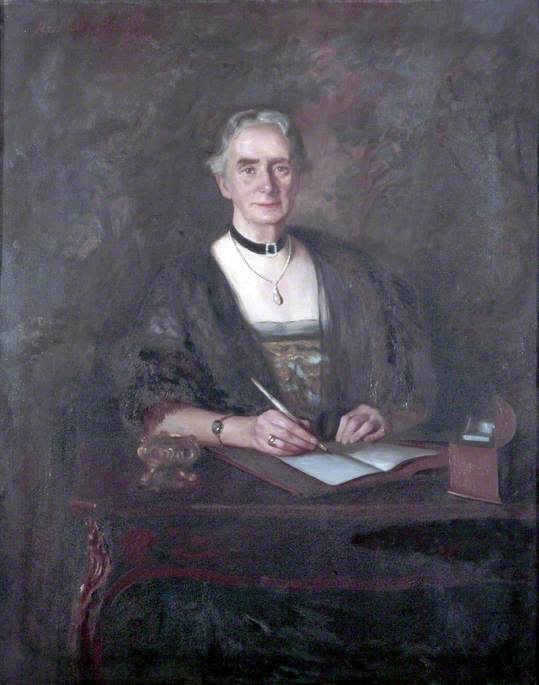 Miss Emma Georgina Holt, 1928
By René le Brun, Comte de L'Hôpital (1877–1929)
Oil on Canvas
Emma Holt was sixty-six years old when this later portrait was painted. She remained unmarried and used her position as an independently wealthy woman to support good causes at the University and beyond. She took an active role in the Liverpool Queen Victoria District Nursing Association. As well as being a financial subscriber, she was a superintendent for one of the busiest districts from 1915 into the 1940s. On her death she bequeathed her family home, Sudley House, and its contents to Liverpool for public benefit. It is now managed by National Museums Liverpool.
About the artist:
Despite his Gallic name, René Le Brun, Comte De L'Hôpital, was a British portrait and subject painter who trained at the Royal Academy Schools. His sitters included Prince Arthur of Connaught and Pope Leo XIII.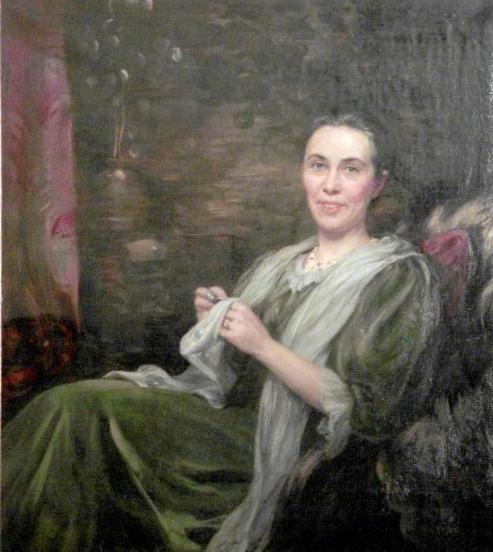 Jane Brandreth Holt (Lady Jane Herdman), 1910
By Robert Duddingstone Herdman (1863 - 1922)
Oil on Canvas
Jane Brandreth Holt (1867 – 1922) was awarded first class honours in Chemistry from University College, Liverpool in 1891. She was the first President of the Women Students' Representative Council in Liverpool and was later a member of the Liverpool Education Committee.
Jane's father was ship owner Alfred Holt. In 1893 Jane married the University's eminent natural scientist William Abbott Herdman. After their son, George, died at the Battle of the Somme in 1916, the couple endowed a Chair of Geology in his name. They also funded the Chair of Oceanography. Following Jane's death, William funded new geology laboratories in her memory, now the Jane Herdman Building for environmental sciences.
About the artist:
Robert Duddingstone Herdman was Jane's brother-in-law. He was raised in Edinburgh, the son of artist Robert Inerarity Herdman, and was President of the Society of Scottish Artists in the late 1890s. He specialised in figure subjects and portraits.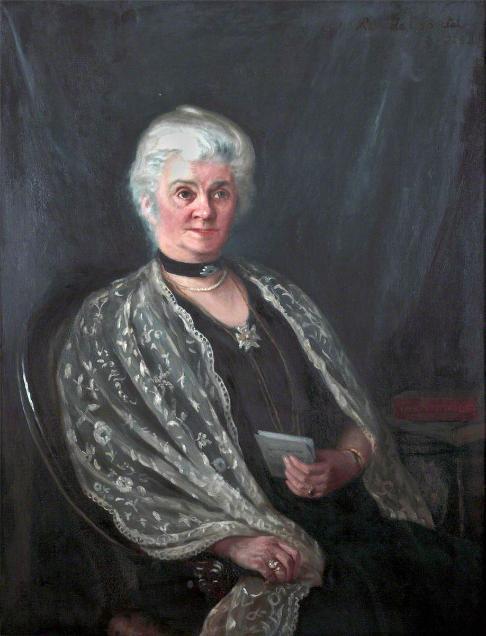 Miss Eva Melly, 1928
By René le Brun, Comte de L'Hôpital (1877–1929)
Oil on Canvas
Mary Eveline Melly (1854 – 1937), known as Eva, was related to the Holt family through her maternal aunt. Eva's father, George, was a merchant, ship owner and Liberal MP. Eva used her position as a woman of comfortable means to support women into higher education. Along with her cousin, Emma Holt, Eva helped to establish residential accommodation for women studying in Liverpool called University Hall which opened in 1899.
Eva, who was one of seven children, remained single and shared a house with one of her brothers on Chatham Street in Liverpool. She was great-aunt to the Liverpool-born singer and writer George Melly (1926 – 2007).
About the artist:
René Le Brun, Comte De L'Hôpital, was British portrait painter and graphic artist who contributed illustrations to an edition of the Encyclopaedia Britannica. He created this portrait in the same year that he painted Eva's cousin, Emma
Holt.