Watercolours from the VG&M Collection
360 Video
Further Information
Watercolour painting began over 30,000 years ago, when Palaeolithic people used earth pigments mixed with liquid to decorate their caves. Modern paints are a blend of colour pigment with a binding agent such as gum arabic, giving watercolours their characteristic fluidity and transparency. The term 'watercolour' encompasses the use of inks or the addition of opaque pigment to create gouache. Because of their portability, compared with oil paints, artists have traditionally favoured watercolours to paint landscapes or when travelling.
The University of Liverpool has a fine collection of watercolour paintings housed here at the VG&M. At its heart is the Sir Sydney Jones Bequest featuring artists from the 'Golden Age' of British watercolour painting spanning 1750 to 1850. This exhibition continues the story of watercolour into the 1980s.
Light levels are low in this gallery to prevent the watercolours from fading.
Artwork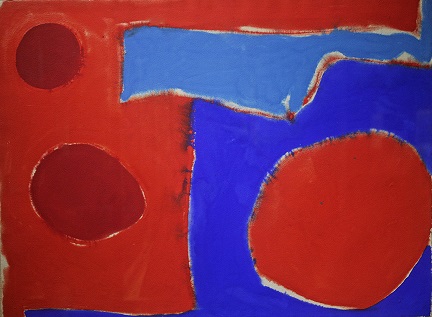 Reds and Blues, June 1964
By Patrick Heron (1920 – 1999)
(Gouache)
Heron is known for his vibrant use of colour in abstract compositions featuring geometric or amorphous shapes. From 1956 he lived in St Ives in Cornwall, and was a key part of the town's post-war artists' colony.
Mother and Child, c.1930
By Dorothy Webster Hawksley (1884 – 1970)
(Pencil and gouache)
Hawksley was an award-winning art student and regular exhibitor at the Royal Academy. From the 1920s she used watercolour to create intimate scenes with dramatic shadow influenced by Japanese prints.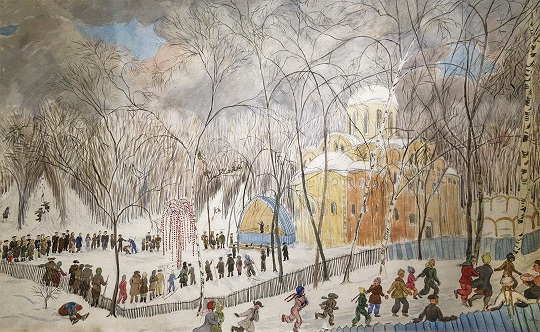 Gorky Park in Moscow, 1949
By Vivian John (1915 – 1994)
(pencil and watercolour)
John travelled widely and lived in Moscow after the war. As an artist she specialised in capturing scenes of everyday life. She was the youngest child of Augustus John and his partner and muse Dorelia McNeill.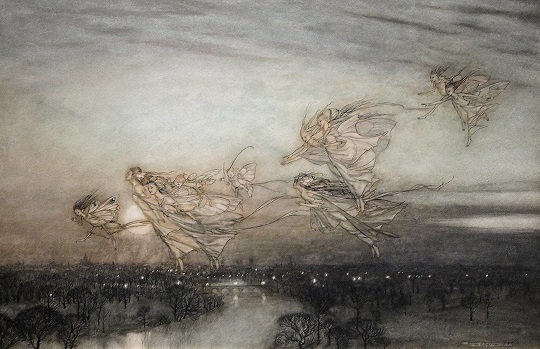 Twilight Dreams, 1913
By Arthur Rackham (1867 – 1939)
(Watercolour, ink and bodycolour)
Rackham is one of Britain's best-loved book illustrators. This painting of fairies flying over the River Thames was created for an edition of Peter Pan in 1912. Originally a black and white drawing, the artist later coloured it in for an exhibition.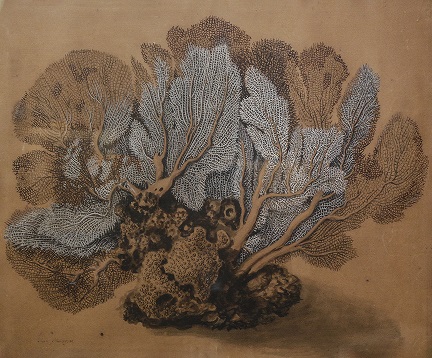 Fan Corals, 1785
By Sarah Stone (1760 – 1844)
(Watercolour and bodycolour on buff paper)
Stone was a renowned natural history illustrator, often commissioned by private collectors to record their specimens. She also painted specimens brought back from the Pacific voyages of Captain James Cook.

The Prodigal Son, 1923
By Mary Adshead (1904 - 1995)
(Watercolour on board)
Adshead was a successful artist and designer whose flowing, decorative style owes much to her specialism in mural painting. This painting celebrates family reunions and togetherness.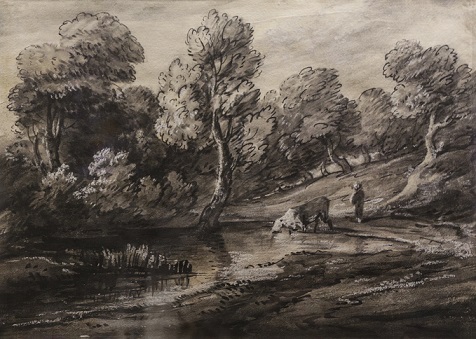 The Drinking Pool, early 1780s
By Thomas Gainsborough (1727 - 1788)
(Indian ink and wash with white chalk)
Although famous for his elegant portraits, Gainsborough's real love was painting landscapes. For relaxation he would paint compositions laid out on a special table, with broccoli for trees and pieces of mirror for water.

St Nicholas Church, Newcastle, c.1798
By Thomas Girtin (1775 - 1802)
(Pencil and watercolour)
Girtin was an artistic genius whose life was cut tragically short. He created a Romantic style of landscape using effects of light to give atmosphere. The John Sneeze Snuff Shop in the foreground typifies his gentle humour.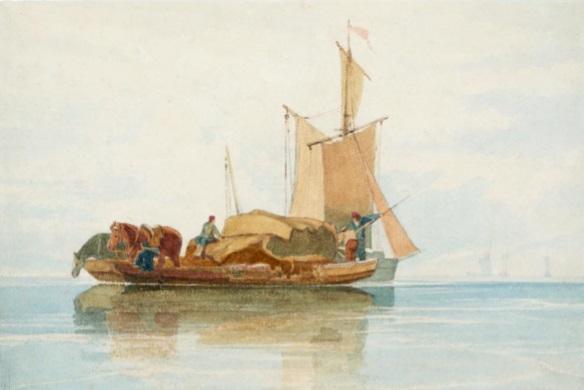 On the Yare, c.1824
By John Sell Cotman (1782 - 1842)
(Pencil and watercolour)
The River Yare flows through Norfolk where Cotman lived for a greater part of his life. This innovative artist and teacher used thin washes of colour to give a spare, flat effect to his watercolour paintings.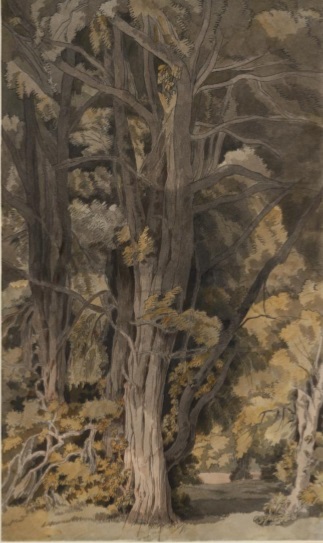 The Avenue, c.1790
By Francis Towne (1739 - 1816)
(Pencil, pen, grey ink and watercolour)
Sadly neglected as an artist during his lifetime, Towne's originality was only recognised in the 20th century. His strong, angular lines and subdued palette have a modern look. Here, a pathway is glimpsed though dark, tangled trees.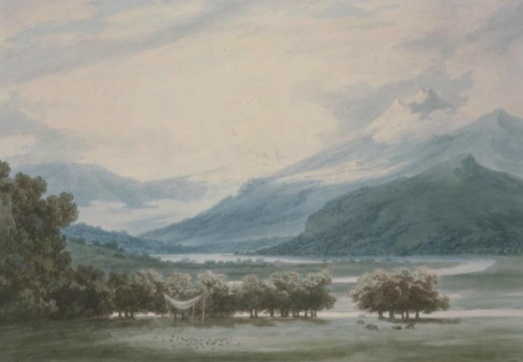 Brixen, Bressanone in South Tyrol, 1790
By John Robert Cozens (1752 - 1797)
(Pencil and watercolour)
Cozens was at the forefront of Romantic developments in painting, creating dramatic awe-inspiring landscapes. This vista is believed to be based on a sketch made on his 1782 Continental tour with his notorious patron, William Beckford.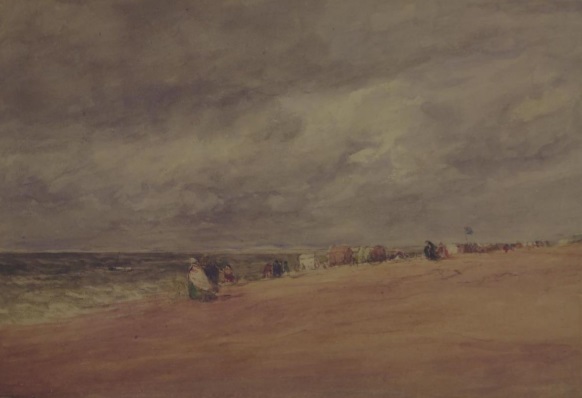 The Beach at Rhyl, 1854
By David Cox (1783 - 1859)
(Watercolour)
One of a series of paintings by Cox capturing the fast changing weather conditions at this North Wales resort. Although based in Birmingham, Cox was a frequent visitor to the village of Betwys-y-Coed, establishing an artists' colony there.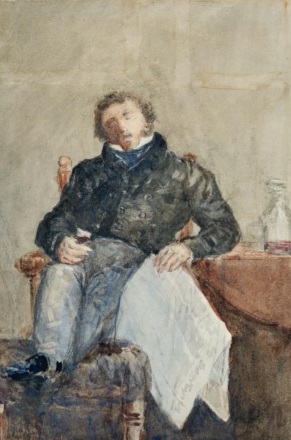 Commercial Traveller Dozing, 1840
By David Cox (1783 - 1859)
(Watercolour)
Although famous as one of the great landscape painters of his day, Cox had a gift for rapid figure sketches. Here, he depicts an exhausted travelling salesman catching forty winks at a Lancaster inn.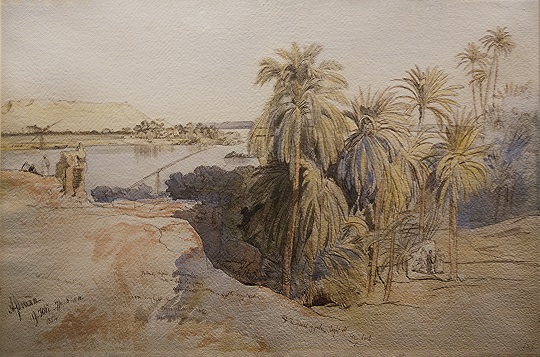 Assouan, 1854
By Edward Lear (1812 - 1888)
(Pen, pencil and watercolour)
Assouan, now known as Aswan, is a city on the banks of the River Nile in southern Egypt. Lear is mostly remembered for his popular nonsense verse but was a respected ornithological illustrator and widely travelled topographical artist.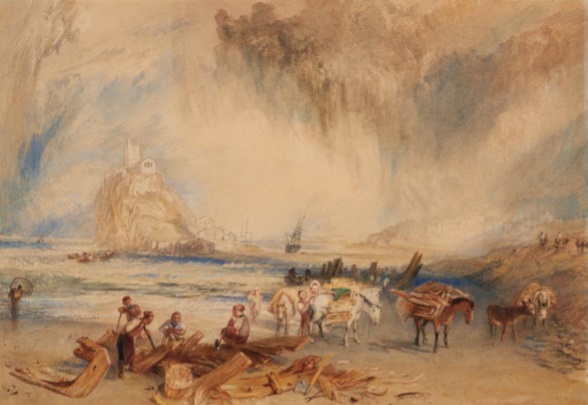 St Michael's Mount, c.1836
By Joseph Mallord William Turner (1775 - 1851)
(Pencil and watercolour)
Turner uses his expert technique to convey a storm approaching this Cornish landmark. In the foreground local people break up a shipwreck, perhaps with hopes of the storm delivering another soon.
The Vale of Ashburnham, Sussex, c.1816
By Joseph Mallord William Turner (1775 - 1851)
(Watercolour)
Turner is revered as the greatest exponent of watercolour painting, especially his portrayal of the influence of weather on land and sea. This painting was probably commissioned by John 'Mad Jack' Fuller, an eccentric MP for Sussex.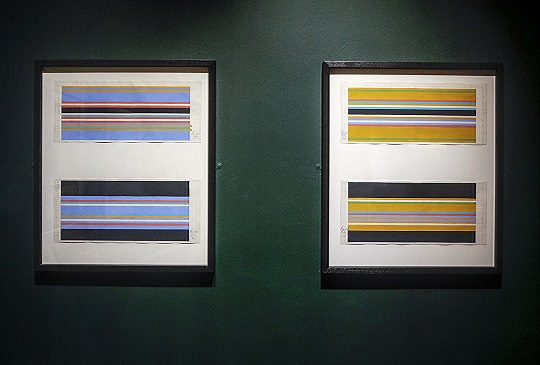 Studies for Royal Liverpool Hospital, 1981
By Bridget Riley (born 1931)
(Pencil and gouache)
Riley was commissioned to design a decorative scheme for corridors in the Royal Liverpool Hospital in 1981. Although Riley's installation was removed in 1990, it was recreated for The Chinati Foundation in Marfa, Texas in 2017.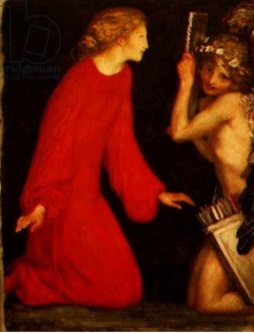 Cupid's Mirror, 1903
By Robert Anning Bell (1863 – 1933)
(Watercolour with bodycolour)
Bell was a versatile artist and designer working in a decorative Arts and Crafts style. He taught art at the University in the mid-1890s, then at prestigious art schools in Glasgow and London.