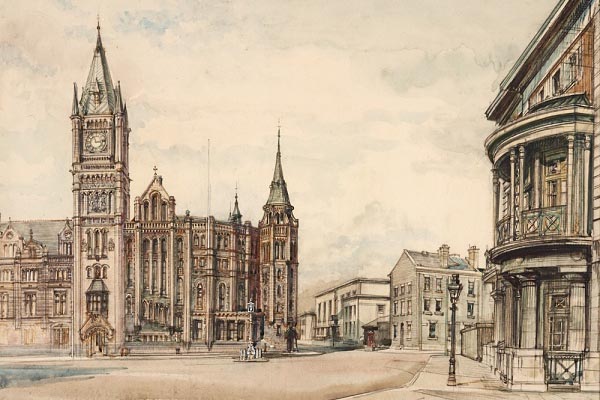 Here or Roundabout: Local scenes by Allan P. Tankard
Location: Gallery 4, first floor
This exhibition of watercolour paintings by Allan Tankard show locations around the University of Liverpool campus in the post-war years. Many feature our Victoria Building or are views from it.
Artist, Allan Peel Tankard (1897 – 1964), was a teacher at Liverpool College of Art with a specialism in architectural illustration. He was a distinctive character standing 6 feet 4 inches tall with round glasses, a neat moustache and a very deep voice.
Tankard joined Liverpool Corporation's Recording Merseyside project in 1945. The bombing raids Liverpool endured during the war cost thousands of lives and destroyed countless buildings. To raise spirits and celebrate its architectural heritage, artists were invited to capture views of the region resulting in a series of exhibitions at the Bluecoat Chambers.
In 1947 The Liverpolitan magazine wrote that in Tankard the people of Liverpool had "... discovered a man fully equipped to record their city in a way that they could recognise it..."
360 video & exhibition information
'Here or Roundabout: Local scenes by Allan P. Tankard' exhibition, Gallery 4, VG&M, 2020 - Spherical Image - RICOH THETA
Click this link to see the artwork, object labels and text panels from the exhibition