Secrets of the Stores - Unseen Objects of the Garstang Museum
Location: Gallery 5, first floor
The objects on display in most museums are just a fraction of the rich array of collections kept safe within their care.
Practical considerations of space, the expense of rotating displays, and the need for clarity of a story within exhibitions can keep objects of great artistic, cultural or technological importance hidden from public view.
The ancient artefacts you will see in this exhibition come from the Garstang Museum of Archaeology and have never been displayed to the public. Some are beautiful, some are intriguing, and all have their own story to tell.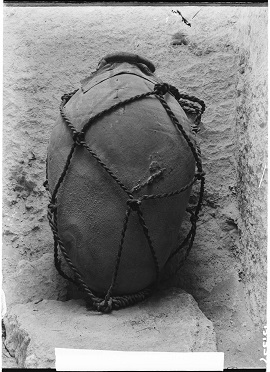 Photograph of Ancient Egyptian pottery vessel, photographed during John garstang's excavations in Beni Hassan. Many Egyptian pottery vessels have a rounded base and would not have been able to stand up on their own. Rope nest were used to suspend the pot and keep it upright. This rope netting and the linen fabric used to cover the mouth of the jar are remarklably well preserved. Beni Hassan, JG-B-356
360 Video