Secret Art of Survival - Medical panels, artwork and labels
Artwork
Hospital Scene, Thailand, 1943
By Gunner William Carthew Wilder, 135 Field Regt, RA
Pencil on paper
Loaned by Anthony Wilder
This pencil sketch by trained artist Gunner Will Wilder, describes the scene inside one of the ulcer ward huts at Chungkai Hospital camp in Thailand in 1943.
The man in the foreground has a bandaged leg. A medical orderly bends over the bali-bali (bamboo bed shelf) to attend to the next man, whose right lower leg is raised and lying on a bamboo leg support. Clearly visible is the large open wound on this man's shin. This is a deep, suppurating tropical ulcer which has eroded deep into the tissue of the leg. If left untreated it will infect the bones. The orderly uses a sharpened spoon to clean the wound by scraping away the dead, sloughy material to help granulation of new tissue from the base of the wound. This procedure was done without any anaesthetic or analgesia.
A man to the left of the picture is walking with the aid of crutches. He has had part of his right leg amputated, most likely due to a tropical ulcer. Beside him another man sits on a bedpan.
At Chungkai there were several ulcer ward huts with up to 200 men in each.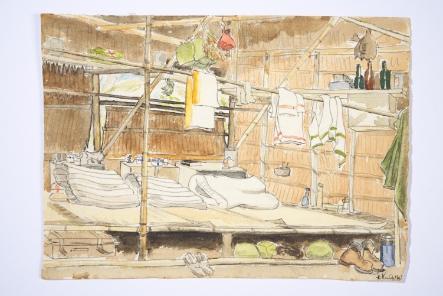 Medical Officers Hut, Haroekoe (Moluccas), 1943
By Fl/Lt Frank Richard Dickie Philps RAF MO
Pencil and watercolour on paper
Loaned by Vicky Taylor

This watercolour of the doctors' hut at Haroekoe camp in the Moluccas was painted by one of the occupants, medical officer Richard Philps. His bedspace is the one on the far right, next to the wall. Also sharing this hut was his friend, RAF dental officer Clifford Beales.
The detail is fascinating: from the neatly-stored boots and boxes at the foot of the bali-bali (bamboo bed shelf) to small personal items, books and tins at head of each bed space. Various cloths, towels and small kitbags hang from the hut walls and bamboo roof supports. There are small shelves fixed to the walls holding bottles, jars, tins and a medical kit and shuttered openings in the wall behind the bali-bali. At the head of Philps' bed space sits a small bird – the small painted kingfisher that he sculpted from teak in his early months of captivity in Java. It was in his words, "my talisman."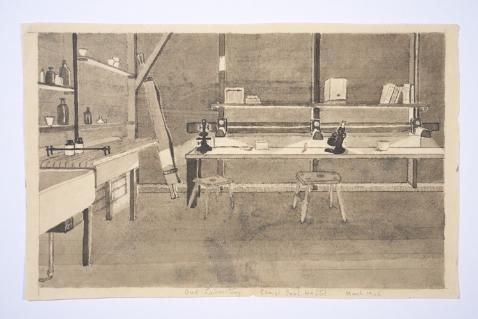 Our Laboratory, Changi Gaol, March 1945
By Capt. Thomas 'Toss' Wilson, RAMC
Ink wash on paper
Loaned by the Wilson Family
This is the only known view to date of the interior of the medical laboratory hut at Changi Gaol POW camp from 1944 to 1945. Capt. Wilson's precise and clear pen, ink and watercolour painting shows a spartan room equipped for purpose. Along the left-hand wall there is a plumbed-in ceramic sink with a wooden draining board to the right of it. On top of this is a metal draining rack and above shelves with a few jars, bottles, conical flasks and a funnel.
A rolled-up stretcher is propped against the hut wall, adjacent to the wide lab bench. There are three small lamps fixed to the wall to give a good working light for the two microscopes, in what would otherwise be a dark room. A few items are on the desk and above it shelves hold reference books. Two stools are under the bench.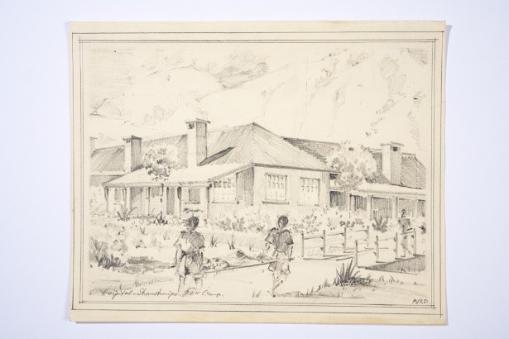 Hospital-Shamshuipo Pow Camp, Hong Kong
By Capt. Godfrey Vernon Bird, RE
Loaned by Derek Bird
This pencil sketch was done by Capt. Godfrey Bird while he was at Shamshuipo POW camp in Hong Kong. His clear pencil work depicts a pleasant, substantial-looking single-storey building, with shady verandas overlooking shrubbery and borders.
In the centre foreground two stretcher bearers carry a patient towards the hospital across a small bridge, over what was perhaps a storm drain or small stream.
This hospital is in sharp contrast the more basic facilities available to many prisoners of war elsewhere across the Far East and southeast Asia. Godfrey Bird qualified as an architect in the 1930s and was working in Hong Kong at the outbreak of hostilities. He did a great deal of artwork while in captivity much of which returned home with him.
Dental Surgery Haroekoe Camp (Moluccas), 1943
By Fl/Lt Frank Richard 'Dickie' Philps, RAF medical officer
Pencil on paper
Loaned by the Philps Family
This pencil sketch of the dental surgery at Haroekoe camp in the Moluccas, was drawn by medical officer Richard Philps. It was given to his friend and colleague, RAF dental officer Clifford Beales, as a present.
Philps documents the ingenuity that enabled the dental officer to be able to work. Beside the homemade wooden dental chair, with its articulated headrest and adjustable back support, stands an improvised treadle drill made from wood. An instrument tray is attached to the bamboo hut and there is a cup and tin can spittoon next to the chair. The room is furnished with bamboo tables and shelves on which are jars and bottles.
This sketch was discovered by Beale's daughter in 2013. Until then no evidence had been found in the literature of a dental surgery on Haroekoe. Philps provides the only known illustration of it.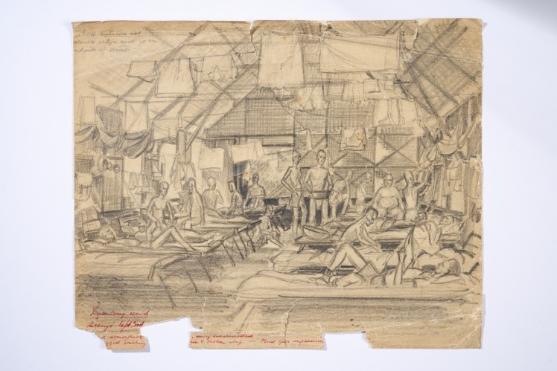 Dysentery Ward, Kranji Hospital camp, 3 September 1944
By Corporal William "Bill" Norways, 2Btn Cambs Regt., RA
Loaned by Toby and Graeme Norways
This fragile sketch was done by trained commercial artist Bill Norways in September 1944. He had returned to Singapore from Thailand a few months earlier and finally ended up at the newly-established Kranji POW Hospital camp in the north of the island. This was where part of Changi's Roberts Hospital was relocated to. He was involved in both planning theatricals and also medical work; the latter as a volunteer orderly and also as a medical artist, commissioned by doctors to document the challenges.
This is the only known view of the interior of one of the dysentery wards at Kranji. The large bamboo and attap-roofed hut is overcrowded and cluttered. Men lie on camp beds rather than split bamboo shelving (bali-bali) wearing Jap Happies (loin cloths). In the centre, a man squats on a "thunder box" (wooden box bedpan) while another, presumably an orderly, carries one over to a bed.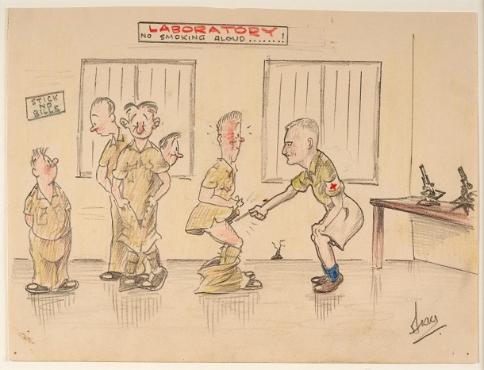 VD Clinic, Changi POW Camp, April 1942
Bombardier Basil Parry 'AKKI' Akhurst, 137 Field Regt., RA
Coloured pencil and graphite on paper
Loaned by Mrs J. Sutherland
Bombardier "AKKI" Akhurst was a prolific cartoonist and caricaturist. This amusing, if risqué, cartoon highlights an important medical story as it is believed to show Changi POW camp's VD clinic early on in captivity. On the left, RAMC medical officer Captain Chilton leans forward to examine the unfortunate young man, pants round his ankles, at the head of the queue. Behind him, waiting their turn, is a queue of anxious young men.
All the patients are anonymised with cartoon faces, while the doctor is clearly identifiable by his caricature. Capt Chilton, ran the VD clinic. Venereal disease was a big problem in the early months of captivity as doctors had little effective treatment.
AKKI shows great discretion in his use of artistic style to document what was a serious medical problem.