From Near and Far
Further Information and Artwork
The following section gives further information about the ceramics displayed and includes a brief biography of donor Sir Charles Sydney Jones.

Some of the ceramics displayed here were made in Liverpool or across the Mersey in Birkenhead. Others come from important centres for the British ceramics industry such as Stoke-on-Trent and London. But some come from distant lands, especially China.
Most of the ceramics were gifted to the University by Sir Charles Sydney Jones in 1939. He was a partner in a Liverpool shipping company but devoted much of his life to local politics and used his wealth to support many charitable causes. He championed education and was closely involved in the development of the University. Sydney Jones died in 1947 and bequeathed his home, its contents and the residue of his estate to the University. The University's Sydney Jones Library is named in his honour.
'From Near and Far' ceramics exhibition in the Tate Hall Museum, VG&M - Spherical Image - RICOH THETA
Artwork
Cases 1 and 2 Chinese porcelain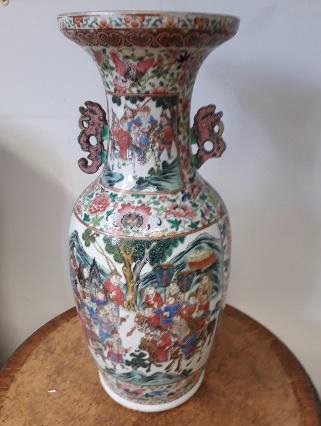 Cantonese porcelain vases, c.1900
China was the first country to discover that heating white kaolin clay mixture to a high temperature produced the beautiful ceramic material known as porcelain. China began exporting their porcelain wares to the rest of the world around 1400 and they were highly prized. It took 300 years for Europeans to discover the secret of making porcelain for themselves and, even then, makers often copied Chinese designs. European consumers also continued to buy Chinese ceramics as a symbol of status and taste.
Cantonese porcelain vases, c.1900
This impressive pair of vases was made in Guangzhou, China, for export to Europe. It was fashionable to place them either end of a mantelpiece if your fireplace was grand enough.
The vases are decorated in a colour palette known as 'famille rose' using reddish tones. The handles are fashioned into dragon shapes with golden tongues. One side of the vase shows two groups engaging in battle, while the other side sees them meeting in peace.
Case 3 Made in Merseyside
A ceramics industry started in Liverpool around 1700 with individual makers working in 'pothouses'. Produce included a white-based earthenware known as Delftware, Chinese-influenced porcelain and transfer-printed earthenware. Some early makers can be named but many others remain unidentified. Although the Liverpool area declined as a centre for ceramics manufacture in the1800s, specialist artisan companies continue to appear.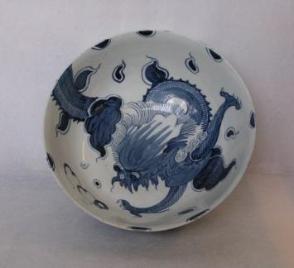 Chaffers porcelain bowl, c.1760
Decorated in the Chinese style with a dragon chasing a flaming pearl which symbolises wisdom. This bowl was made of porcelain using Cornish soapstone by Richard Chaffers, whose workshop was on Shaw's Brow (now William Brown Street).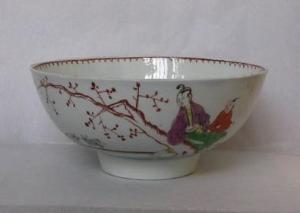 Pennington porcelain basin, c.1770
Decorated with figures in the Chinese style, believed to have been made by the Pennington family. They worked at different sites including Shaw's Brow, Brownlow Hill, Park Lane, Copperas Hill and Folly Lane.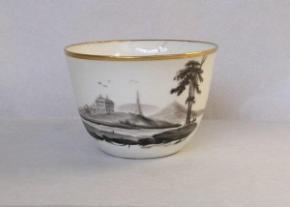 Herculaneum porcelain tea bowl and saucer, c.1810
Hand painted table wares and cheaper, transfer-printed ceramics were made by the Herculaneum pottery company based in Toxteth between about 1793 and 1841. The company name was later used by the Herculaneum Dock which was built on the same site.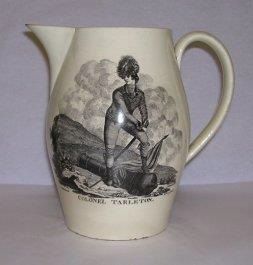 Colonel Banastre Tarleton jug, c.1780
Perhaps an example of how history can turn hero to zero. This transfer-printed jug celebrates Tarleton's exploits in the American War of Independence, which are now seen as unnecessarily brutal. He later became MP for Liverpool and was a staunch supporter of the slave trade. He was also a cad in his private life and once seduced a famous actress for a bet.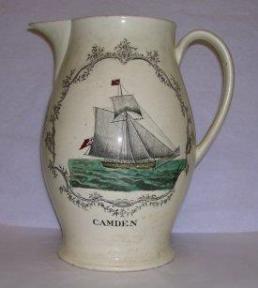 Creamware printed jug, c.1800
Some local makers created wares to sell to the thousands of sailors that passed through Liverpool's port. This transfer-printed jug has the name of the ship on one side and an illustration to a ballad by John Gay on the other.
The ballad tells how sailor Sweet
William promises to remain true and return safely to his sweetheart, Black-eyed Susan. This jug was evidently a gift for someone called Bridget Nuttall.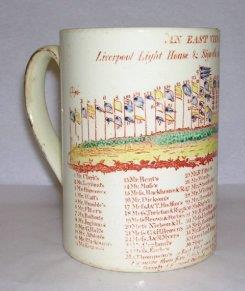 Bidston Hill Signals Mug, c.1800
Bidston Hill on the Wirral peninsula had over 100 flagpoles which were used to inform ship owners when their vessels were approaching Liverpool docks. This mug helped its user to identify the flags.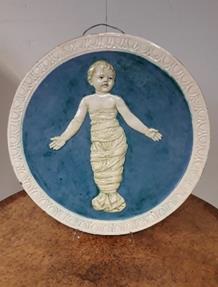 Della Robbia roundel, c.1900
Della Robbia was a ceramics company in Birkenhead in operation between 1894 and 1906. They were named after the sculptor Luca Della Robbia (c.1400 -1482). This roundel featuring a swaddled baby copies the sculptor's original which decorates the Hospital of the Innocents in Florence.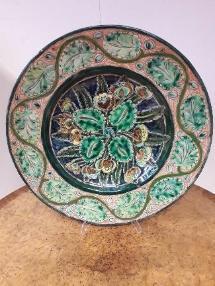 Della Robbia charger, c.1900
Della Robbia worked in the arts and crafts tradition of William Morris, using skilled artisans to produced high quality wares. They often used local red clay from Moreton on the Wirral peninsula, as seen on this charger.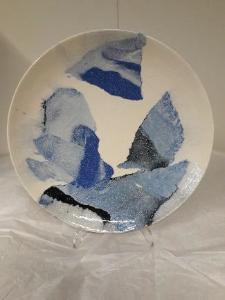 Splatware plate, 2018
Made at the Granby Workshop in Toxteth. The workshop is part of Assemble co-operative who won the Turner Prize in 2015 for their renovation project in the Granby Four Streets area. Splatware is created by combining different coloured clays using a high-pressure press.
On loan from a Granby resident
Case 4 Wedgwood Pegasus Vase
Josiah Wedgwood (1730 – 1795) was one of the leading figures of the Industrial Revolution. Based in Staffordshire, he specialised in high quality ceramics created with ground-breaking techniques. Today Wedgwood is most often associated with Jasperware, using white relief figuring over an unglazed coloured body to give a cameo-like effect. Light blue Jasperware is best-known but it is also made in black (as seen here), sage green and a rainbow of other hues.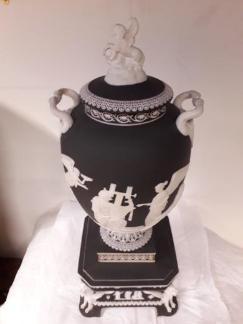 Wedgwood Pegasus Vase, c.1850
Wedgwood was especially proud of this vase design, saying it was 'the finest and most perfect I have ever made'. It was originally produced in 1786 with figure designs by noted sculptor John Flaxman, based on a classical Etruscan calyx krater vase in the British Museum. Although generally named after the winged horse Pegasus seen on its lid, the main theme is on the body of the vase. It shows a winged deity paying homage to a cithara player, thought to represent the poet Homer.

Case 5 Blue and White
China has been producing delicate white porcelain wares since about 600AD. These were traded to Europe where the mainly blue and white items were highly prized because nobody in Europe could figure out how to make porcelain themselves. Eventually, in 1710, the Meissen company in Dresden discovered the secret of porcelain which rapidly spread throughout Europe.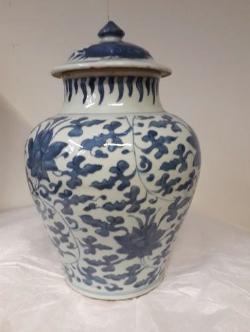 Ming porcelain jar, c.1600
The Ming Dynasty ruled China from 1368 to 1644. It was under their strict rules on quality that blue and white porcelain reached the highest standards. Most of the famous blue and white wares were made in Jingdezhen in the south of China. Porcelain became a key part of China's trade with Europe, fuelling a craze among Western buyers. It was so valuable it became known as 'white gold'.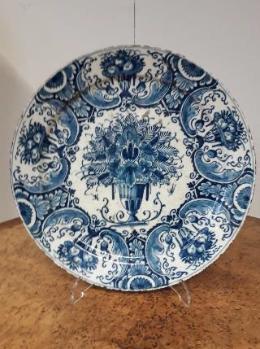 Delftware plate, c.1700
Before Europeans discovered how to make porcelain they attempted to create something that looked like it by covering brown earthenware with a white tin-glaze and blue glaze decoration. These types of wares are named after the town of Delft, centre of Netherlands ceramics making.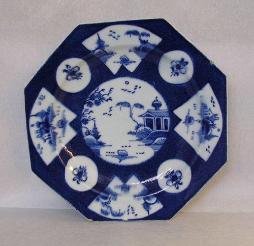 Bow porcelain plate, c.1760
Bow company in London were one of the first British makers of porcelain wares. Bow added animal bone ash to their porcelain mixture which reduced the cost whilst still producing a high-quality product which became known as 'bone china'. This type of hand-painted, blue and white Chinoiserie landscape design evolved into the popular 'Willow Pattern' used on cheaper, printed tablewares.
Case 6 Human forms
As well as vessels and table wares, ceramics are fashioned into the human form. Ceramic figurines and figure groups have long been popular ornaments for all dwellings from stately home to humble cottage.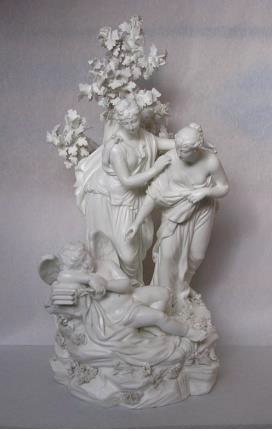 Two Virgins Awakening Cupid, c.1790
Made by the Derby company from unglazed porcelain to emulate marble. Classical and allegorical themes like this were aimed at an aspiring middle-class market to hint at the owners' good taste and education. The figure group is based on a painting by Angelica Kaufmann (1741 – 1807).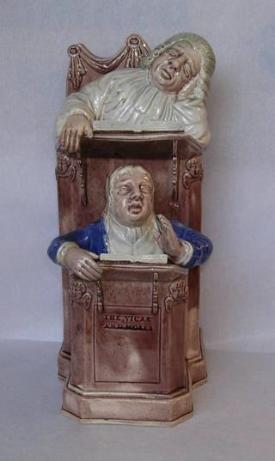 The Vicar and Moses, c.1785
Known as flat-backs, earthenware figure groups sat on the mantelpiece of workers' cottages. Their subjects had broad appeal such as romance, humour and even notorious crimes. Many were anti-establishment in tone. This one, modelled by Ralph Wood of Burslem, Staffordshire, shows a lazy vicar dozing while his lowly clerk, Moses, delivers his sermon.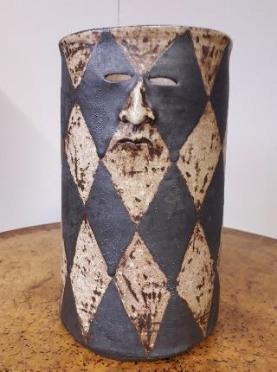 Francis Upritchard: Harlequin vase with face, c.2014
This London-based artist was born in New Zealand where she studied sculpture. Since 2006 she has explored different ways of representing the human form in her art, often drawing on historic world cultures. These have included Maori shrunken heads and Japanese Noh theatre masks. With this vessel, Upritchard creates a face that seems to push out from inside the pot, as though there is a being trapped there.
Case 7 Natural world
Motifs based on plants and animals are an enduringly popular decoration for ceramics.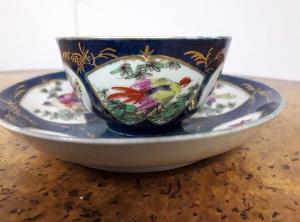 Worcester tea bowl and saucer, c.1770
Porcelain tea cup and saucer made by Worcester decorated with birds and insects. The cup does not have a handle, which copies the Chinese way of drinking tea from a bowl-type vessel.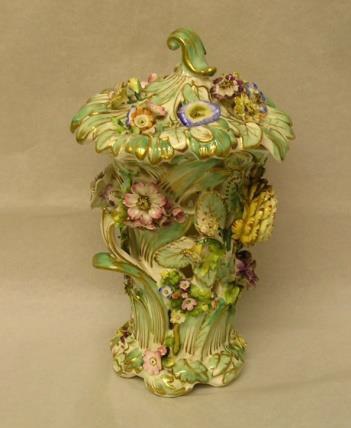 Vase and cover, c.1835
A flower-encrusted vase fashioned from porcelain. It is pierced, so probably designed to hold something scented like pot pourri. Minton of Staffordshire and Coalport of Shropshire both made designs in this style.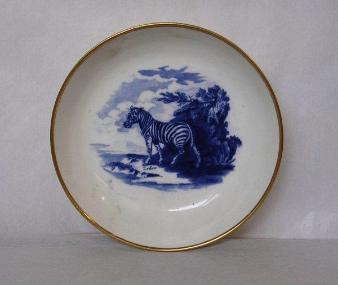 Mason teacup and saucer, c.1820
Bone china teacup printed with anteater design and saucer with zebra by Miles Mason of Lane Delph in Staffordshire.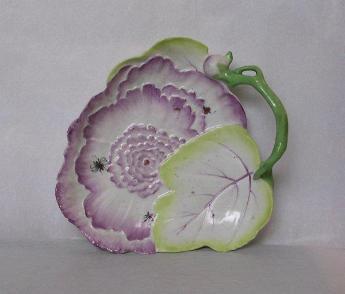 Longton Hall dish, c.1755
Porcelain dish naturalistically modelled in the shape of a peony flower and leaf. Look closely and you will see insects dotted about. It was made by the Longton Hall company of Staffordshire.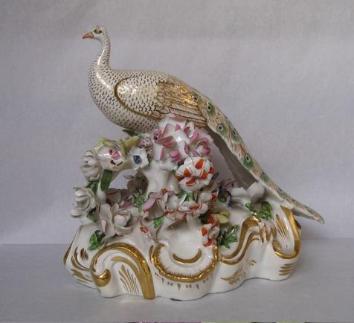 Model of a peacock, c.1830
Porcelain model of a male peacock with rich, gilded decoration. It was made by the Derby factory when under the ownership of Robert Bloor.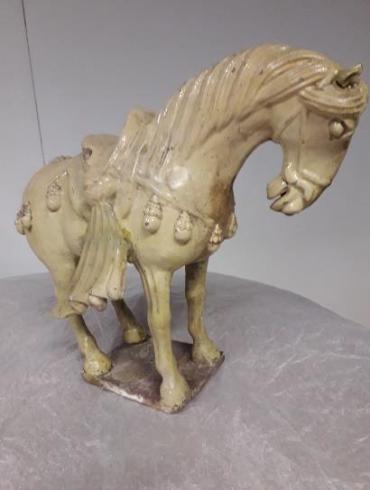 Tang porcelain horse, c.800AD
This horse figurine would have been buried along with other tomb goods that represented everything the deceased would need in their afterlife. It was created during China's Tang dynasty which ruled from 618AD to 907AD.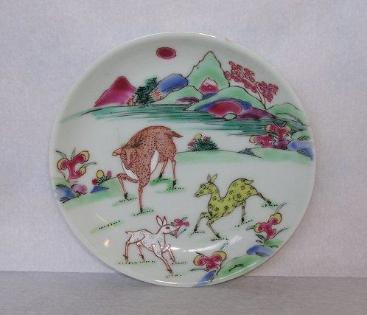 Chinese porcelain dish, 1800s
Made from porcelain so fine and delicate it is known as 'eggshell'. This dish is decorated with humorous stylised animals including a yellow dotted pony. It was made in China for export to the European market.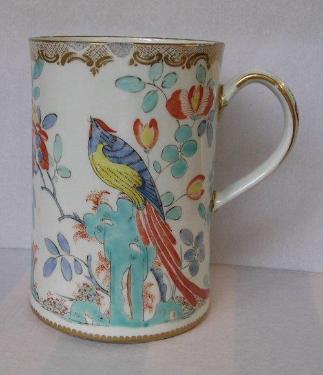 Worcester tankard, c.1780
Porcelain tankard made by the Worcester company showing an exotic bird sitting in a flowering tree. Its decoration is in the style of porcelain from the Japanese town of Arita.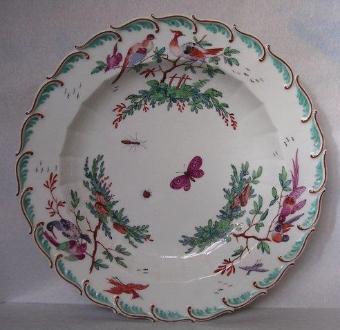 Chelsea plate, c.1756
Plate made from moulded porcelain with enamelled decoration of birds and insects. Made by the Chelsea company in London about 1756. Chelsea is the earliest recorded producer of porcelain goods in Britain.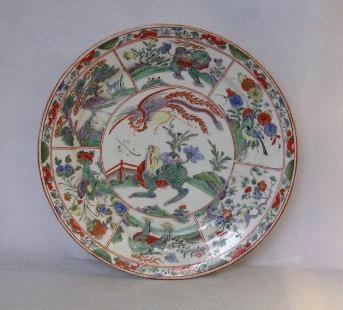 Worcester plate, c.1770
Not all animal decoration is based on the real world. This porcelain plate shows the mythical Chinese qilin, a symbol of justice and protection, with a phoenix, a symbol of loyalty. This design originated in China but was copied by the Worcester company. It became known as the Bishop Sumner pattern, probably after John Bird Sumner, Archbishop of Canterbury, who owned a full dinner service with this pattern.