Hannah Barlow: Decorating with Animals
Posted on: 24 December 2021 by Amanda Draper, Curator of Art and Exhibitions in 2021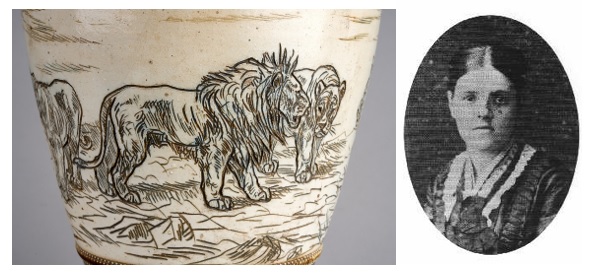 One of the most magnificent artworks in our collection is a large vase decorated with a frieze of lions all the way round it. They were drawn freehand by a remarkable artist who overcame physical and financial adversity to rise to the top of her profession: Hannah Barlow.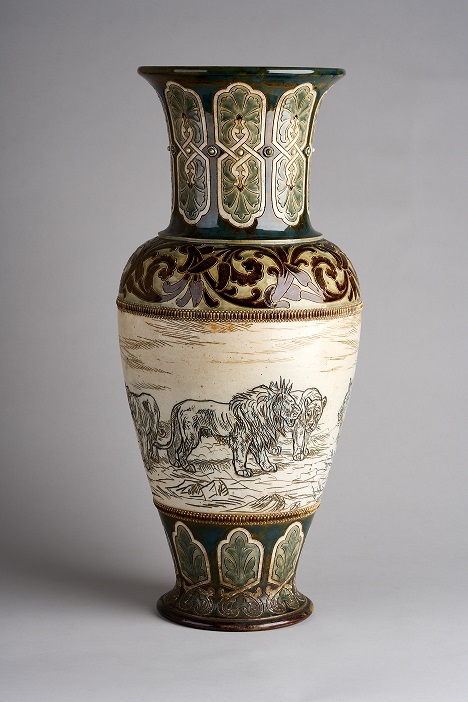 Large vase by Doulton & Co with lion decoration by Hannah Barlow, 1885 (VG&M Collection)
A love of animals
Hannah was born to a bank manager and his wife in 1851 and was the seventh of nine siblings in a lively household. The family moved to a substantial country house called the Grange set in 250 acres of farmland in Hatfield Broad Oak, Essex when Hannah was seven. Here the family enjoyed an outdoor life of country pursuits with the children surrounded by a menagerie of pets, farm animals and wildlife. It fostered Hannah's lifelong love of animals.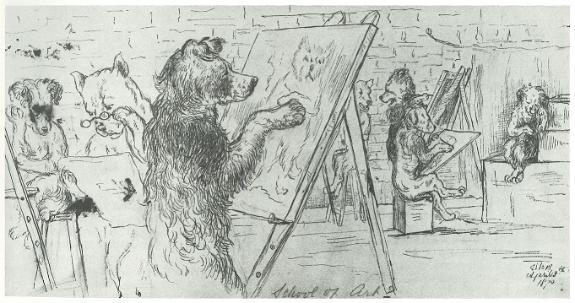 School of Art by Hannah Barlow, 1870 (Image used with kind permission of the London Borough of Lambeth Archives Dept)
Change of fortune
When Hannah was fifteen the family's fortunes changed almost overnight when her father, Benjamin Barlow, suddenly died. Their large home had to be sold and the family moved to a cottage in Bishop's Stortford in Hertfordshire. The two eldest sons had left home by then leaving five daughters and two boys, one of whom had severe mobility issues due to a childhood accident. Hannah was given the opportunity to enrol at Lambeth School of Art which had a focus on the practical uses of design in industry, rather than the fine arts of painting, drawing and sculpture. Her brother Arthur overcame his physical restrictions to join her there a year later. Hannah quickly showed a particular facility for drawing animals, reflecting her childhood passion for them that continued through her life. Her humorous, anthropomorphic sketch above turns her place of study into a hive of animal activity.
Illuminated manuscript c.1881 recognising 10 years of female employment at Doulton & Co. (Image used with kind permission of the London Borough of Lambeth Archives Dept)
Employment at Doulton & Co
The Head of Lambeth School of Art, John Sparkes had close links with the ceramics industry in the Lambeth area, especially Doulton & Co. In 1870 both Hannah and Arthur began working for the company as freelancers and were then taken on formally in 1871. They did not form the body of the vessels; it was their role to use their artistic talents to enrich them with decoration which was the main selling point of Doulton & Co's wares.
It is sometimes suggested that Hannah was Doulton & Co's first female employee in the art studios. Her sister Florence joined the company in 1873 and another sister, Lucy, several years later. The company was growing fast and, by the 1880s, Doulton employed about 200 women artists and assistants at a time when workplace opportunities for women were limited. Above is an illustrated manuscript they presented to Henry Doulton recognising this landmark.
Within the ranks of ceramics artists, Hannah quickly marked herself out as a specialist in animal designs and as an endearing, if rather eccentric, colleague who often had mice, frogs and other live creatures emerging from her pockets.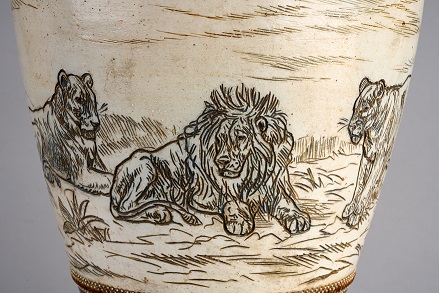 Lion vase showing sgraffito decoration technique - detail (VG&M Collection)
Sgraffito technique
No doubt Hannah could have adapted her style to any form of ceramics but, around the time she started working with them, Doulton adopted a type of salt-glazed stoneware known as 'Grès de Flandres' ware. This was a heavy clay with a textured surface that suited being drawn into using an incising technique known as 'sgraffito'. Hannah excelled at this technique and was able to capture the movement and personality of animals through it. In comparison, her sister Florence specialised in floral motifs and birds, while Arthur excelled at more sculptural carving to create ornate handles for example.
Physical injury
Around 1876, just five years into her career at Doulton, Hannah appears to have lost the use of her right hand – her natural drawing hand. It is not entirely clear why but it's been suggested it was a form of arthritis caused by constant contact with damp clay. Or perhaps what we might today call repetitive strain injury. She would have been working on about 20 ceramic pieces a day, around 1,000 per year. The injury didn't seem to stop Hannah or impair the quality of her work; she simply started using her left hand instead. There is some evidence that she had practised using her left hand for drawing while still a student so she may have been naturally ambidextrous, or perhaps her right hand had been painful for a while.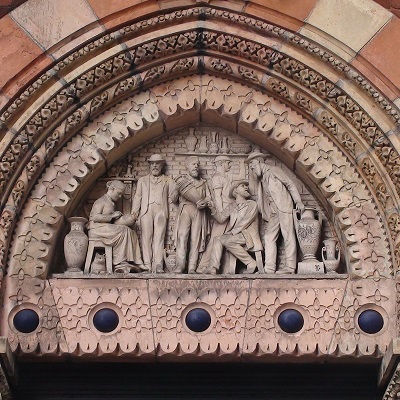 Panel over Doulton & Co headquarters c1876. (With kind permission of image copyright holder LondonRemembers.com)
Success recognised
Hannah and Florence shared a studio at Doulton & Co, sometimes working together on a piece but more usually on separate items. Hannah's pre-eminence in the company was recognised around 1876 when a sculptural relief panel was created to go over the main door to the company's headquarters (illustrated above). Company owner Henry Doulton is shown seated, and the other seated figure is Hannah, engrossed in her work with her cat peeking out from beneath her chair. 1876 was notable for another, much sadder, occurrence with the deterioration in Arthur's health which meant he was no longer able to work with his sisters at Doulton & Co. He died three years later.

Base of vase with 1885 and maker's stamp (left). Hannah Barlow monogram (right)
Our vase
The Hannah Barlow vase in our collection is 69cm high; very large compared with most of her output. Its lion decoration was probably taken from studies she made of exotic animals at London Zoo. We know it dates from 1885 because there is an impressed year mark in the base but, unusually, no artist's monogram here. Instead it is part of the incised decoration, hidden away at the very bottom edge of her design. Hannah's monogram is always BHB with the first B reversed. The scrolling foliate design top and bottom of the vase may be by her other sister Lucy who worked for Doulton around 1882 – 85. It is likely that the vase was created as an exhibition piece to showcase Doulton's wares at one of the big international trade fairs. Doulton were regular participants at these high-profile events. The vase was kindly donated to the University's art collection in 1993 by Professor and Mrs Robert Gardner-Medwin. The Professor had worked for the University's School of Architecture during the years 1952 – 73.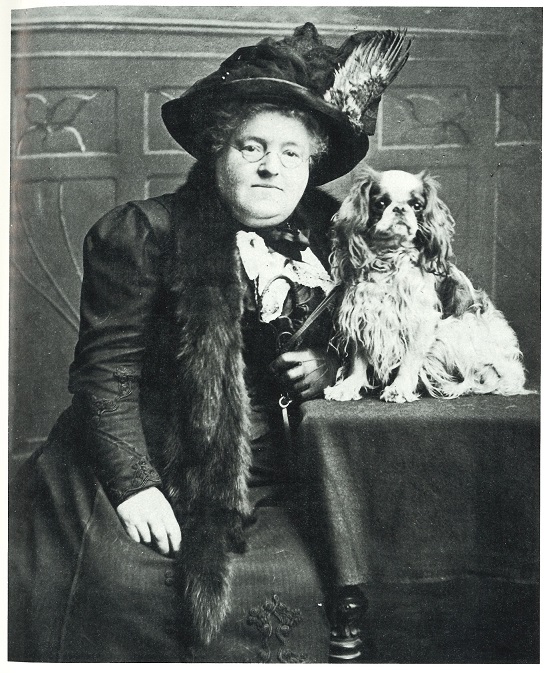 Hannah Barlow and Rufus Darwin, 1913 (Image used with kind permission of London Borough of Lambeth Archives Dept)
Long and successful career
By the 1880s Hannah and Florence were well settled into their careers at Doulton. Neither married and the sisters lived together at Fern Cottage in Wraysbury near Windsor with a considerable number of animals including a tame fox called Simon. Lucy was later to join them, taking the role of housekeeper after she left Doulton. Hannah took her artistic abilities beyond the company, exhibiting sculptural relief panels at the Royal Academy summer shows between 1881 – 1890 and also at the Walker Art Gallery in Liverpool. Hannah retired in 1913, around the time that the photo above was taken.
Hannah died in 1916 but her legacy lives on with a thriving collector's market for the Doulton & Co ceramics she decorated over her long and successful career. They can also be found in museum collections all over the world.
Further reading on the life of Hannah Barlow:
Hannah Barlow – A Doulton Artist by Peter Rose has been a key source for this blog: http://www.richarddennispublications.com/shop/details-153-hannah-barlow-1985-exhibition-catalogue
https://www.oxforddnb.com/view/10.1093/ref:odnb/9780198614128.001.0001/odnb-9780198614128-e-50578?rskey=F8uUwq&result=1
I am indebted to the support of LondonRemembers.com and the London Borough of Lambeth Archives Dept for permissions to use images
https://www.londonremembers.com/memorials/henry-doulton-s-pottery
https://boroughphotos.org/lambeth/
---