Mitzi Cunliffe - Behind the Mask
Posted on: 25 March 2021 by Amanda Draper, Curator of Art and Exhibitions in 2021
Every year some of the most famous faces on the planet are photographed hugging a stylised golden mask. It is a British Academy of Film and Television Arts (BAFTA) trophy. Let's go behind the mask to discover its brilliant designer, Mitzi Cunliffe, who also created the spikiest artwork in our collection …


Mitzi at work on University of Leeds commission Man Made Fibres c.1956 (© Estate of the Artist)
An international education
A native New Yorker, Mitzi Solomon as she was then, was born in January 1918. She studied at the city's Art Students League, and then at Columbia University between 1935 and 1940 where she gained a BSc and Masters degrees in Fine Arts and Fine Arts Education. From here, Mitzi spent a year in Paris at the Académie Colarossi where she started to focus on architectural sculpture. A further period of study was spent in Sweden. By 1949 Mitzi was coming to prominence as a sculptor, gaining a prestigious Widener gold medal from the Pennsylvania Academy of Fine Arts and featuring in a high-profile exhibition of contemporary sculpture in Philadelphia. So why did this successful and glamorous international artist find herself in a garage in Manchester?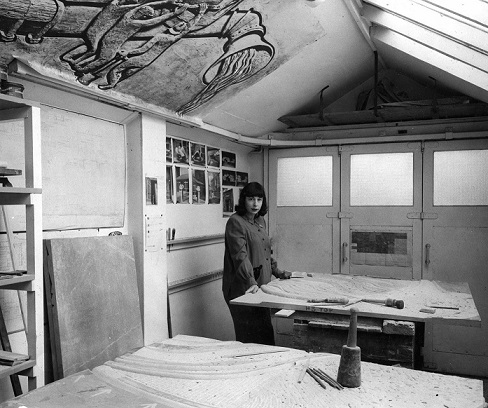 Mitzi in her Manchester garage/studio c.1955 working on the Heaton Moor bas relief. On the wall behind her are photos of the sculpture Quickening (© Estate of the Artist)
To North West England
In 1949, just as her star was in the ascendant in America, Mitzi met and married Marcus Cunliffe, a Lancashire-born academic specialising in American history. He was on a two-year Commonwealth Fellowship at Yale University when they met. When Marcus took up a position as Lecturer in American History at the University of Manchester, the couple relocated to a small house near the city centre. Following the birth of their second daughter in 1952, the couple settled in the village of Didsbury in South Manchester. Mitzi converted the garage at their semi-detached house on quiet, leafy Cranmer Road into her studio, and some of her most significant projects were developed from there. Did Mitzi ever regret the move? According to her daughter Antonia Cunliffe Davis, the answer was no. Mitzi said that it enabled her to "make more of a mark as an artist" than if she had stayed in New York's more competitive artistic environment. (Big Issue North 2018 – see link below)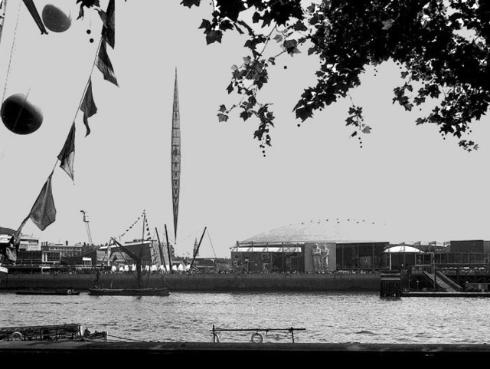 Festival of Britain on the South Bank in 1951 (Courtesy of Creative Commons licence 2.0)
Festival of Britain, 1951
Mitzi arrived in England when the country was in the pall of post-war gloom. The government was making efforts to move Britain forward and galvanise industries for a bright and optimistic future. Mitzi became part of that vision and was commissioned in 1951 to produce pieces for the Festival of Britain, a celebration of the nation's achievements in science, technology and the arts. There were satellite events across Britain but the main focus was a site on London's South Bank. A sculpture over eight feet high by Mitzi of an entwined couple called 'Root Bodied Forth' was by the main entrance. She also designed door handles for the restaurant plus a light fitting design.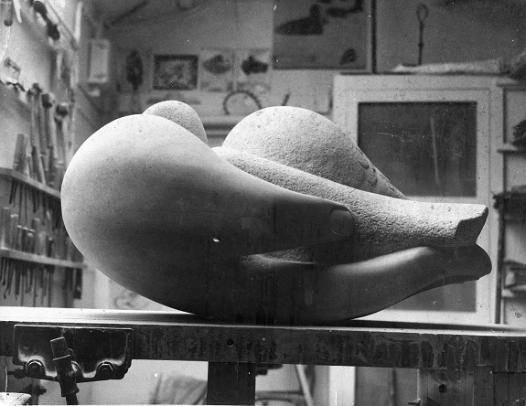 Quickening in Mitzi's studio ready to be delivered to the University of Liverpool campus (© Estate of the Artist)
Mitzi Cunliffe at the University of Liverpool
Somebody at the University of Liverpool saw Mitzi's work at the Festival of Britain and took note. She was immediately commissioned to create three items for the University: a public sculpture to go in the courtyard of the School of Civic Design's new building, a decorative sculpture for the inside the building and the handles for its front-door.
The public sculpture, called 'Quickening', is in the form of a hand gently holding a dove. It stood in its original position for sixty-nine years until sent away for conservation and then relocated across campus last year (2020) to outside the Rendall Building.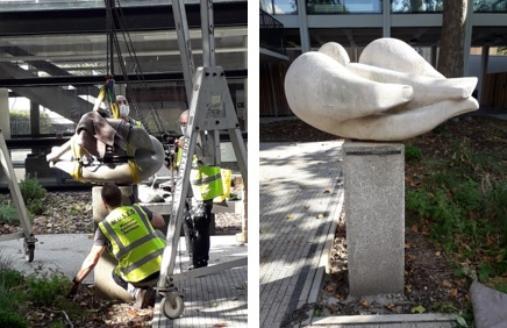 Quickening being installed into its new position in September 2020 after conservation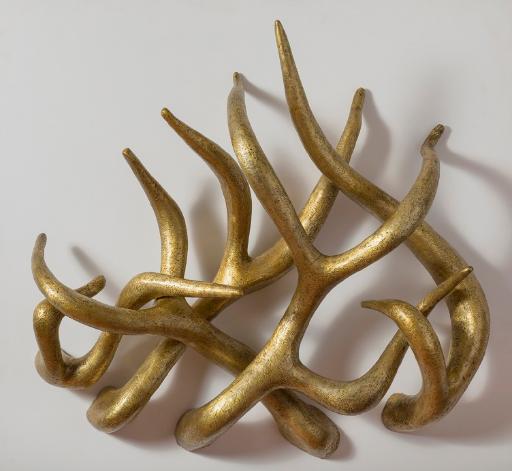 Loosestrife by Mitzi Cunliffe, c.1951 (brass)
The other sculpture that Mitzi created for the building is easily the spikiest thing in our art collection. 'Loosestrife' is a number of tentacle-like arms that intertwine and project outwards. For many it looks like an assemblage of golden deer antlers but it may be based on spires of the flower called loosestrife. 'Loosestrife' had been recorded on its arrival as being made of bronze and had turned completely black over the years, probably because it was hung in an area where students smoked back in the day. When it was removed from the School of Civic Design building in 2018 and sent for cleaning, it was revealed to actually be made of brass. It is very heavy and takes four technicians with lifting gear to hang it for display. Although in storage at the time of writing (March 2021), 'Loosestrife' was exhibited during 2018 – 19 in an exhibition called She's Eclectic – Women Artists of the VG&M Art Collection and can been seen online on the Art UK website (see link below)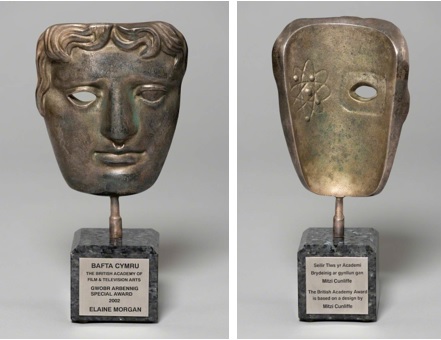 BAFTA awarded to Elaine Morgan (1920 - 2013) TV writer & anthropologist in 2002. (Image used with kind permission of Pontypridd Museum, Estate of the Artist & BAFTA)
The BAFTA Mask
In 1955 Mitzi was commissioned by the Guild of Television Producers to design a new award for them. The Guild went through a couple of name changes before becoming the British Academy of Film and Television Arts (BAFTA) in 1976. Mitzi based her design on the traditional idea of the masks of tragedy and comedy which date back to Classical Greek theatre. She named it 'Jason' after her recently-born son. With typical wit there are also hidden motifs on the inside: an electrical symbol behind one eye and a tv screen encircling the other. The mask award has come to be the main branding for BAFTA and they use an image of it as their logo.

Mitzi with designs for Lewis's Red Rose restaurant screen and the screen in situ, c.1957 (both images © Estate of the Artist
Prodigious, diverse and innovative

The breadth of Mitzi's creative output was extraordinary. She designed textiles for Tootal Broadhurst amongst others and ceramics for Pilkington's. Around 20 public sculptures of hers were erected across Britain. In 1957, she created the largest decorative indoor screen in the world for the Red Rose restaurant on the 5th floor of Lewis's Department Store in the heart of Liverpool. Many in the city will have memories of this depiction of the War of the Roses in aluminium bronze and, of all of her many creations, it was a favourite with Mitzi. When Lewis's closed down its 5th floor in the 1980s, she bought it back and had it shipped to her home in the South of France and installed in the garden.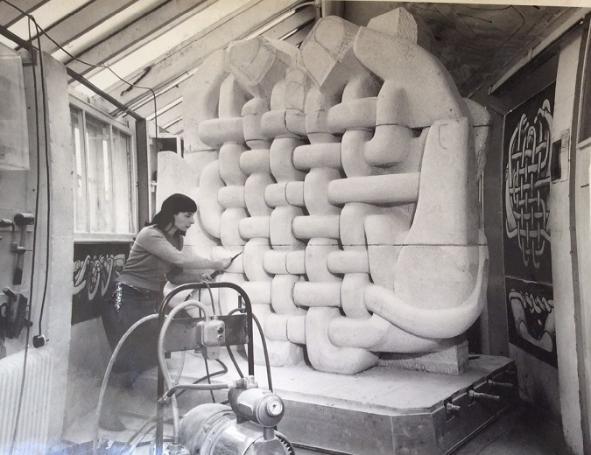 Mitzi working on the architectural sculpture Man Made Fibres c.1956 for the University of Leeds (© Estate of the Artist)

Despite the diversity of her work, Mitzi's artistic reputation during these years was probably for her large-scale architectural installations. Above is an example she created for the University of Leeds' Department of Textile Industries building, but Manchester has even more. Her bas relief panel on Heaton Park pumping station (1955) is the reason why it became a listed building in 1998. Other installations can be seen at Manchester High School for Girls (1953), Manchester Health Academy in Wythenshawe (1959) and 'Cosmos 1' at University of Manchester's Owens Park campus in Fallowfield (1964), a fibreglass bas relief currently under threat.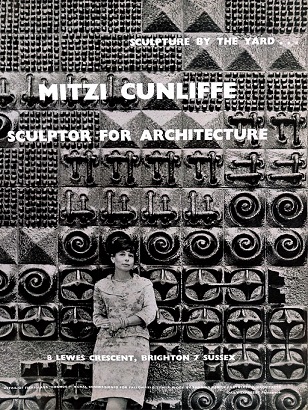 Mitzi and her Sculpture by the Yard concept (© Estate of the Artist)
Sculpture by the Yard
Mitzi devised an innovative method of creating her large-scale, abstract architectural installations which she called 'modular sculptures'. They consisted of panels measuring 12 inches square (30.48cm) with a limited number of abstract designs which could be put together in different combinations to cover large areas. She extended this concept to create a mass-produced version in concrete and fibreglass which she termed 'sculpture by the yard'.
1960s and after
Mitzi and her family moved to Brighton around 1965.The 1970s brought significant changes for Mitzi as she developed arthritis and eye problems which curtailed her large-scale sculptural work. Her last major architectural commission was for Scottish Life House, an insurance company headquarters in the City of London, for which she produced four carved stone panels in 1970. She and her husband Marcus divorced in 1971. Mitzi moved to London and became a lecturer at Thames Polytechnic (now University of Greenwich) teaching on art and architecture courses. She retired due to health issues in 1977 and moved back to New York.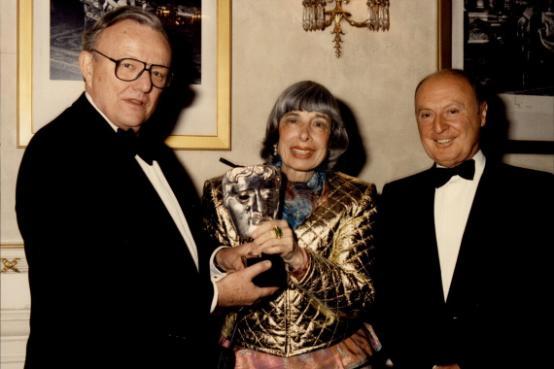 Mitzi being awarded a special life-time achievement award at the Royal Albert Hall (Image used with kind permission of BAFTA)
Later Life
The photo above shows Mitzi looking glamorous at a BAFTA event around 1992 at the Royal Albert Hall where she was honoured with a special silver life-time achievement award. Sadly, Mitzi was to develop Alzheimer's disease within a few years and returned to England to live in care near her eldest daughter, Antonia, in Oxford. In 1994 the Cunliffe family established an annual Mitzi Cunliffe Sculpture Prize for the Ruskin School of Art, University of Oxford, which coincided with an exhibition of Mitzi's work there. This was followed by participation in a group exhibition at the Henry Moore Institute in Leeds (1999/2000) and, finally, in an exhibition called Look at Me at Oxford Brookes University in 2001 alongside two other artists also living with dementia. Mitzi died in 2006, two days before her 89th birthday.
Today, Mitzi is celebrated as a remarkable and innovative artist. A blue commemorative plaque was installed on her house at 18 Cranmer Road in Didsbury in June 2018, the centenary year of her birth.
Acknowledgement
With grateful thanks to Antonia Cunliffe Davis, Mitzi's daughter, for her help with this article and for supplying many of the photos included here and permission for their use.
Further info:
Find out more about artist Mitzi Cunliffe and her work here:
---