Sophie's Sheroes
Posted on: 19 February 2021 by Sophie Green, Artist & VG&M Guest Blogger for LGBTQIA+ in 2021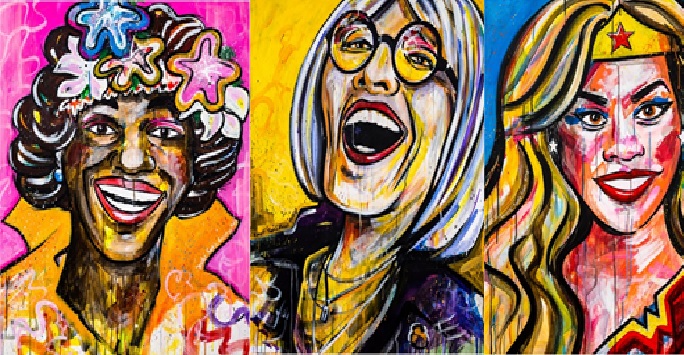 February is LGBT history month and this year the VG&M asked me if I'd look back on my own little history project from 2017.
I was made up to be asked to exhibit my work at the Victoria Gallery, the exhibition space in this grade II listed building is stunning; with its large atrium standing high on columns and arches covered in colourful gleaming glazed tiles. I was looking forward to working with all the team and getting to work.
We discussed producing works on an LGBT theme, and as a trans woman I was keen to celebrate some of the pioneers of the trans community, my own sheroes, for marginalised people representation matters and I was keen to explore this further.
Growing up transgender, it was hard finding positive role models to identify with and without them I didn't have the language or shared experiences I needed to navigate my feelings. Trans people were, and have always been there of course, but as with much of queer culture, the lives and stories of transgender people were mostly erased by the heteronormative culture I grew up with, and when trans people were visible they were mostly demonised or ridiculed.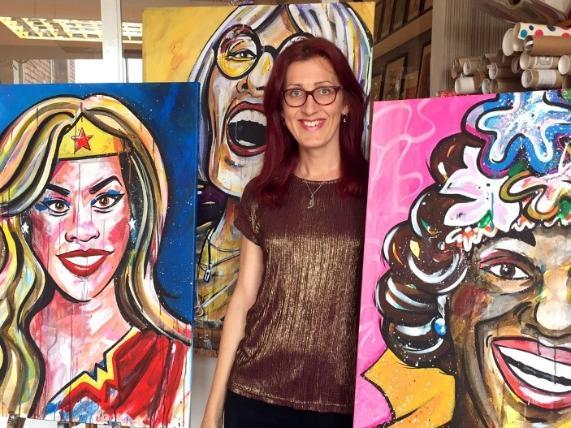 Sophie in the studio
Over time however I did begin to learn more of trans history and the pioneers that had trailblazed their way before me, and they came, bringing their stories, their power and experiences and providing valuable contributions to their communities, and me!
I'd worked on a series of large-scale paintings of female comic book characters called Sheroes, an enjoyable series to paint and well received. They seemed the perfect starting point to my new series, my own trans sheroes. The display cases for the exhibition were the perfect fit for 6 Shero sized artworks, so I just need to decide who to paint.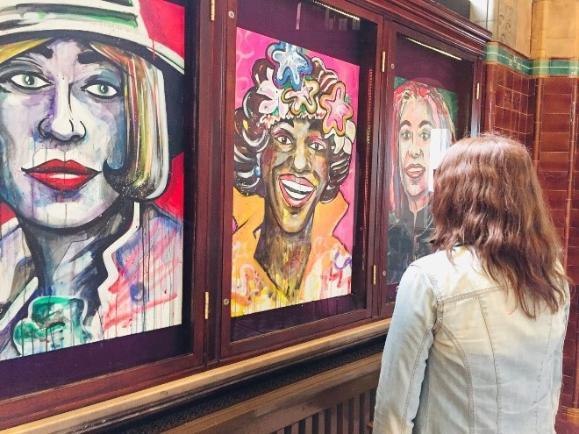 Admiring the work on display
My studio at the time was in the Gostins building on Hanover Street, a pre-war warehouse that was home to many creatives during its later years. It was light and spacious, so I had plenty of room to work. The paintings were made up of many layers of paint. I would add a layer, let the paint run, before taking it off the easel and switching for the next painting. By the time I'd returned the original painting to the easel the paint was dry enough to add another layer, working this way I was able to paint three canvases at a time.
Each artwork developed over time and slowly revealed herself - much like my own trans experience - Some of the painting took longer than others to arrive, but one by one they all appeared.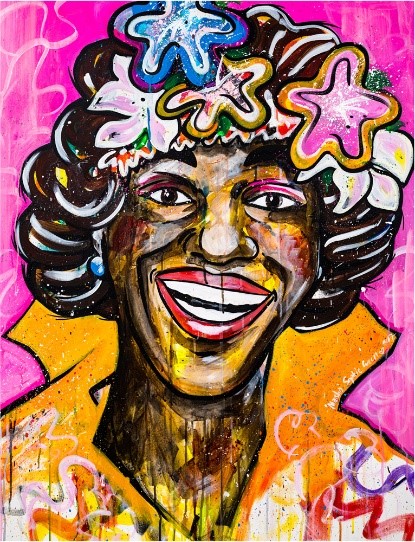 Marsha P Johnson
It felt right to start with Marsha P Johnson. A key figure during the Stonewall riots and its aftermath, which began the gay liberation movement. Marsha's intersectionality as an African American, and someone with flamboyant gender expression, meant that like many trans identified people of colour, she faced prejudice from many institutions. Well known and revered by many, and alongside her "sista" Sylvia Rivera, she has always been a figure of resistance, authenticity, kindness and love.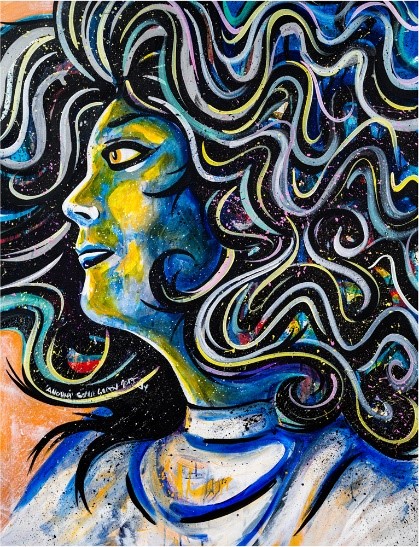 Anohni
When I first heard Anohni's (formally recording as Antony and the Johnsons) music play out over the radio I immediately connected with it. I was pre-transition and at a precipice in my life and desperate to move forward. On first listen I didn't know Anohni identified as transgender, but her angelic vocal and otherness spoke to me, with my own feelings of self resonating deeply with her lyrics. I began my transition proper after hearing her music.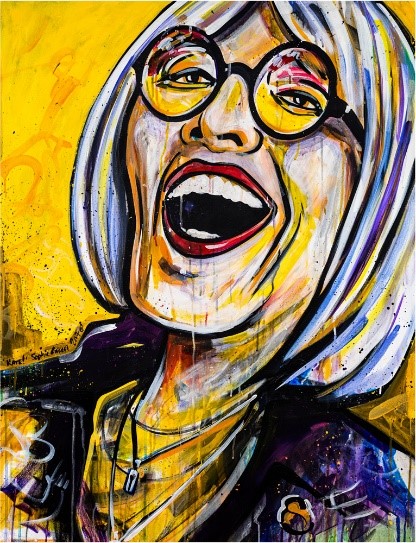 Kate Bornstein
Kate Bornstein is writer, speaker, performance artist and activist. Her 'My Gender Workbook' was the first book I reached to when trying to make sense and move forward with my own trans identity. Her work enabled me to think beyond the binaries of male and female and made me aware there was no set narrative to being trans, and as time has passed through my own transition, I've come to realise in myself how true that is.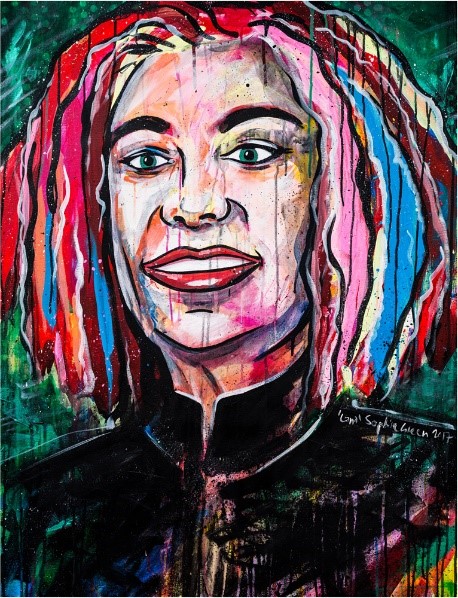 Lana Wachowski
Lana Wachowski gave a beautiful speech back in 2012 when she had received the Human Rights Campaign award for visibility. As 'The Wachowskis' Lana co-wrote and directed The Matrix trilogy, V for vendetta, Cloud Atlas and Sense8. Lana Wachowski 'came out' to the world in 2012 and Lily (Lana's Sister) came out as trans in 2016. Trans siblings!
Bright, adorable and utterly herself, razor sharp and hilarious, her speech told of her journey and the need for positive trans representation, it really made an impression. The trans metaphors long questioned in the Matrix were very real.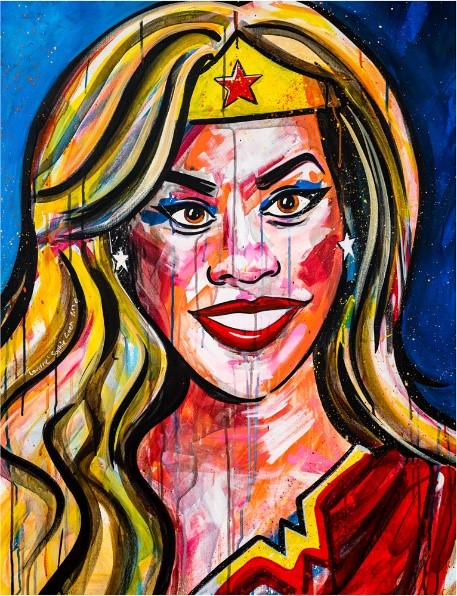 Laverne Cox
Describing herself as 'possibility model' Laverne Cox has ascended to be one of the most well-known trans people on the planet. There is little else to say, she's just an absolute legend.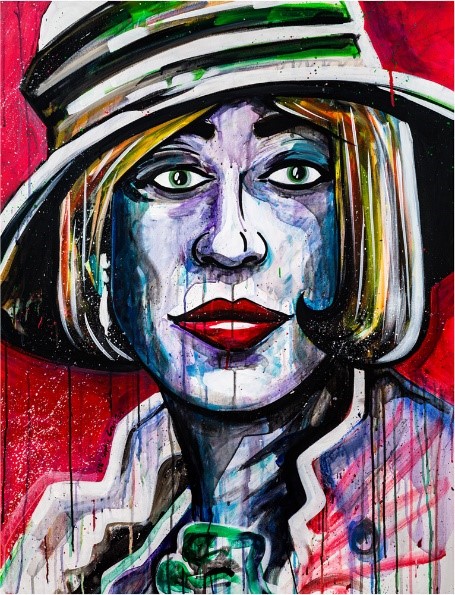 Lily Elbe
Lily Elbe was an artist, and an artist's muse - to Gerda Gottlieb, Lily's then wife, and a subject of many of her paintings. Living in 1920's Paris, at a time when understanding was in it's infancy, Lily asserting her gender feels like it must have been very courageous indeed. Subject of the fictionalisation The Danish Girl and the so-so, though beautifully shot, film of the same name, to me she has always felt a beguiling figure from a very different time.
I was delighted with how the exhibition was received and the connection the audience made with the work, and to have their awareness and understanding grow. I also became aware how much I enjoyed talking and sharing my thoughts around trans culture to a wider audience.
I have since added new works to Sophie's Sheroes and have exhibited the work for Transgender Day of Visibility at both the Museum of Liverpool and LUSH storefront. Marsha was also part of Homotopia's Queer Art Crawl and can still be viewed on School Lane (just down from the Bluecoat).
Further information
Visit Sophie Green's studio, Merseymade, 98 Paradise Street, Liverpool
@sophiegreenartist Facebook and Instagram
@sophiegreen on Twitter
#sophiessheroes #lgbthistorymonth #trans #transgender #exhibition #lgbt #lgbtq #sophiegreen #sophiegreenartist #marshapjohnson #lavernecox #lilyelbe #anohni #KateBornstein #LanaWachowski #LilyWachowski #SyilviaRivera #Stonewall #transrights
---