John James Audubon (1785-1851)
Posted on: 29 January 2021 by Leonie Sedman, Curator of Heritage & Collections Care in 2021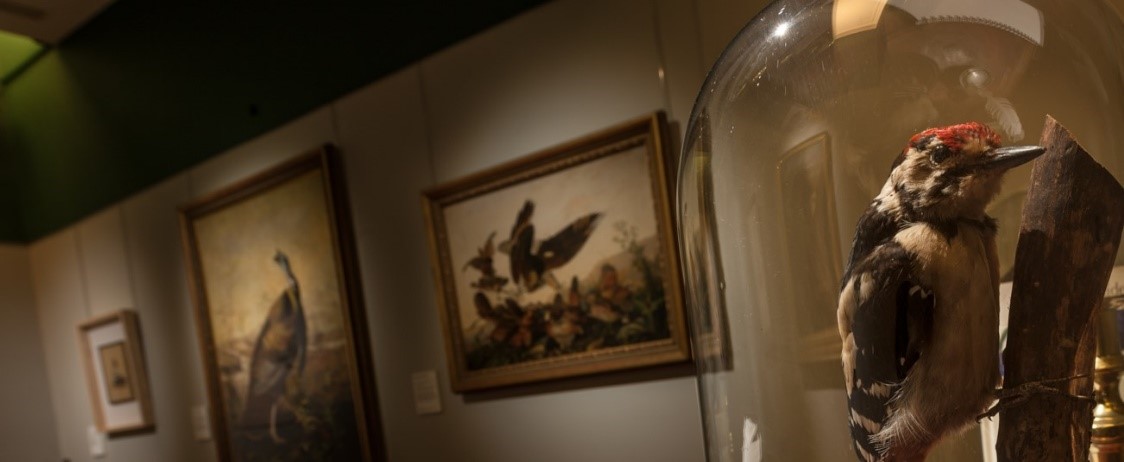 The 27th January 2021 will mark the 170th anniversary of the death of the American naturalist and artist John James Audubon, the author/creator of what is now one of the most valuable printed books in the world. Only 120 complete copies are known to have survived, but one of them is on display at Liverpool Central Library.

Here at the Victoria Gallery & Museum we are fortunate to be the custodians of the largest group of original artworks by Audubon outside North America. So how did these rare artworks end up in the collection of the
University of Liverpool?

Audubon arrived in Liverpool on 21 July 1826, carrying his portfolio of 300 watercolours, and with letters of introduction to wealthy and influential individuals, one of which was Richard Rathbone.

His mission was to raise money for the publication of The Birds of America his monumental work, which would eventually consist of 435 hand-coloured, life-size prints of 497 bird species. He had already spent a number of years exploring the American wilderness and painting every species of bird that he could find. He had developed his own unique method of shooting a bird with a small shot so as not to damage it too badly, then using a wire armature to arrange the bird into a lifelike pose for him to paint.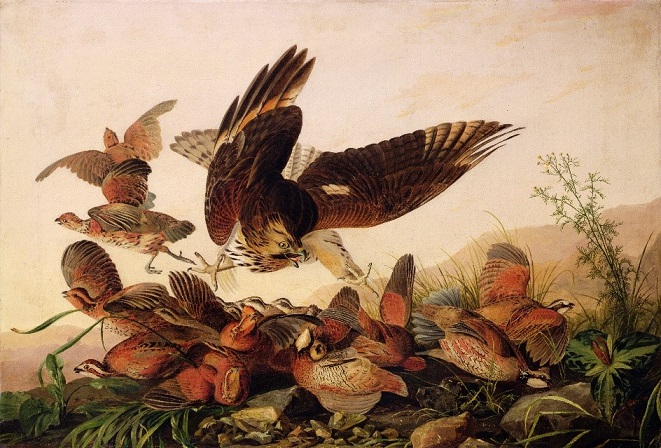 Hawk Pouncing on Partridges, 1827
The original watercolours were to be engraved onto copper plates of various sizes depending on the size of the image, then were printed on sheets measuring about 100cm x 67cm (or 39 by 26 inches) – a size known as double elephant folio. Only this size would be big enough for him to fit every bird as close to life-size as possible, albeit some in rather odd poses. Up to 50 colourists worked on the application of the colours attempting to get them out to subscribers on time. Some early subscribers waited 11 years to complete their set.

Liverpool society found the colourful and eccentric 'American Woodsman' Audubon fascinating, and in turn, he became very friendly with the Rathbone family. His journals describe just how much he admired them, and loved staying at Greenbank House. Before becoming a house guest, he more than once walked from his hotel in the city centre to Greenbank to find them not at home, so walked back to the city again.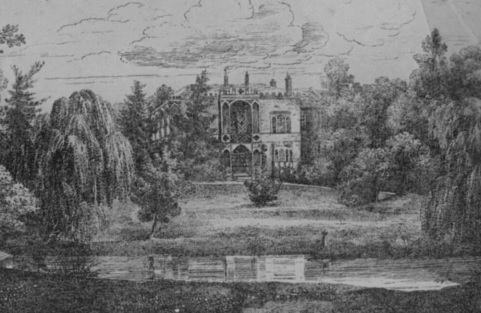 Greenbank House

A letter from Mrs Rathbone to her son Theodore in August 1826 reads:
'We have the prince of bird killers now, raising them almost from the dead in thy little room'.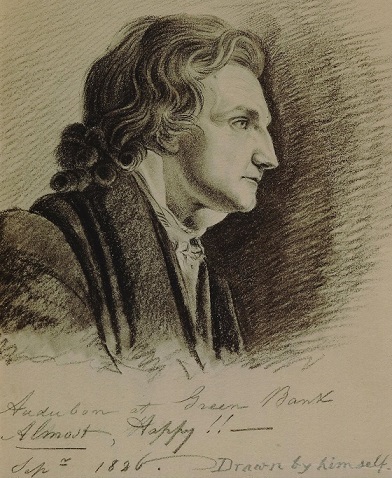 Self Portrait, 1826
This unique self-portrait by Audubon is now on display at the VGM, the inscription reads:
'Audubon at Greenbank

Almost Happy !!
Sept 1826
It would seem that he had unrequited feelings for one of the ladies of the house - hence the rather unsubtle present (Otter in a trap, below) that he gifted to the family.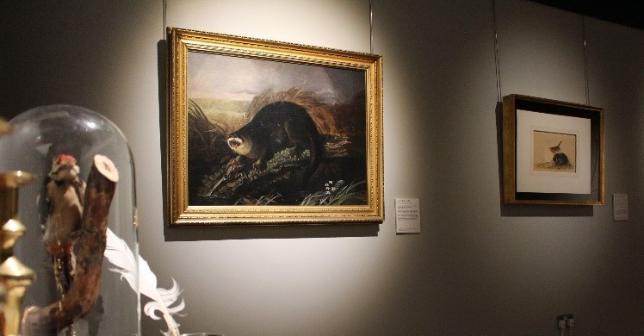 An Otter Caught in a Trap, 1826

It was thanks to Mrs Rathbone that the little robin seen in the watercolour above, was painted from life, and not with the help of a wire armature. The robin used to visit her in her study and she entreated Audubon not to kill it.
William Rathbone encouraged Audubon to paint a series of oil paintings to demonstrate his skill as an artist – and to exhibit them at the Liverpool Royal Institution as a way of drawing attention to his work and gaining subscribers.

The Liverpool Royal Institution had been founded in 1814 by a group of Liverpool merchants and professional men, associates of the Liverpool philanthropist William Roscoe (1753 – 1831). Roscoe and his like-minded circle founded the town's Athenaeum, Literary and Philosophical Society, Lyceum, Liverpool Academy and Botanic Garden, bringing a new cultural impetus to late 18th-century Liverpool. The plan provided for a School, Public Lectures, accommodation for Societies, Collections of Books, Art, and Natural History, a Laboratory, and meeting rooms for the Proprietors, its financial backers. The lecture programme included anatomy, physiology, chemistry, botany, zoology, history, philosophy, political economy, geology, astronomy, literature, music and fine art, and created the foundation that would later become the University of Liverpool. The collections that originated there are now in the care of National Museums Liverpool, the Central Library and the University of Liverpool Victoria Gallery and Museum.

William Roscoe was the Chairman of the Institution's General Committee in 1814, and its first President in 1822. A lawyer by profession, he was a historian, art and book collector, botanist, poet and politician. His deputy was John Gladstone (father of the later Prime Minister). John Gladstone was the head of one of the largest slave-holding families in the world (he received the largest compensation in the city after slavery was abolished). Roscoe and the Rathbones were all fiercely abolitionist. It is interesting to ponder whether this might have been where the future Prime Minister William Gladstone was swayed to support the abolitionist cause. Interestingly, being on different sides of the abolitionist debate didn't seem to prevent the members of the Institution from collaborating and working together. It was into this environment that Audubon was introduced.
Recent research has shown that while it may be possible that Audubon's mother (one of his father's maids on his St Dominigue - now Haiti - plantation) could possibly have been multiracial (he is described as 'Creole' in his father's will), he definitely had multiracial half-siblings born to his plantation-owning and slave-owning father. Yet, he is now known to have bought and sold slaves himself when the financial need presented itself. This new knowledge casts a dark shadow over the legacy left by Audubon. His achievements were inspirational, the book spectacular, and his work inspired valuable conservation work that continues today with the society that bears his name, but it is important not to shy away from any uncomfortable facts that may emerge about his life. Research is only at an early stage, but it would be interesting to know whether his close relationship with the abolitionist Rathbone and Roscoe families had any effect on his thoughts and attitudes.
This statement is from a recent article by David Yarnold, president and CEO of the National Audubon Society, based in New York:
Amid a horrific pandemic and the worst economy we've seen since the Great Depression, the velocity of social change has accelerated, demanding a great reckoning. We won't fix 400 years of oppression overnight, but we can do far more as organizations and as individuals than we thought possible even six months ago. In order to do that, we have to own up to our pasts even while we chart a new future. We welcome your advice and your partnership.
Further Reading
1. The University of Liverpool was founded in 1881. We are aware that, as a civic institution created in one of the centres of Britain's eighteenth and nineteenth century economy, and a seaport, the legacies of slavery and colonialism form part of our story. We are about to enter into a period of reflection through which we will consider, in consultation with our members and local communities, how we might appropriately recognise this.
---