Culture Bite Concert Programme - 3 August 2020
About 'The Whole Dam Family' Clay Pipe & Music

In the early 1900s, a fictional family called 'The Whole Dam Family' became popular stars of the time and appeared on postcards, silent films and on merchandise like clay tobacco pipes.
In the Tate Hall Museum at the VG&M we have an example from the National Pipe Archive that shows one of these clay pipes.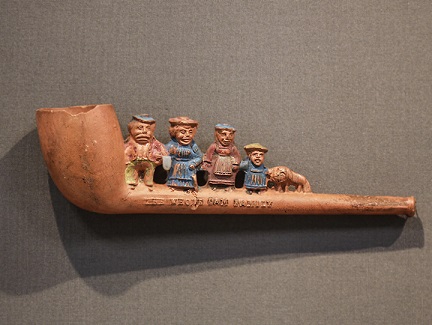 This Culture Bite Concert video introduces two comic songs from the early 20th century. The name D.A.M refers to the expletive and although it seems mild by modern standards, the word had previously been censored in America and so the use of the word in songs and silent films became very popular in the early 1900s.
In 1905 a comic song called 'The Whole Dam Family' was performed by Billy Murray who was a very popular singer in America in the early 20th Century and you can hear the original recording on YouTube. The song introduces the characters of 'The Whole Dam Family' and how they invade the singers flat so that he ends up sleeping on the fire escape with the dog.
A later song in 1915 called "While The Whole Damm Family Stuck Around" by Clay Phillips gives us a glimpse into dating in the early 1900s whereby a man tries to get close to the daughter without much privacy from her entire family.
This Culture Bite video also contains clips from two silent films produced in 1905 by the Lumiere Brothers and Edwin S. Porter. The still images are from postcards that could be purchased from 1900-1950 and many people wrote personalised greetings and attached their own family members names to these postcards because they could resonate with the characters, much like a modern audience today and The Simpson's franchise.
If you would like to find out more about this clay pipe you can read a short excerpt from an upcoming journal article called
'Tobacco Tales: Victorian Vaudeville and Edwardian Entertainment.'

About the Musician

Stewart Hankinson is an experienced musician based in Preston. He has recently completed an MMus degree at the University of Liverpool which he gained with distinction. Stewart has taught music in many schools and colleges throughout the north-west and now works as a portfolio musician teaching singing and piano, directing choral groups and playing the organ in the local parish church.