Under the Sea
Location: Tate Hall Museum, second floor
Please note that the Tate Hall Museum is currently closed until 2024
A display that explores our strange and wonderful collections from underneath the sea. See colourful corals, stunning shells and fascinating fish specimens.
William Herdman became the first holder of the Derby Chair of Natural History at Liverpool University College in 1881 (later to become the University of Liverpool). In 1885 he founded the Liverpool Marine Biological Committee to study the Irish Sea and was the British pioneer of aquaculture. He was widely known as a great marine zoologist and
oceanographer and devoted much time to scientific research and the fishing industry.
The steam yacht called Ladybird was the University's first research boat and a lot of the displays within these cases were collected by Professor Herdman and his team - we even have the type specimen that was named after him (photograph below).
It is part of the type specimen* of the marine invertebrate Rhabdocynthia ceylonica – first described by Herdman in 1902 during his work in Ceylon (Sri Lanka), and subsequently named after him.
* the specimen that was originally used to name a species or subspecies or that was later designated as the basis for that name.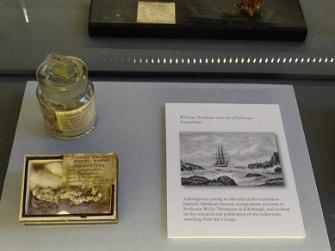 360 video & further exhibition information
Find out more information about William Herdman on this page.
View the object highlights on this page.