National Pipe Archive Exhibition
Location: Tate Hall Museum, second floor
The National Pipe Archive provided the materials and designed a display dedicated to pipe studies in the Tate Hall Museum.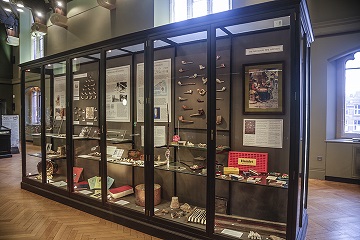 360 video
Clay Pipe and Natural Histry displays 360 video, Tate Hall Museum, VG&M 2020 - Spherical Image - RICOH THETA
You can zoom in and out of this 360 video by tapping on the + and - icons and you can move the camera around to see how the exhibition looks at the VG&M. Click on the Theta symbol in the bottom left corner to choose how you view this 360 video (straight mode, mirror ball, flay, little planet etc).
The exhibition is in two parts: The first asks the question 'Why are clay pipes important?' and explains how archaeologists collect and study pipes from excavations and the second looks at 'Pipe research in Liverpool'.
The discarded remains of clay tobacco pipes help archaeologists to date and interpret archaeological deposits from the Tudor period onwards and they provide an important class of artefact that provides important insights into the artistic, commercial and social aspirations of individuals and communities around the world during the post-medieval period.
Liverpool has been at the forefront of the archaeological study of pipes, both nationally and internationally, for almost 40 years. The display highlights research themes such as local studies, recording makers' stamps, collaborative projects and publication. There is also an attractive display of other kinds of pipe and smoking paraphernalia.
Clay Pipe Article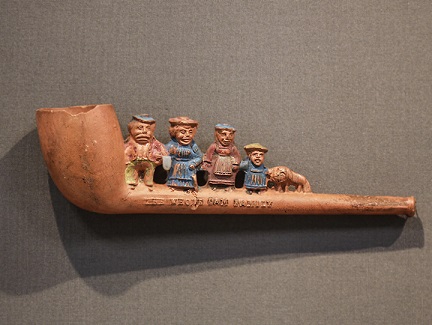 Find out more about two of the clay pipes and their link to Victorian vaudeville and Edwardian entertainment in this article.