Gallery 1 - Decorative Arts
August 2021
Location: Gallery 1, first floor
Since the VG&M opened in 2008, Gallery 1 has mostly been dedicated to displaying parts of the University's interesting and varied decorative art collection. This 2021 display brings a fresh approach, showing many items that have not previously been seen at the VG&M before.
There is a display of silverware ranging from a doctor's blood-letting cup from the late 1600s to Modernist tableware from the 1970s made specially for the University. Across the room is a case of teapots, teacups, saucers and plates from the best British potteries of the 1700s and 1800s.
In the centre of the room stand four large display cases, each with a different theme. One shows the influence Islamic artistry on European ceramics which led to the development of Maiolica and lustreware. Another case demonstrates the way that the traditional British 'Willow Pattern' evolved from an earlier passion for fine blue and white Chinese porcelain. A third case tells the sometimes overlooked history of Liverpool's ceramics industry from the 1700s onwards. The fourth case explores the links between decorative items created for European tastes and the transatlantic slave trade.
Check our Events page, Facebook and Twitter for details of forthcoming talks, tours and workshops based on the decorative art collections.
360 Tour
Further information and display highlights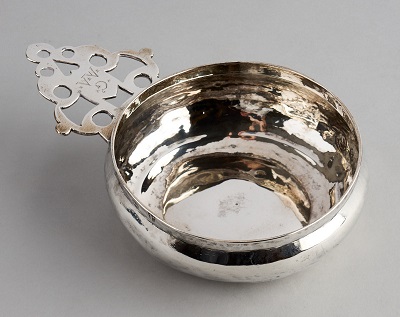 Bleeding Bowl, 1694
Probably by John Sutton, London (silver)
This little bowl was used to capture the blood of patients cut in the name of healing. Blood-letting was supposed to relieve high fever and reduce inflammation. It is engraved with the initials GAA, presumably those of the doctor who owned it.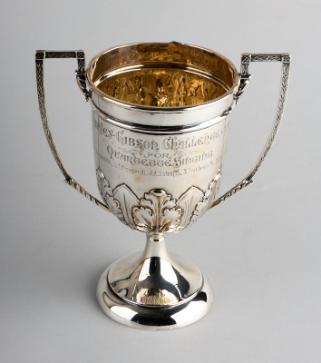 Harvey-Gibson Challenge Cup, 1912
Silversmith V & S, Birmingham mark (silver)
This art nouveau trophy was originally awarded to the winners of the University women's quartet singing competition and later used for women's choir competitions. It is likely to have been gifted by Prof. R.J. Harvey Gibson, an eminent botanist at the University.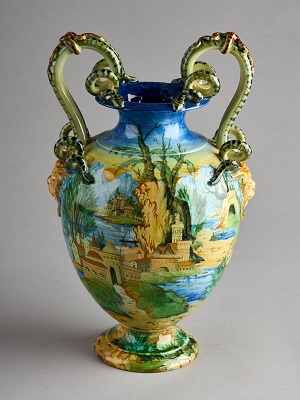 Cantagalli Vase, c. 1880
Maiolica, by Ulisse Cantagalli of Florence
Maiolica is a type of brightly coloured tin-glazed earthenware that originated in Southern Spain when it was under Islamic rule. Italian makers developed the craft during the Renaissance and it had a revival in popularity in the 1800s. Cantagalli of Florence was an important maker of this time. In Britain this type of pottery is known as Majolica.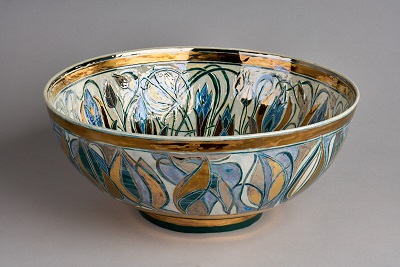 Large Lustreware Bowl, 2001
Lustre-glazed earthenware, by Julia Carter Preston
Liverpool-born ceramicist Julia Carter Preston was based at Bluecoat Studios. From the 1980s she adopted this type of lustre glaze and used decorative motifs inspired by Islamic ceramics. In addition she used a technique known as scraffito, where designs are etched into the clay.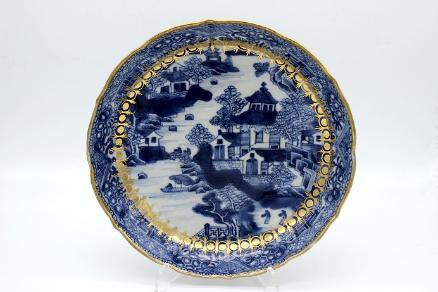 Qianlong Tea Service, c.1750
Porcelain, made in China
By the 1700s tea drinking was an established habit of the wealthy. It was considered a woman's beverage as it was drunk in the home, compared with male-dominated coffee shops. This service has tea bowls in the Chinese manner plus tea or coffee cups with handles. The ornate design was deemed too plain for English taste so gilding was added on arrival here.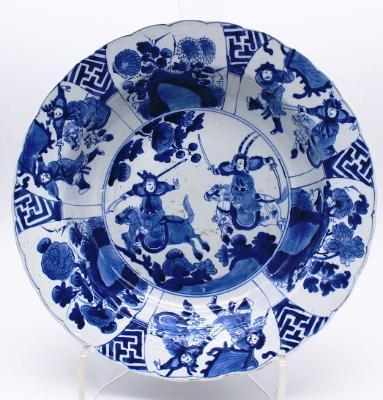 Kangxi Dish with Warrior Figures, c. 1700
Porcelain, made in China
Bowl featuring sets of battling warriors around the rim, interspersed with peony and chrysanthemum designs and geometric motifs. A pair of mounted warriors joust in the central panel.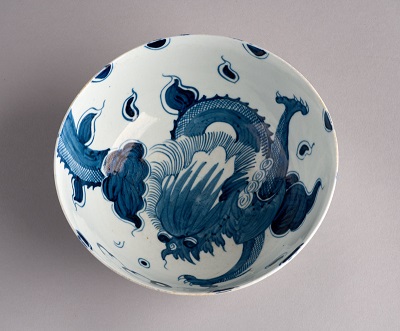 Dragon Bowl, c. 1760
Porcelain, by Richard Chaffers
Decorated in the Chinese style with a dragon chasing a flaming pearl which symbolises wisdom. This bowl was made of porcelain using Cornish soapstone by Richard Chaffers, whose workshop was on Shaw's Brow (now William Brown Street). Much of his output was exported to America.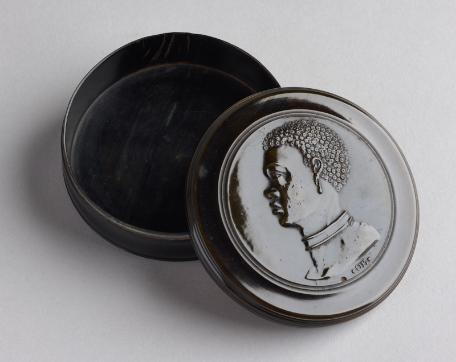 Snuff Box featuring an Enslaved African, c.1720
Made of pressed horn, by John Obrisset (fl. 1705 – 1728)
It now seems strange and cruel to see images of enslaved people used on decorative items. This profile portrait shows a person of African origin with a slave collar. The maker, John Obrisset of London, created several snuff boxes with this portrait on them.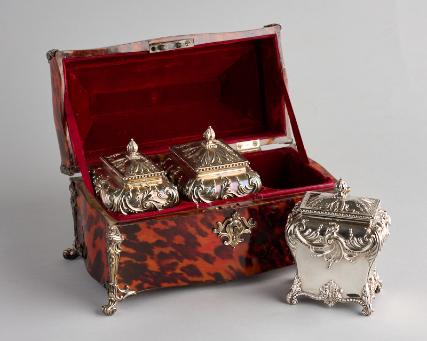 Tortoiseshell Tea Casket , c. 1764
Tortoiseshell and silver, by Daniel Smith and Robert Sharp, London

Three silver tea caddies sit within an ornate casket. It is made from tortoiseshell which, like ivory, was one of the goods imported to Britain as part of the triangular transatlantic slave trade. The main source of the material was the Hawksbill turtle which is now critically endangered. Trade in tortoiseshell has been banned internationally since 1977.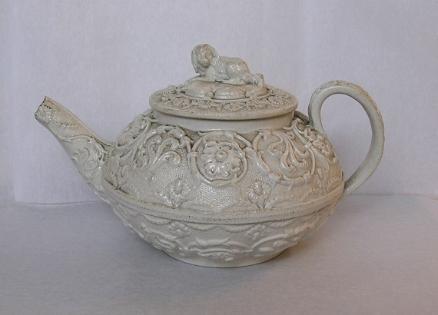 Salt-glazed Teapot, c.1800
Made by Wedgwood, Staffordshire
(Salt-glazed stoneware)
Wedgwood made much more than their famous Jasperware. This white salt-glazed teapot has a scrolled relief pattern round the body and an animal lying on the lid. We think it is probably a spaniel.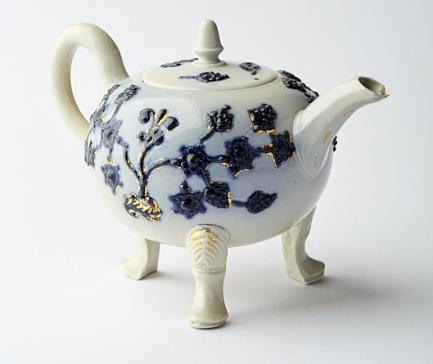 Blue-Sprigged Teapot, c.1750
Probably made in Staffordshire
(Salt-glazed stoneware)
Three-legged teapot with hoofed feet. Its slightly roughened surface is created by throwing salt into the kiln during the firing process. Sodium in the salt reacts with the clay's silica to form a coating called sodium silica which is glassy but uneven.