The Audubon Gallery - Exhibition Lables and Panels
The following information relates to the artwork on display in gallery 8
Audubon Exhibition Video
360 Video
Audubon Exhibition, Gallery 8, VG&M, 2020 - Spherical Image - RICOH THETA
You can zoom in and out of this 360 video by tapping on the + and - icons and you can move the camera around to see how the exhibition looks at the VG&M. Click on the Theta symbol in the bottom left corner to choose how you view this 360 video (straight mode, mirror ball, flay, little planet etc).
Exhibition Panels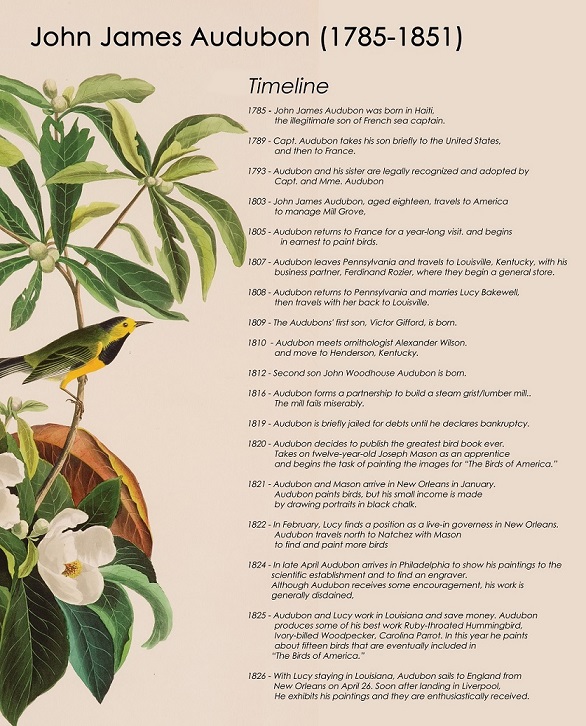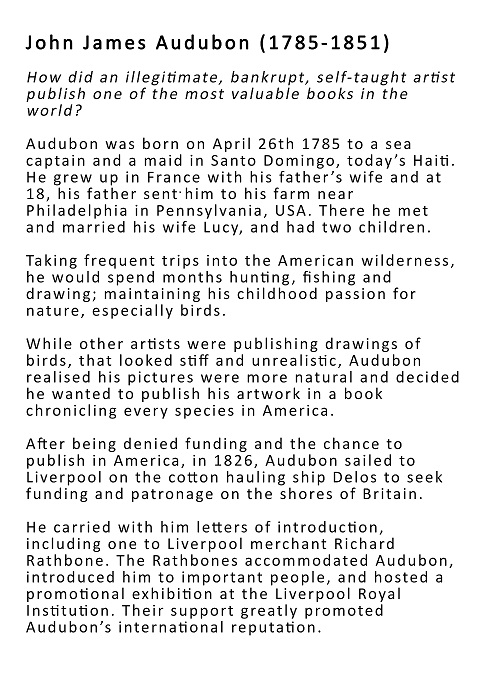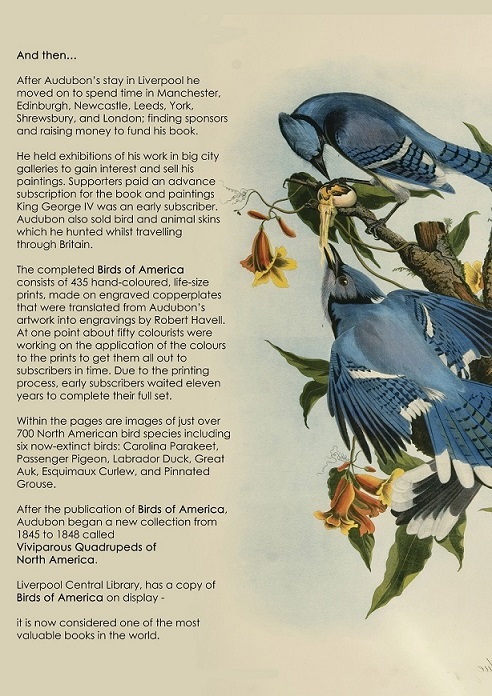 Exhibition labels and artwork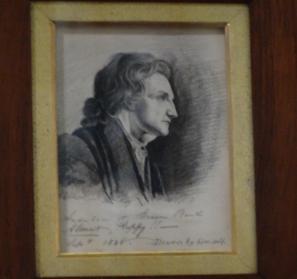 Self Portrait 1826
John James Audubon (1785-1851)

Audubon travelled to Britain to raise funds for his Book of Birds. He arrived in Liverpool on 21 July 1826, carrying various letters of introduction, one being to the local merchant Richard Rathbone. The Rathbones hosted him at Greenbank House, their residence in Mossley Hill.
This drawing is inscribed 'Audubon at Greenbank, Almost Happy!! – Sept. 1826'. He presented it to Hannah, Richard's sister.
The rosewood frame is original.
Pencil on paper
Bequest of Dr. B.L. Rathbone, 2006 FA 3334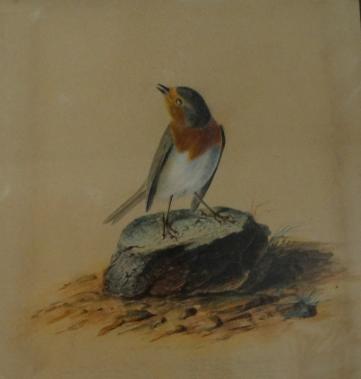 A Robin 1826
John James Audubon (1785-1851)

This work is inscribed with a poem to Hannah Rathbone, sister of Richard and William Rathbone.
In the poem Audubon describes how he enjoyed spending time in the wild living with nature:
'There is a joy, that oft my heart has known,
The secret haunts of nature to explore,
To hold communion with myself alone,
In wilds, which man has never trod before,
And well I love, at solitary night,
To hear the wailing Heron's plaintive cry,
My only lamp, the fireflys' glowing light;
My only canopy the fretted sky.'

Watercolour on paper
Lent by Mr R S Rathbone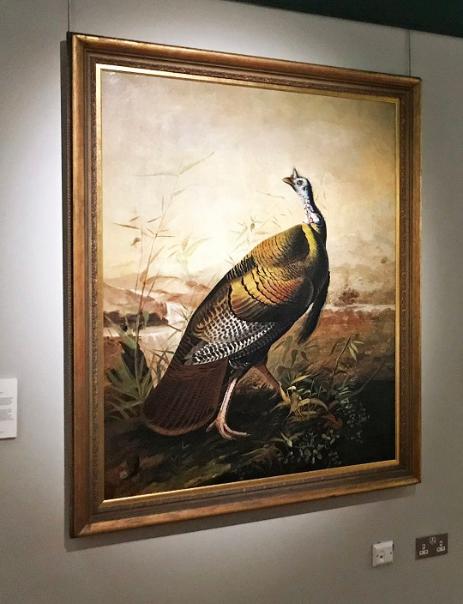 American Wild Turkey Cock 1826
John James Audubon (1785-1851)

This composition appears as a plate in Audubon's book the Birds of America. He painted one as a gift for the Liverpool Royal Institution, and a second version for the Rathbone family. He made the Royal Institution picture in just 23 hours, hanging it in their exhibition within two days.
In the book Audubon was constrained by the page size and concentrated on the image of the bird. In this painting he has placed the turkey in its natural habitat, creating a landscape painting.
The setting is in front of the Falls of Ohio near Louisville, where he first lived with his wife.
Oil on canvas
Probably presented to the Liverpool Royal Institution and transferred, 1892. FA 465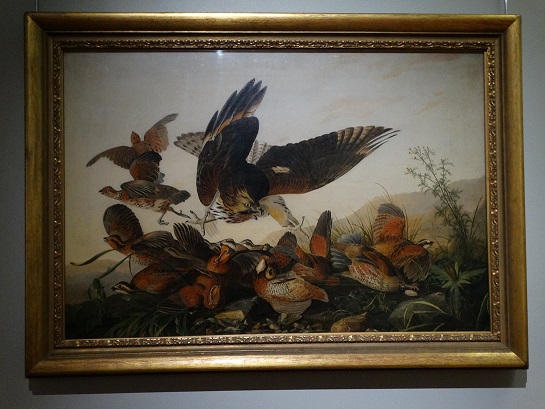 Hawk Pouncing on Partridges 1827
John James Audubon (1785-1851)

This is one of seven pictures that Audubon exhibited at the Royal Institution Liverpool in 1827. He wrote:
'The different attitudes exhibited by the (partridges) cannot fail to give you a lively idea of the terror and confusion which prevail on such occasions.'
Audubon had a lifelong passion for birds and animals seen in his unusually energetic paintings. He observed them in the wild and even dissected them to understand their eating habits. He often mounted specimens on wires for study, resulting in the lively contorted poses seen here.
Oil on canvas
Presented to the Liverpool Royal Institution by the family of Richard Rathbone, 1840. FA 463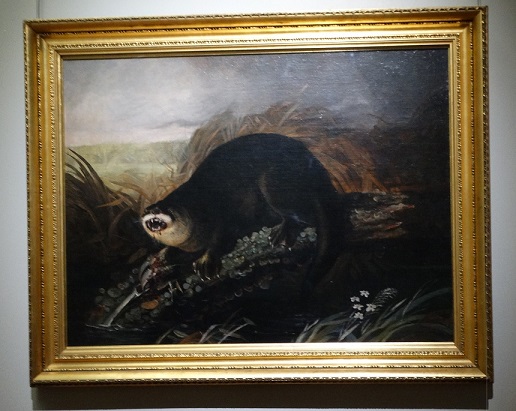 An Otter Caught in a Trap 1826
John James Audubon (1785-1851)

Audubon painted this picture as a present for Mrs. Richard Rathbone, the wife of his patron, in 1826. Audubon said that the Canada otter was his favourite subject. He first painted it as early as 1812.
He called it an 'amiable otter'. However, Mrs Rathbone's son later wrote that they kept it until she 'could no longer bear the horror of it'.
Audubon spent many years observing, hunting and shooting animals. He drew every aspect of their lives including death. For him this would have been a natural and acceptable subject.
Oil on canvas
Presented to the Liverpool Royal Institution
by the family of Richard Rathbone, 1840. FA 461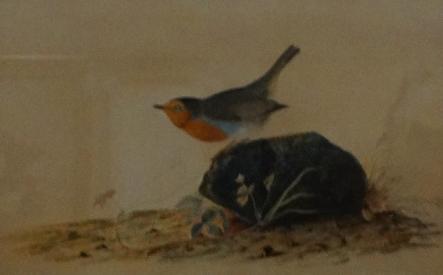 A Robin Perched on a Mossy Stone 1826
John James Audubon (1785-1851)

Like the Self Portrait also on display in this gallery Audubon made this work for Hannah Rathbone during his stay at Greenbank.

Audubon recorded in his journal that:
'after breakfast Miss Hannah opened the window and her favourite robin hopped about the carpet, quite at home'.
Part of the letter on the reverse reads:
'It was my greatest wish to have affixed on the face of this drawing my real thoughts of the amiable Lady for whom I made it in Poetry Divine! – but an injunction from Hannah Rathbone against that wish of my Heart has put an end to it – and now I am forced to think only of her benevolence!
Watercolour on paper
Presented by the Rathbone family, 1971. FA609