When the Victoria Building was first constructed for University College Liverpool, the students created their own newspaper called 'The Sphinx.'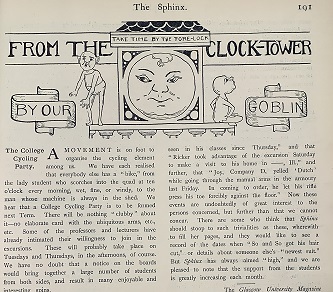 This picture comes from 1897 and shows an article written by one of the goblins that lived in the clock tower.
Alfred Waterhouse was the Victoria Building's architect and he has come back to visit to see what the VG&M is like today. However his time travelling has awoken the Victorian goblins and they have stolen the VG&M keys!
Goblins are known to be naughty and mischievous but if you solve their puzzles and cryptic clues, they might give you the keys to escape.
Play our VG&M Escape Room game and see if you can help Alfred Waterhouse escape from the Clock Tower Goblins.