360 Virtual Tours
Explore our buildings from the comfort of your own home! Not only can you learn all about the fascinating history of the building via audio, video and photographs but you can also see all of our amazing architectural features as you move virtually through our spaces.
We also have mini tours for each of our exhibition spaces.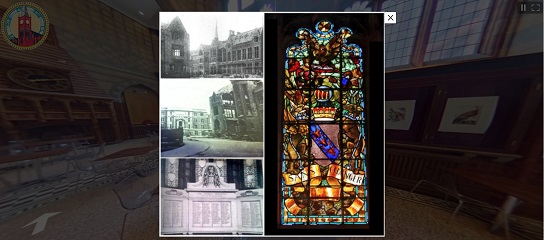 Photograph - the 360 tour provides photographs and historical information as you move around the building.
If you want to know where facilities are located before you visit, you can find out where our lecture theatre, lifts and toilets are located just by clicking on the tours below.
If you can't get to us in person or attend our , this is the perfect way to see all of our building. Don't forget about our digital tour that you can download onto an apple or android tablet too.
The full VG&M 360 building tour -
Explore the VG&M from the front doors right up to the clock tower.
Mini Tours
Don't have the time for our full tour? We also have individual 360 videos for each of our current exhibitions:
The Balcony Wall - The Art of Ruin
Gallery One - Ceramics
Gallery Two - LINDA STEIN: Gender Scrambling
Gallery Three More than Redbrick and Mortar
Gallery Four Louise Waller 20 years of Clay
Gallery Five - Travel in Style - Iconic Cunard Advertising in the 1920s and 1930s
Galleries Six & Seven - Liverpool Biennial 2023
Gallery Eight Audubon Gallery


Garstang Museum 360 Tour
We also have a 360 Tour of our Sister Museum - The Garstang, which is just across campus on Abercromby Square.