The Art of Ruin
Location: Along the Balcony Wall, first floor
The Art of Ruin
There are strands of Italian landscape painting which celebrate the ruinous and crumbling. It was a taste that emerged in Rome in the mid-1600s when visiting archaeological sites and collecting ancient artefacts became popular.
There are two main types of 'ruin' paintings. In capriccio, real or fantasy architectural structures are placed in a fictional landscape. While the closely allied vedute ideate sets identifiable buildings in romanticised or exaggerated settings.
The figures and animals which appear in the foreground are known as staffage. They help give scale to the composition and can be humorous or comment on the scene though their actions.
During the 1700s wealthy visitors undertaking the 'Grand Tour' around Europe's famous landmarks such as Venice and Rome would often buy capriccio and vedute ideate as souvenirs. In Britain it became fashionable to hang them over doorways, as though it was a threshold into the landscape itself.
Definitions:
Capriccio means capricious or a caprice. It is said to derive from the Italian word 'capra' meaning goat, pertaining to something that acts in unexpected ways.
Vedute ideate means imaginary views.
360 Tour
Labels and images from the display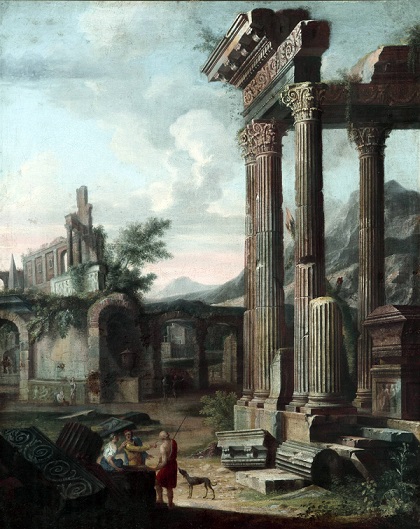 Classical Ruins (a pair) c.1750
Follower of Giovanni Paola Panini (1691 - 1765)
Oil on canvas

Panini, sometimes spelt Pannini, was a leading painter and architect working in Rome. He often put authentic structures into his otherwise imaginary capriccio, making it into a game for the viewer: spot the antiquity. The columnar structures are probably based on ruins in the Forum but may be mixed with archaeology from the Appian Way. Complete fantasy is also in the mix. In his early career Panini trained as a stage designer and his work has the look of a theatrical set, emphasised by dramatic lighting.
Panini's success led to copyists and these paintings are now thought to be by another artist working in his style.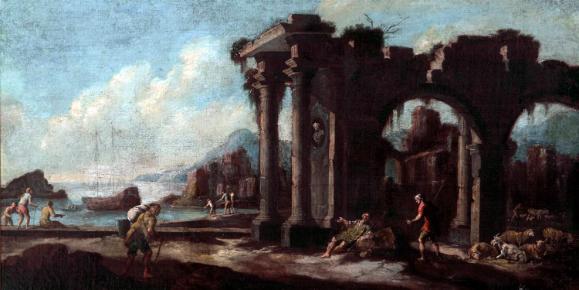 Landscape with Seaport and Ruins c.1650
Follower of Salvator Rosa (1615 - 73)
Oil on canvas

Rosa was a rebellious painter and writer whose work was hugely influential on later artists. He was born in Naples and there are some reports that he was a bandit in his youth. He was certainly an outspoken social critic through his use of satire in his work.
Rosa moved between Naples, Rome and Florence before eventually settling back in Rome. His art covered different genres but his scenes of rugged landscapes with ruins and brigands were most popular. He had a huge influence on other artists and this painting is now thought to be by an artist working in Rosa's style.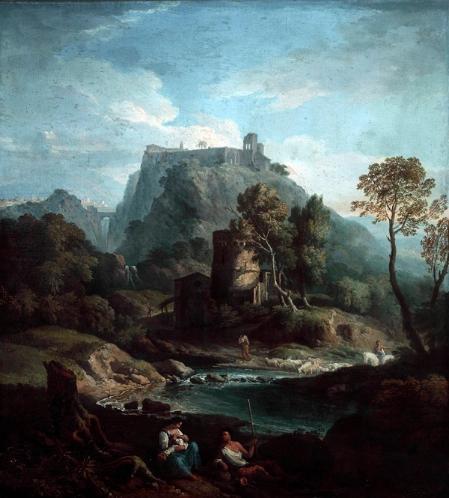 Classical Landscape c.1720
Attributed to Andrea Locatelli (1695 - 1741)
Oil on canvas

Locatelli was born in Rome and was famous in his day as a painter of idealised views of the Roman countryside. He worked the style of landscape painting classed as vedute ideate but added exaggerated or imaginary ruins.
Like other artists working in this field Locatelli's paintings were popular with visitors to Italy on the Grand Tour. To cope with demand the artist made many copies of his most admired paintings, a practice quite common at the time. Although most buyers would assume their painting was a unique treasure.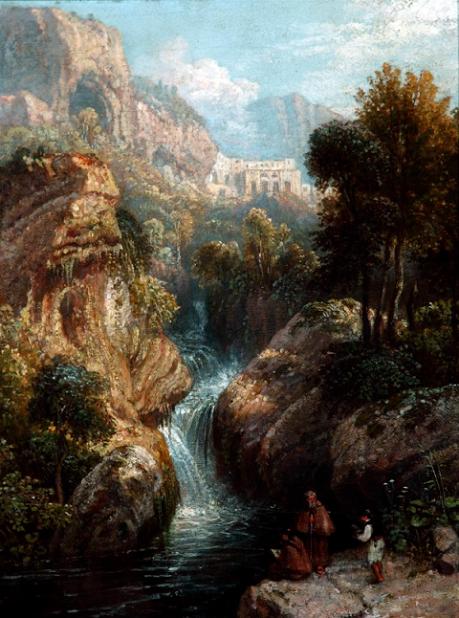 Tivoli near Rome c.1828
By William Havell (1782 - 1857)
Oil on canvas

Havell enjoyed a successful career as a painter of British landscapes until 1816 when he went to work in China and India. He returned to Britain a decade later but found it hard to re-start his career. He decided to visit Italy in 1827 in the company of fellow artist Thomas Unwins, and the pair visited Florence, Rome and Naples.
Havell's Italian sojourn had a big impact on his art, and afterwards he frequently painted Italian subjects such as this landscape. It is in the 'vedute' tradition, being an identifiable location, but one enhanced with drama making the town of Tivoli like some mythical realm.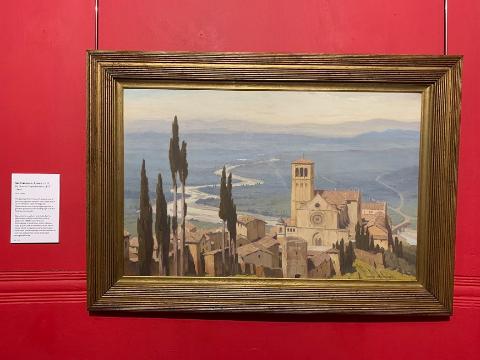 San Francesco, Assisi c.1935
By Charles Oppenheimer (1875 - 1961)
Oil on canvas

The Basilica of St. Francis of Assisi is one of the most important religious sites in Italy and is now a UNESCO world heritage site. Oppenheimer uses a dizzying perspective to give the appearance of it floating high over the Umbrian countryside.
Oppenheimer was born and studied art in Manchester and first visited Italy while a student. In 1903 he went to live in Kirkcudbright, a small town on the Galloway coast but one with a rich history as an artist's colony. Much of Oppenheimer's artist output were views of Kirkcudbright, but he continued to visit Italy and paint its varied landscapes throughout his life.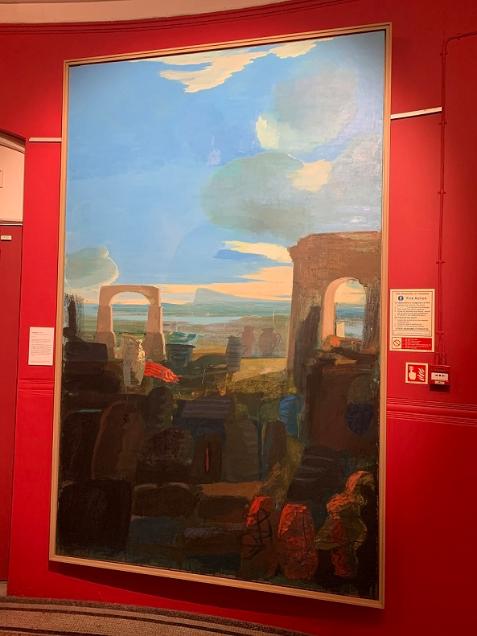 Underworld, 1979
Christopher Le Brun RA (1951 - )
Oil on canvas

With this painting Le Brun evokes a mythical landscape revealing the ruined buildings and ceramic vessels of a lost civilization.
Le Brun is a renowned painter, print-maker and sculptor. This early painting by him was purchased from an exhibition held at the Walker Art Gallery in 1980. A note in the University records describes him at the time as 'a young artist of promise'. In the intervening years Le Brun has become one of Britain's most eminent artists and is a past President of the Royal Academy.
Purchased with the support of the Nigel Greenwood Inc and the Contemporary Art Society in 1980. FA. 1505