"a keyword" blog posts
Two Men and a Portrait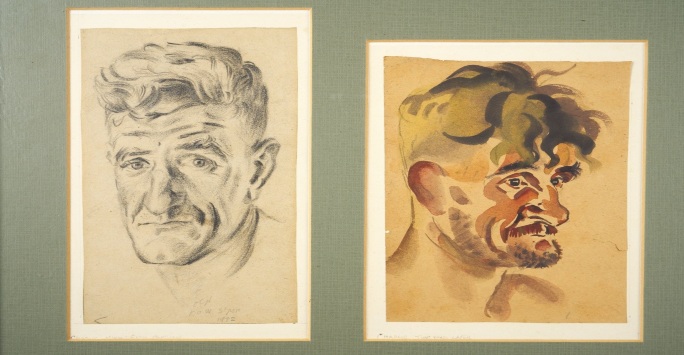 Two Men and a Portrait
Two Portraits of Charlie Proctor, Changi 1942 & Thailand late 1943 By Gunner Ashley George Old, 1/5 Sherwood Foresters Regt. Pencil on paper Watercolour on paper © the Bartholomew Family I think this is one of the most arresting portraits in the exhibition, Secret Art of Survival - Creativity and ingenuity of British Far East prisoners of war, 1942 – 1945. It is a double portrait of the same man done by the same artist. It is a before and after portrait, something we are more familiar with today in a world of social media and photography. The portrait is of Private Ernest Charles Proctor, 1/5 Sherwood Foresters Regt, born in 1904 the oldest man in Old's regiment at the time. It was drawn and painted by the artist, Gunner Ashley George Old. The pencil drawing on the left was done in 1942 during the first weeks of captivity in Changi POW camp in Singapore. The watercolour on the right was painted a year later in 1943 when both men were in the Chungkai Hospital camp in Thailand.
Posted on: 26 June 2020
I Predict a Riot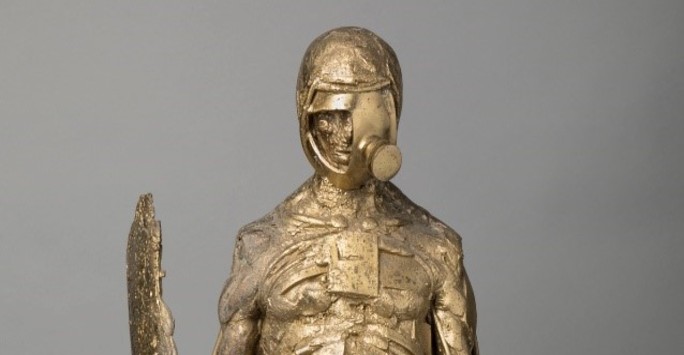 I Predict a Riot
Amanda Draper, Curator of Art & Exhibitions writes …As a curator you're often asked "what is your favourite item in the collection?". It's a bit like asking which is your favourite child, and can depend on your mood, time of day, when you last ate and how much trouble they've been recently. At the moment I'd say this bronze sculpture by the Liverpool-based artist Sean Rice. I'm a HUGE fan of his work. And it's not just me. Riot Policeman, which is displayed on our staircase, is a big favourite with visitors despite (or maybe because) of its rather apocalyptic air.
Posted on: 29 May 2020
My first blog post
My first blog post
Hello World! This is my first blog post
Posted on: 7 January 2019