Waterloo 200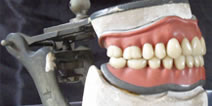 The Waterloo Teeth in our Dentistry exhibition are being included in the Waterloo 200 project, (200 years/200 objects) which will create a free and publicly available, central repository of images on the Waterloo 200 website.
It is intended that this website will promote the significance of this historic event and publicise Waterloo collections, encouraging people to visit them and see the artefacts.
Our 'Nasty Gnashers and Dreadful Denchers' exhibition is located in the Tate Hall Museum, it is open Tuesday - Saturday 10.00am - 5.00pm.