CELEBRATING THE LIFE OF SIR JOHN BRUNNER, 1842-1919
CELEBRATING THE LIFE OF SIR JOHN BRUNNER, 1842-1919
VICTORIAN MP, INDUSTRIALIST AND PHILANTHROPIST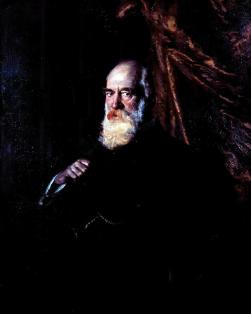 Our portrait of Sir John Tomlinson Brunner by Augustus John has just been conserved and put on display to commemorate 100 years since his death. Brunner was a Liverpool-born industrialist and MP who was a huge supporter of the University.
A series of special events and exhibitions are taking place this summer to celebrate the centenary of the death of Sir John Brunner, the Liverpool-born Victorian entrepreneur, social reformer and philanthropist. Brunner, who died on July 1, 1919, led a remarkable life, and his tireless campaigning for liberal values and improved workplace practices still impact on society today.
Brunner, who was the Liberal MP for Northwich, Cheshire, for 25 years, used his voice at Westminster to push a variety of important causes of the Victorian age: free trade, an independent Irish state, collective bargaining for workers, and education for all.
School children of Britain can be grateful to Brunner for his vigorous campaign against corporal punishment. Workers can thank Brunner for shifts not exceeding eight hours, for the five-day week, for paid holidays, and paid apprenticeships for school leavers. These were all innovations that he introduced at Brunner Mond, the chemical firm he co-founded with Ludwig Mong in 1873. As an MP, Brunner made sure that the working practices he pioneered were successfully brought into law at the beginning of the 20th century. A tough and practical man, Brunner took on these causes because he understood that a happy and healthy workforce could help business and communities flourish. In Victorian Britain, that was an almost revolutionary concept.
Brunner was also a generous benefactor whose gifts included the provision of schools, guildhalls and social clubs. In Northwich he provided a free library and re-endowed Sir John Deane's Grammar School. In Runcorn he purchased a disused chapel and presented it to the town to be used by local trade unions and Friendly Societies; in nearby Weston he bought a disused school and gave it to the local community to serve as its village hall. He also endowed the Chairs of Economics, Physical Chemistry and Egyptology (the Brunner Professorships) at the University of Liverpool. Overseas, he gave gifts to the Landesmuseum in Zürich and provided a hospital, also in Switzerland.
After initial struggles, Brunner Mond & Co was destined to become the largest alkali works in the world and would later to merge with other enterprises to form Imperial Chemical Industries (ICI). The company was, for much of its history, the largest manufacturing firm in Britain.
A short biography of Sir John Brunner:
Born in Everton in 1842, Brunner was the son of a Swiss-born Unitarian schoolmaster, Johannes Brunner, and educated in an environment of Liberal nonconformity at a school founded by his father. His mother Margaret died when he was just five years old but a few years later his father married Nancy Inman whose shrewd business sense had a lasting influence on the budding entrepreneur. Brunner left school at 15 to become a clerk in the Liverpool Docks but was laid off when the US Civil War halted the cotton trade in the 1860s. He then joined his older brother Henry at alkali manufacturers John Hutchinson & Co in Widnes where he eventually became general manager. It was here that he met the celebrated chemist Ludwig Mond and in 1873 the pair founded Brunner, Mond and Co, in Northwich. Brunner first became MP for Northwich in 1885, eventually serving at Westminster for 25 years. He was knighted in 1895.
Remarkably, the Winnington Park factory that Brunner and Mond built in Northwich 147 years ago is still in operation today under the brand Tata Chemicals Europe. In its long history, the company has brought stability and prosperity to generations of local people.
Local events to mark the centenary of Sir John Brunner's death:
Exhibition at the Catalyst Science Discovery Centre and Museum in Widnes
The Catalyst Science Discovery Centre and Museum in Widnes is the only museum in the UK depicting the great chemical industry of the 19th and 20th centuries and is based in the Grade II listed building of Hutchinson's original alkali works where Sir John, his brother, Henry and Ludwig Mond worked together in the 1860s. The museum has an extensive collection of artefacts from Brunner Mond & Co and these will feature in a special exhibition celebrating the life and legacy of Sir John Brunner. The exhibition will be open to the public from Tuesday, July 9 until the end of the summer.
John Brunner Day, Winsford
Winsford Town Council will be holding an event at the Brunner Guildhall on Saturday 20th July, 10am–4pm to celebrate Sir John Brunner's life, who gave the Brunner Guildhall to Winsford Town Council in 1899. The event will include historical facts, free activities for children and refreshments available.
Rotary Club, Northwich
The Rotary Club of Northwich is hosting a Very Special Speaker meeting to mark the Centenary of the death of Sir John Brunner on Monday Mon 8th July 2019 at 11.45 - 14.30.
Celebratory Lunch, Northwich
On Saturday 6 July 2019, more than 130 descendants and admirers of Sir John will be gathering for a special lunch being held in the Brunner Hall of Sir John Deane's College. The college is the successor to a grammar school for boys which Brunner re-endowed in the early 20th century on the condition that girls too would be allowed to attend. The lunch is being hosted by former Lord Lieutenant of Oxfordshire Sir Hugo Brunner, Georgina Dunlop and Lord Blyth – all Brunner descendants. Other guests will include David Briggs, the Lord-Lieutenant of Cheshire, and Swiss ambassador Alexandre Fasel. Dr Diana Leitch MBE of the Catalyst Science Discovery Centre and Museum in Widnes will be giving a talk at the lunch on Brunner's life and legacy.
Sir John Brunner's great-grandson Sir Hugo Brunner said: "Last October I visited Cheshire with two of my cousins to see whether there was still any interest in our ancestor. We had a most encouraging response and decided to organise an unprecedented gathering of Brunner descendants in his home town of Northwich. Our aim is to celebrate his life and also visit many of the places with which he was associated. Sir John Brunner was an extraordinary man and influential pioneer of social justice in the Victorian age. We're delighted that we are able to celebrate his life with such a huge family gathering, and excited that the public will have a chance to learn more about him at local events and exhibitions."