LINDA STEIN: Gender Scrambling
22 April 2023 - extended until end of 2023
Location: Gallery 2, first floor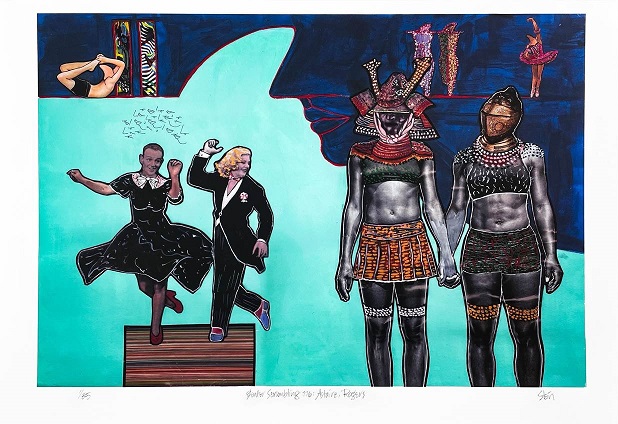 Image credit: Gender Scrambling 776: Astaire, Rodgers (limited edition archival print) by Linda Stein. © Linda Stein
Linda Stein (b.1943) is a New York born and based feminist LGBTQ+ artist whose work interrogates themes of gender identity stemming from her own struggles with her sexuality and sense of womanhood while growing up in the 1950s.
In 2001, Linda was caught up in the 9/11 attack on New York and was forced to flee her Tribeca home and studio, leaving her displaced for almost a year. This sense of panic and helplessness was enduringly traumatic, leaving an indelible imprint on Linda which has emerged through her subsequent artworks.
Linda makes visual a world where men wear dresses and women wear armour so the lines of gender become blurred into androgyny. She encourages the oppressed 'other' to be their own superheroes and fight their own battles. Themes of protection and valour in the face of bullying and struggles for social justice are integral to her work.
Of her work, Linda says:
"My goal as an artist is to use my art to transform social consciousness and inspire activism for peace, equality and diversity. With my androgynous forms and pop-culture icons, I invite the viewer to seek diversity in unpredictable ways, to 'try on' new personal avatars and self-definitions"
For more information about Linda Stein visit her website: https://www.lindastein.com/home
The artworks displayed in LINDA STEIN: Gender Scrambling are part of the University of Liverpool's permanent art collection and was generously gifted by Mr Raymond C. Learsy in 2022. This is the first time they have been shown.
The exhibition at the VG&M runs concurrently with a major retrospective of Linda Stein's career at the Konstmuseet i Skövde, Sweden called Androgynous Protection: A Linda Stein Retrospective (22 April – 10 September 2023) https://kulturiskovde.se/kulturhus/konstmuseet/utstallningar/linda-stein/
360 Tour