Interactive Tours
The VG&M 360 building tour -
New for 2020, take a 360 virtual tour of the VG&M & Garstang Museum!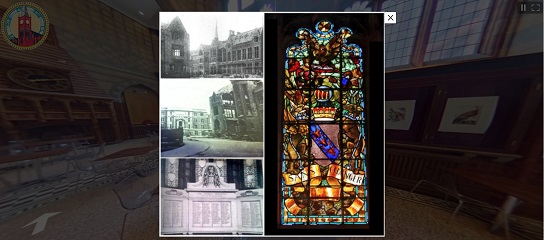 Explore our buildings from the comfort of your own home! Not only can you learn all about the fascinating history of the building via audio, video and photographs but you can also see all of our amazing architectural features as you move virtually through our spaces.
If you can't get to us in person and enjoy one of our volunteer-led guided tours, this is the perfect way to see all of our building.
Garstang Museum 360 Tour
The VG&M Guided Tour app for tablets
Our VG&M Guided Tour app reveals the rich history of the Victoria Building.
The app is free to download from the University of Liverpool App Store, and suggests points of interests as you move around the building following the building plan, allowing you to explore all 3 floors of the VG&M that are open to the public, as well as some behind-the-scenes gems that are usually off limits!
In each area of the building plan you can select points of interest and explore further by viewing lots of historical images, audio descriptions, videos and text.
Borrow an iPad from us
If you have forgottent to bring your tablet, you can borrow an iPad from reception.

Please bring a valid form of ID along with you (student card, driving licence etc).
We strongly advise that you book a device for a particular date/time so please contact reception via email or telephone us on 0151 794 2348.