Zoology Collections & Nightmares in a Bell Jar
Location: Tate Hall Museum, second floor
Learn more about our taxidermy and wet collections!
Our Zoology collection began in 1882 in the Natural History department which was located in the adapted asylum that was once behind the VG&M. The museum moved to the Hartley Building in 1902 but gradually the collection was reduced and not all of the collection remains today.
We have both taxidermy and animal skeletons on display in both the galleries and museum. See beneath the skin of pythons, owls and elephants and learn about the plight of Pangolins from our Wet Collection.
Many of the specimens that we have on display were collected by Professor William Herdman who was widely known as a great marine zoologist and oceanographer and he collected the specimens as part of the Discovery expeditions in the 1900s.
Our specimens are held in different solutions depending on what they were originally preserved in and when a specimen needs to be conserved, our curator decides which modern solution to use. The fish, mammals and reptiles are kept in a formalin solution which is a dilution of formaldehyde and water. The crabs and insects are kept in a solution of ethanol.
'Nightmares in a Bell Jar' -
In 2018 Leonie Sedman (Curator of Heritage and Collections Care) installed a new display of wet collection specimens in the Tate Hall Museum. The exhibition is aptly named 'Nightmares in a Bell Jar' and the creatures on display vary from repulsive reptiles to frightening fish.
Nightmare in a Bell Jar App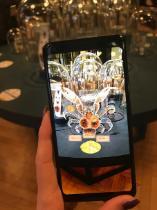 You can now download an app to interact with this exhibition in the Tate Hall Museum and learn all about the creatures on display.
For Apple - https://itunes.apple.com/gb/app/nightmares-in-a-bell-jar/id1450255804
For Android - https://play.google.com/store/apps/details?id=uk.ac.liverpool.vgmar